Thousands flock to buy World Cup tickets in S Africa
Thousands of South Africans lined up outside World Cup ticketing centers on Thursday for the first direct sales ahead of the kick-off in June, with police having to diffuse frustrations over delays.
Eleven ticketing outlets opened at 9am in all nine host cities with system problems and the death of a pensioner was reported as soccer-loving crowds flocked to snap up half a million tickets still available.
In Cape Town, a pensioner collapsed and died early on Thursday before the center opened, and police used pepper spray on some fans in Pretoria where frustrations flared over the delays.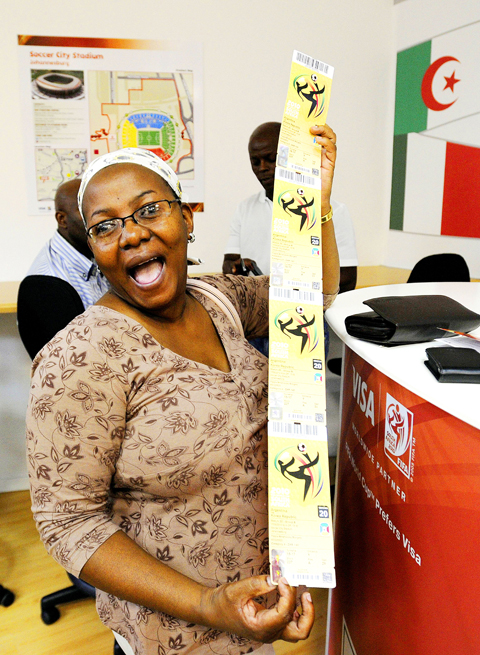 A woman shows off the FIFA World Cup tickets she had just purchased at the Maponya shopping mall in Soweto, South Africa, on Thursday.
PHOTO: AFP
"There were individuals that did not behave themselves. They were pushing the policemen around," police spokeswoman Colette Weilbach said.
Tickets were available at all 64 World Cup matches after FIFA made an additional 300 category three tickets available for the final, previously listed as sold out, at Johannesburg's Soccer City Stadium on July 11.
Police in Durban and Polokwane had to calm down dozens of fans who were angered by the slow transaction process, as the FIFA system kept crashing.
Local media reported that some ticketing centers in Sandton, Pretoria and Cape Town had extended their trading hours to cope with the massive demand.
"We experienced some delays in issuing tickets at the outset," said James Byrom of MATCH, FIFA's ticketing service provider, in a statement.
A total of 1,610 tickets were sold to 310 customers nationally at ticketing centers within the first hour. A further 2,166 were sold to 470 fans through a local bank where tickets are available at 600 branches.
In Cape Town, 23-year-old Mahesh Singh, 23, was the first person to buy tickets after arriving at 4pm on Wednesday.
"I wanted a level of every single game. To get something like that is amazing," he said after spending more than 17,000 rand (US$2,300) on his family's tickets.
In February, FIFA upped the number of cheapest tickets available to get more South Africans into stadiums, after criticism over drawn-out online ticket application processes with the Internet out of reach for most locals.
By last week, a total of 2.2 million of nearly 3 million tickets had been sold, with 85 percent of the 240,000 sold in the last push going to South Africans.
Jevon Kannemeyer, who got to the Cape Town ticket center at 6:45pm on Wednesday, said he had not previously applied for tickets online or at branches of a local bank, saying it was a long process that did not guarantee matches.
"I'm very excited because I'm a heavy soccer fanatic," he said as he waited near the front of the queue. "You can just pay over the counter with your cash and you are guaranteed to get the tickets right now."
Some fans in Cape Town feared that desired matches would sell out at other centers.
"Hopefully, it's slow everywhere else," said 26-year-old Brad Conlin, taking a seat on the floor while waiting his turn at No. 44, an hour after the center opened.
Brett Solomon, 26, paid a colleague 300 rand to stand in the queue from 4:45pm on Wednesday and said he could not wait to see soccer's top stars.
"You long to be part of it. This is the greatest opportunity to get there on our own soil," he said.
Comments will be moderated. Keep comments relevant to the article. Remarks containing abusive and obscene language, personal attacks of any kind or promotion will be removed and the user banned. Final decision will be at the discretion of the Taipei Times.