NHL: Rangers win keeps playoff bid alive
The New York Rangers kept their playoff hopes alive with a 4-3 victory over the Philadelphia Flyers on Friday that set up a showdown today for the Eastern Conference's final postseason berth.
New York's win on Marian Gaborik's tie-breaking goal pulled the Rangers even with the Flyers at 86 points in the race for the eighth and final Eastern spot.
"This was a playoff game, plain and simple," said the Rangers' Brandon Dubinsky, who scored a goal in the second period. "In essence it's a Game Seven, definitely a playoff atmosphere, and we expect no different for Sunday."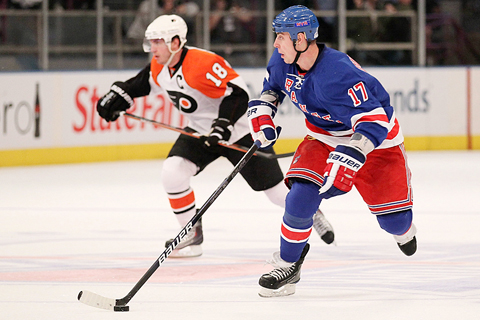 Brandon Dubinsky, No.17, of the New York Rangers looks to pass against the Philadelphia Flyers during their game at Madison Square Garden in New York City on Friday.
PHOTO: AFP
The Flyers will win the berth with a regulation win over the Rangers in Philadelphia today.
The Rangers can advance with an overtime or shootout loss to Philadelphia coupled with two regulation losses by the Boston Bruins, who are currently in sixth place in the East with 87 points, the NHL's Web site said.
Gaborik delivered New York's winner with three minute, six seconds left in the second period when his shot deflected off defenseman Matt Carle's stick.
"Yeah, I think it was a big goal for us," said Gaborik, who matched his career high with his 42nd goal of the season. "I think every shift we came out with the thought that we were going to win this game, even though they tied the game."
Chris Drury, Jody Shelley and Dubinsky also scored for the Rangers, who led 3-1 before Philadelphia struck twice in the second.
Shelley's was his first goal of the season.
"To get a goal from Jody like that, a guy who usually doesn't score, it's a huge lift," said the Rangers' Erik Christensen, who had two assists. "Plus it was bang-bang after the first goal and put us up 2-1. It was huge."
New York's Henrik Lundqvist made a series of key saves in the third period, stopping all 10 shots he faced in the period to end up with 24 saves for the game.
Mike Richards scored twice for Philadelphia, his second goal tying the contest at 3-3.
Danny Briere also scored for the Flyers, who got 21 saves from Brian Boucher.
"We have to be ready right in the first period," Briere said of today's game. "We can't wait and let them dictate like they did tonight."
BLACKHAWKS 5, AVALANCHE 2
The Chicago Blackhawks moved a large step closer to clinching the top seed in the Western Conference by beating the Colorado Avalanche 5-2 on Friday.
Colin Fraser scored twice, Jonathan Toews had a goal and an assist for Chicago, which moved into a tie with San Jose for the Western Conference lead.
The Blackhawks can clinch the No. 1 seed with a win today against Detroit or by tying the Sharks in points. Chicago holds the tiebreaker. San Jose hosts Phoenix today.
Patrick Sharp and Kris Versteeg also scored for Chicago.
Ryan Stoa and Darcy Tucker netted for Colorado.
CAPITALS 5, THRASHERS 2
In Washington, Alex Ovechkin took over the NHL lead in goals and points as Washington beat Atlanta.
Ovechkin set up Nicklas Backstrom's goal in the first period, then scored himself in the second and third to reach 50 for the season. With one regular-season game left, Ovechkin leads Pittsburgh's Sidney Crosby by one goal, and Vancouver's Henrik Sedin by one point.
Backstrom and Jason Chimera scored in the third period for the Capitals.
Evgeny Artyukhin and Clarke MacArthur scored in the second for Atlanta.
RED WINGS 1, BLUE JACKETS 0, SO
In Columbus, Ohio, Detroit beat Columbus in a shootout, giving the Red Wings at least 100 points for the 10th year in a row.
Todd Bertuzzi scored on a backhand in the fourth round of the shootout after Detroit goalie Jimmy Howard turned away a shot by R.J. Umberger.
Howard, a top Calder Trophy candidate as the NHL rookie of the year, had 22 saves. Columbus' Steve Mason, last year's Calder winner, had a season-high 45 saves.
BLUES 6, DUCKS 3
In St Louis, Missouri, Keith Tkachuk set up the tying goal in his home finale and assisted on an insurance goal as St Louis beat Anaheim.
Jay McClement scored the go-ahead goal with three minutes, 50 seconds to go and Andy McDonald scored 23 seconds later off Tkachuk's shot from a tough angle for the Blues, who rallied from a 3-2 deficit after two periods to finish with a six-game winning streak at home.
Ducks rookie Matt Beleskey scored twice for the first time and Bobby Ryan got his 35th goal.
Comments will be moderated. Keep comments relevant to the article. Remarks containing abusive and obscene language, personal attacks of any kind or promotion will be removed and the user banned. Final decision will be at the discretion of the Taipei Times.