NBA : Lakers secure seventh straight victory
ROAD SWING The Lakers' Kobe Bryant and San Antonio's Manu Ginobili each scored 24 points, but Bryant's two key 3-pointers helped clinch the game for the Lakers 92-83
Kobe Bryant scored 24 points, including two key 3-pointers in the fourth quarter, to spark the Los Angeles Lakers past the San Antonio Spurs 92-83 on Wednesday for their seventh victory in a row.
The victory opened a five-game road swing for the Lakers, who at 53-18 have the best record in the Western Conference by six games over Dallas with only 11 games to play.
"It was a playoff-type of atmosphere," Bryant said. "We were down in the first half. We had to battle back. It was a good win for us to start this road trip."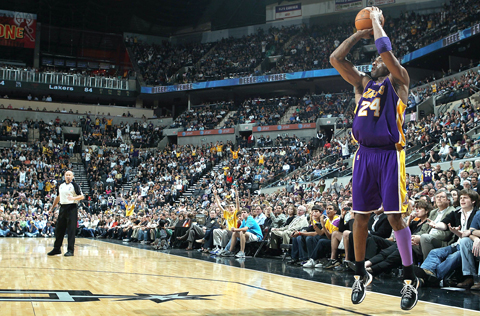 Los Angeles Lakers guard Kobe Bryant takes a shot against the San Antonio Spurs at AT&T Center on Wednesday in San Antonio, Texas.
PHOTO: AFP
Argentina's Manu Ginobili scored 24 points and George Hill added 21 for the Spurs, who at 42-28 are half a game ahead of Portland in seventh in the West.
Tim Duncan struggled from the field, sinking only 2-of-12 shots to finish with six points as well as 12 rebounds.
Bryant hit 4-of-5 shots in the fourth quarter and scored 10 points in the final period, including a 3-pointer to put Los Angeles ahead 80-74 with five minutes, 41 seconds to play and another two minutes later to give the Lakers an 11-point lead.
Lamar Odom had 19 points and 13 rebounds for the Lakers, while Ron Artest scored 16 points and Spaniard Paul Gasol contributed 10 points and 12 rebounds.
Cavaliers 105, Hornets 92
LeBron James shook off a twisted ankle to score 38 points and spark the Cleveland Cavaliers past New Orleans for their eighth victory in a row.
"King James" hit 15-of-22 shots from the field and added nine assists as the NBA-best Cavaliers improved to 57-15 despite James landing on James Posey's foot in the last seconds of the first half. He seemed fine in the second half.
Cleveland pulled to a 17-point lead after the third quarter, when James passed off five assists while scoring just five points.
Cavaliers coach Mike Brown was happy to see James successes despite being the focus of the Hornets' defense.
J.J. Hickson scored 20 points for Cleveland, which never trailed after James leveled the score at 10-10.
Delonte West added 15 points, while Antawn Jamison contributed 11 points and 11 rebounds as the Cavaliers won their 27th game in a row over an NBA rival with a losing record.
Marcus Thornton scored 20 points and Darren Collison added 17 for New Orleans, which is one loss from being eliminated from playoff contention.
Nets 93, Kings 79
At East Rutherford, New Jersey, Brook Lopez had 26 points and 13 rebounds as New Jersey beat Sacramento to snap an eight-game losing streak and a franchise-record, 14-game skid at home.
Devin Harris added 24 points and nine assists for the Nets (8-63), who need to win once in their last 11 games to avoid breaking the league mark for fewest wins in a season (9-73), set by the Philadelphia 76ers in 1972-73.
Hawks 86, Magic 84
Josh Smith swooped in to slam through Joe Johnson's missed shot just ahead of the buzzer as the Atlanta Hawks finally beat the Orlando Magic to clinch a third straight trip to the playoffs with an 86-84 victory on Wednesday.
Vince Carter led Orlando with 20 points, while Dwight Howard chipped in with another monster performance: 19 points and a season-high 24 rebounds. Johnson led six Atlanta players in double figures with 17 points, while Smith scored 15.
Hawks sixth man Jamal Crawford will be heading to the playoffs for the first time in his decade-long career. He came into the night having played 666 games without making it to the postseason, the third-longest drought in NBA history.
Celtics 113, Nuggets 99
At Boston, Paul Pierce scored 27 points and Kevin Garnett had 20 as Boston clinched a playoff berth with a victory over Denver.
Boston led by 21 points twice in the third quarter before Denver cut the lead to 87-80 going into the fourth, but the Celtics stayed ahead by seven to 16 the rest of the way for their fifth win in six games. Rajon Rondo had a triple-double with 11 points, 15 assists and 11 rebounds.
In other NBA play, it was:
• 76ers 101, Bucks 86
• Thunder 122, Rockets 104
• Bobcats 108, T'wolves 95
• Jazz 113, Raptors 87
• Pacers 99, Wizards 82
Comments will be moderated. Keep comments relevant to the article. Remarks containing abusive and obscene language, personal attacks of any kind or promotion will be removed and the user banned. Final decision will be at the discretion of the Taipei Times.