Pang, Tong take the lead in pairs short program
Olympic silver medalists Pang Qing and Tong Jian of China skated a flawless and elegant short program to take the lead in the pairs competition at the world figure skating championships on Tuesday.
Pang and Tong earned a season-best 75.28 points for their short program, the same The Pearlfishers that they skated to in Vancouver. The 2006 world champions are two points ahead of Russia's Yuko Kavaguti and Alexander Smirnov.
Two-time defending world champions Aliona Savchenko and Robin Szolkowy squeaked into the top three even though he doubled their side-by-side triple toe loops.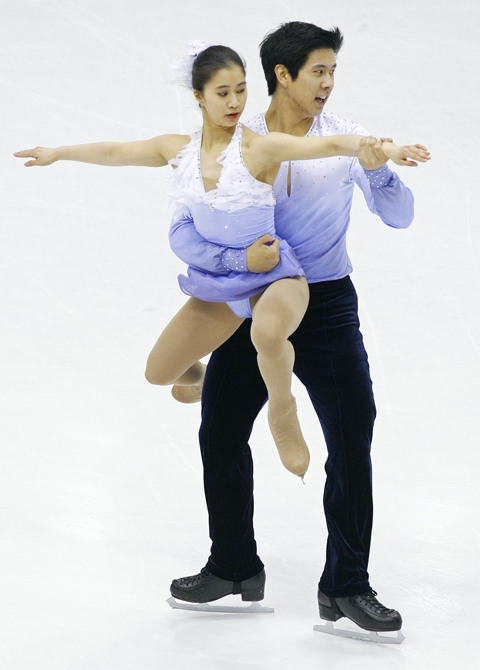 Amanda Sunyoto-Yang, left, and Darryll Sulindro-Yang of Taiwan perform during the pairs short program event at the World Figure Skating Championships in Turin, Italy on Tuesday.
PHOTO: REUTERS
However, the Germans will have to fight to keep their spot on the podium in today's free skate. Savchenko and Szolkowy, bronze medalists at the Vancouver Olympics, scored 69.52 points, putting them a mere .04 points ahead of Russia's Maria Mukhortova and Maxim Trankov. They are .32 points ahead of China's Zhang Dan and Zhang Hao.
Pang and Tong soared on side-by-side triple toes and a throw triple loop, and their score was nearly four points higher than in Vancouver.
Amanda Sunyoto-Yang and her brother, Darryll Sulindro-Yang, of Taiwan scored 41.28 points to end 20th in the field of 25 pairs.
Earlier on Tuesday, Olympic champions Tessa Virtue and Scott Moir won what might be the last ice dance compulsories at the worlds.
Much like the old school figures, compulsory dance is a TV ratings killer and hardly a stadium draw. It's a full afternoon of dance teams performing the same steps to the same music one after another.
The International Skating Union will vote at its congress in June on proposals that would eliminate the compulsory dance. That would leave two segments of competition, the original dance and free dance.
Virtue said they spend up to two hours a day on compulsories, which both she and Moir believe is time that could be better spent.
"I can't imagine what we could do with our OD and free program if we had that extra time," she said.
ADDITIONAL REPORTING BY STAFF WRITER
Comments will be moderated. Keep comments relevant to the article. Remarks containing abusive and obscene language, personal attacks of any kind or promotion will be removed and the user banned. Final decision will be at the discretion of the Taipei Times.