Tiger's Augusta return draws criticism
TIGER IN THE CIRCUS While a French sports newspaper had only a minor story on the golf star's return, the British press was scathing on his choice of venue
Tiger Woods' planned return to golf at the Masters drew plenty of criticism from the international press yesterday, and the most scathing comments came from Britain.
Daily Mirror columnist Oliver Holt questioned the top-ranked golfer's reasons for coming back to play at Augusta National.
"How typical of the man to hijack the world's most famous golf tournament," Holt wrote. "How could he turn Augusta into a circus like this? Does his vanity know no limits?"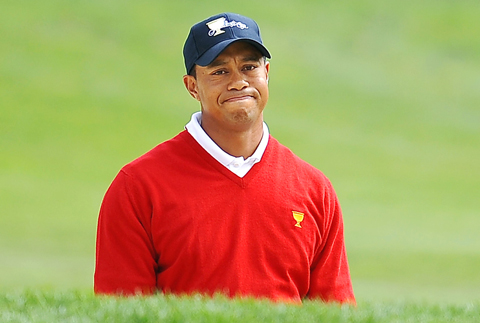 Tiger Woods reacts to his shot out of a bunker on the fifth hole on the first day of the Presidents Cup competition on Oct. 8 at Harding Park Golf course in San Francisco, California.
PHOTO: AFP
Woods drove his SUV into a tree outside his Florida home in November, an accident that set off sordid tales of extramarital affairs. Woods announced on Dec. 11 that he would take an indefinite break from golf to try to save his marriage, then made a public apology on Feb. 19.
"When he finally sticks his head above the parapet before a hungry media at Augusta National, don't be surprised if he refuses to talk about anything relating to matters that predate Feb. 19 on the ingenuous grounds that he has already dealt with that," Douglas Lowe wrote in the Scottish paper the Herald. "But let's wait and see before reaching a conclusion."
The Daily Telegraph's Mark Reason called Woods a liar for making his return so soon after last month's apology, where he took no questions.
"All that halting guff about maybe returning to golf one day was just a great big fib," Reason wrote. "Tiger, Tiger, pants on fire, nose as long as a telephone wire. How will the kids believe in him now? Woods wouldn't know the truth if it came wrapped in a polyurethane cover and had Nike stamped on it. He'd just want to know how much he could spin it."
In the Toronto Star, columnist Dave Perkins made fun of Woods' extramarital affairs.
"So that's what Tiger Woods meant when he said he would be fighting the temptations: He's coming back to golf at a club that doesn't allow women," Perkins wrote. "Bada-boom."
In Sweden, the country of wife Elin Nordegren's birth, Aftonbladet columnist Lasse Anrell wrote that Woods was in the clear to play golf again after "four months of mourning, four months of apologies, four months of crying, four months of healing." But Anrell added that Woods needs to make a strong showing at the Masters to regain his status.
"He knows — just as well as all the media strategists and brand analysts — that he needs to win for this to be a really good resurrection of Tiger Woods The Brand," Anrell wrote. "A 27th place will not be a hit for the brand strategists. It needs to be top three."
Not everyone attacked Woods. French sports daily L'Equipe had only a small news story about Woods' return, while Italian paper La Gazzetta dello Sport featured a full page on the announcement, saying the Masters was the natural place for him to come back.
"Apparently the expected onslaught of the media, curiosity seekers and fans has convinced [Woods] to return at the most important and most protected venue and for him the most familiar, skipping any warmup tournaments," Gazzetta wrote. "Even if this increases the risks, especially for someone who is used to winning all the time."
In Britain's Daily Mail, Derek Lawrenson said Woods chose the Masters as come back because Augusta National would be able to keep the media at bay.
"All those showbiz Web sites that have plagued Woods' life for the last three months would have more chance of an audience at the White House than gaining access at Augusta," Lawrenson wrote.
Comments will be moderated. Keep comments relevant to the article. Remarks containing abusive and obscene language, personal attacks of any kind or promotion will be removed and the user banned. Final decision will be at the discretion of the Taipei Times.