NFL : Undefeated Colts to face the NFL's top-rated defense
The Indianapolis Colts are focusing more on having a successful post-season than the pursuit of an undefeated campaign, yet they still see Sunday's game against the New York Jets as a measuring stick.
The offensively-minded Colts, who hold a 14-0 record and have locked up home field advantage in the playoffs, will only be playing for pride against the 7-7 Jets, who have the top-rated defense and are still fighting for the playoffs.
Colts head coach Jim Caldwell stressed in a conference call with reporters on Wednesday that preserving an unblemished record over the last two regular season games was not as important as resting players who needed a break.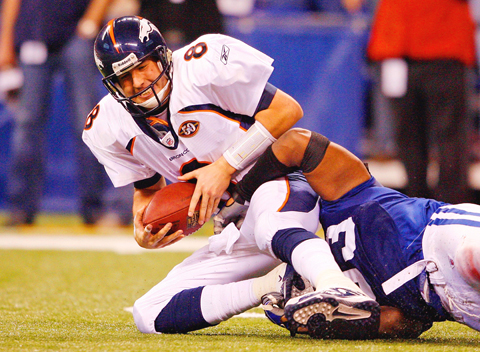 Kyle Orton of the Denver Broncos, left, is sacked by Dwight Freeney of the Indianapolis Colts during their NFL game at the Lucas Oil Stadium in Indianapolis, Indiana, on Dec. 13.
PHOTO: AFP
"That certainly hasn't been a priority of ours," he said about going undefeated. "It's a great by-product of a great season, but certainly not one that we're overly concerned with. There's only one happy team at the end of the year and that team is the one that wins it all."
Indianapolis, led by quarterback Peyton Manning, have the NFL's highest-ranked passing attack and have scored 394 points. The Jets have yielded an NFL-low 221 points.
"It's one of those games where you have an opportunity to see two really fine units going after one another," Caldwell said. "It's going to be fun."
Pass-rushing defensive end Dwight Freeney said the Colts were not likely to have their starters in the whole game, with health issues deciding play time.
"Based on the situation and how you feel physically, that's going to determine how much you play," Freeney told reporters. "It's very important those guys who need rest get that rest, and the guys who can play will play. Some guys may see four or five series, and some guys may see three or four quarters."
Freeney expects full effort from whoever plays.
"You don't want to lose a game. As a competitor, as an athlete, you want to go out every single game and win," he said. "We're going out there and playing hard every game, no matter who is out there."
Caldwell was not specific about how he might juggle the lineup.
"We plan to attack it just like we do every week," he said. "Prepare to go in, play hard no matter who's in. The focus is on the ball game, adjusted in the flow of the game."
Comments will be moderated. Keep comments relevant to the article. Remarks containing abusive and obscene language, personal attacks of any kind or promotion will be removed and the user banned. Final decision will be at the discretion of the Taipei Times.