FEATURE : Strauss' lucky break proves decisive
New Zealand was not the first-choice venue for Andrew Strauss to relaunch his England career after he was banished to the wilderness two years ago.
Strauss, omitted from the side to tour Sri Lanka in 2007, had planned to play in South Africa, the land of his birth 32 years ago.
Instead he ended up in Hamilton and was playing for Northern Districts without much success when he got a break which illustrated the tissue-thin divide between success and failure in the life of a sportsman.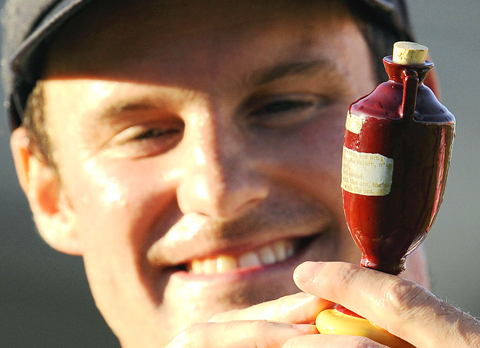 Andrew Strauss celebrates winning the Ashes against Australia on Aug. 23 with the traditional urn trophy at the Oval in London.
PHOTO: REUTERS
In his final innings for Northern Districts, Strauss lobbed the second ball to mid-on, "the easiest catch I have ever seen in my life."
To Strauss' astonishment the catch went down. He went on to make a hundred which led to his recall to the England team touring New Zealand early last year.
"It was in a losing cause, admittedly, but this innings set me on the road to recovery and redemption," he recorded in his new book Testing Times.
Further trials were to come. New Zealand won the first Test and, although England bounced back by winning the second, Strauss' form was unconvincing.
Before the second innings of the third Test, Strauss had not scored a century for 15 Tests. For the first time in his life he had trouble sleeping, knowing another failure could end his Test career.
Strauss was distraught after making a duck in the first innings before showing his character and determination with 177 in a winning cause in the second.
The subsequent 18 months have been a period of almost uninterrupted success.
He has been prolific with the bat and, after he was elevated to the England captaincy this year, he led the team to victory against the odds in the Ashes series against Australia.
Talking to reporters last week Strauss reflected on what had been in effect an enforced sabbatical and the power of positive thinking which helped him to recapture his England place.
"It was a chance for me to step back and assess over the last three or four years when I've been playing for England what was it that I have actually been doing well, what had contributed to me not playing well for England," he said. "There were a number of things. One of them was a technical thing but a lot of it was a mindset thing and I think that was the biggest lesson I learned."
Now Strauss is a member of an elite group of captains who have regained the Ashes and is one of a rare group whose batting average increases rather than declines with the added responsibility of leadership.
Determined to avoid the euphoria which lingered too long after the 2005 Ashes win, Strauss remains firmly rooted in reality.
"I think we are at where the rankings say we are, five in the world in Test cricket, below that in one-day cricket, so there's a lot of improvement required," Strauss said.
Comments will be moderated. Keep comments relevant to the article. Remarks containing abusive and obscene language, personal attacks of any kind or promotion will be removed and the user banned. Final decision will be at the discretion of the Taipei Times.