Angels clinch another AL West title
AMERICAN LEAGUE
Kendry Morales homered and drove in three runs as the Los Angeles Angels wasted no time clinching their third straight AL West title with an 11-0 victory over the second-place Texas Rangers on Monday night.
Ervin Santana pitched a seven-hitter for his fourth career shutout, while Maicer Izturis had three hits and two RBIs to wrap up the Angels' sixth playoff berth in eight seasons. Los Angeles (92-64) will open at home in the best-of-five first round next week — most likely against Boston, a familiar nemesis. The Red Sox need one win or a Texas loss to earn the AL wild card.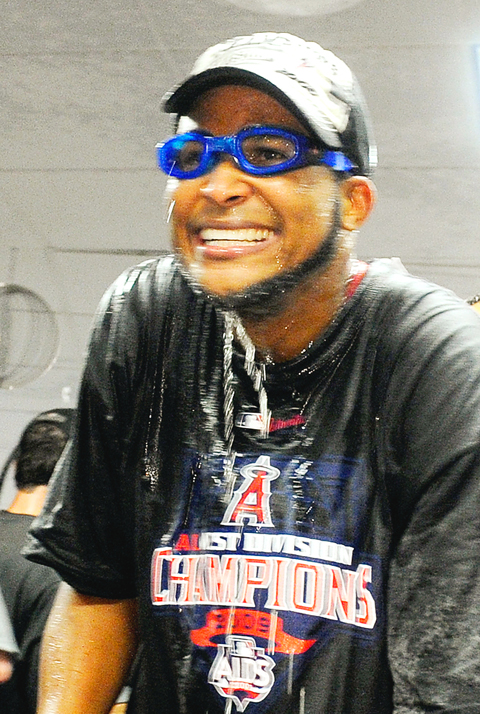 Winning Los Angeles Angels pitcher Ervin Santana celebrates after shutting out the Texas Rangers 11-0 to win the American League West title at Angel Stadium in Anaheim, California, on Monday.
PHOTO: AFP
Needing one victory in this four-game series to secure their fifth division title in six years, the Angels swiftly eliminated any suspense.
With batters Morales and Vladimir Guerrero propelling the offense, Los Angeles took a 7-0 lead in the third inning against Texas rookie Tommy Hunter (9-5), who struggled mightily in the shortest start of his promising season. Erick Aybar and Guerrero drove in two runs apiece, while Bobby Abreu had three hits.
After the final out, the Angels formed a mob on the field around Santana (8-8), slapping his shoulders and rubbing his head. Although the right-hander is likely to be in Los Angeles' bullpen in the playoffs, Santana made sure manager Mike Scioscia won't forget him, earning his first win in seven starts and his second shutout this season.
About 10 minutes into their beer-and-champagne celebration in the clubhouse, the Angels surrounded and joyously soaked the jersey of Nick Adenhart, the 22-year-old pitcher who died in a car accident in April. The Angels have taken Adenhart's jersey on every road trip and kept his locker intact in memory.
Angels players returned to the field and several grabbed a hose from the grounds crew, using it to spray water on fans behind both dugouts. Then the Angels jogged to the outfield and touched Adenhart's photo and No. 34 on the outfield fence.
Tommy Hunter yielded seven hits and six earned runs, while the Rangers also made three errors and hit into three double plays while getting just one runner to third base.
Michael Young had two hits in his return from a hamstring injury for the Rangers, who are also on the verge of elimination from the wild-card race after fighting to stay in contention all summer despite several major injuries.
Texas (85-71) trails Boston (91-65), which lost to Toronto, by six games with six to play.
LA ended their first four-game losing streak of the season on Sunday with a win over Oakland, while Texas blew a five-run lead with four outs to go in a loss to Tampa Bay. That swing left the Angels needing just one win to wrap up the division they've led since July 11.
After Guerrero drove home the Angels' first run for the second straight day with a first-inning double, Morales sent him home with the 33rd homer of his breakout season. Los Angeles scored three more runs in the third, chasing Tommy Hunter on Izturis' two-run single, and another in the fourth when Abreu tripled and scored on Guerrero's groundout.
The Angels made just three playoff appearances in the franchise's first 39 seasons before Scioscia took over in 2000. Los Angeles has earned six postseason berths during the former Dodgers catcher's decade in the dugout, winning the 2002 World Series in the Angels' only wild-card playoff appearance.
Also See: Rain, Blue Jays douse Red Sox
Comments will be moderated. Keep comments relevant to the article. Remarks containing abusive and obscene language, personal attacks of any kind or promotion will be removed and the user banned. Final decision will be at the discretion of the Taipei Times.