NFL: Cowboys leave Carolina winless
The Dallas Cowboys recorded their first win in their new US$1 billion stadium, scoring 21 unanswered points en route to a 21-7 victory over winless Carolina on Monday.
Dallas quarterback Tony Romo rebounded from a poor outing last week, while Carolina's Jack Delhomme continued to struggle this season with two interceptions in front of a crowd of 90,588.
Romo passed for 255 yards on 22-of-33 attempts for the Cowboys who have two wins and one loss on the season.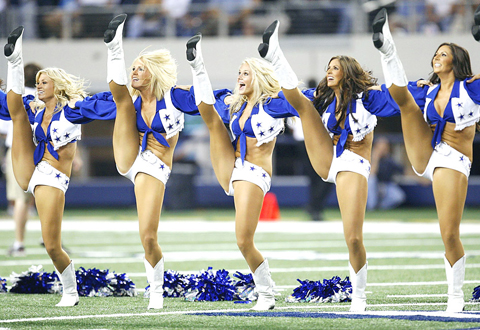 The Dallas Cowboys cheerleaders perform before a game against the Carolina Panthers at Cowboys Stadium in Arlington, Texas, on Monday.
PHOTO: AFP
"You're always frustrated and disappointed when you don't play to what you feel like you're capable of. That was me last week," Romo said.
Romo, who tossed three interceptions last week, bounced back from a disappointing loss to the New York Giants in their home opener.
"Some things are new experiences when you are out there and you don't want them to be," Romo said. "But that is how you grow. Sometimes you have to go through growing pains to get there. You got to work at it. It is exciting to feel improvement as a player."
After going scoreless in the first half, Dallas stepped it up after halftime as Terrence Newman sealed the victory with a interception for a touchdown in the fourth quarter.
The Cowboys played without star running back Marion Barber who has a left thigh injury.
So Felix Jones and Tashard Choice had to carry the load for Dallas in the backfield. Jones, who left the game with a knee injury, rushed the ball eight times for 94 yards. Choice had a touchdown and carried for 118 yards.
Jake Delhomme continued his struggles for the 0-3 Panthers, completing 22-of-33 for 200 passing yards.
DeAngelo Williams rushed for 64 yards on 11 carries for the Panthers who are off to their worst start to a season since 1998 when they began with seven consecutive losses.
The Panthers started a drive at their own 10-yard line with six minutes remaining in the fourth and trailing by just one possession 13-7.
After Williams rushed for a 12-yard gain, Delhomme went deep to Steve Smith but was off the mark.
On the next play, Delhomme went right back to his star receiver, but Smith broke off a quick slant, allowing Newman to grab the interception and scamper 27-yards on the return.
Carolina's only score came just before the half when Delhomme hit Dante Rosario for a touchdown.
Comments will be moderated. Keep comments relevant to the article. Remarks containing abusive and obscene language, personal attacks of any kind or promotion will be removed and the user banned. Final decision will be at the discretion of the Taipei Times.