Yanks knock Beckett's Sox off
SHAMEFUL STATS Boston starter Josh Beckett pitched for eight innings, allowing eight earned runs and five homers, making himself only the second pitcher since 1954 to do so
AMERICAN LEAGUE
The Yankees have seen Josh Beckett at his best, and now they have seen him at his worst. In their final game at Fenway Park this season — until a possible playoff date, anyway — the Yankees stung their nemesis for five home runs on Sunday night.
The result was an 8-4 victory over the Boston Red Sox for C.C. Sabathia, who leads the majors with 15 victories. Beckett had pitched 16 scoreless innings against the Yankees before Sunday, and he shut them out for Florida in the Yankees' last World Series appearance, in 2003. But he had never before allowed five home runs.
New York Yankees left fielder Johnny Damon hits the wall chasing a double by the Boston Red Sox's Mike Lowell during the second inning at Fenway Park in Boston on Sunday.
PHOTO: AP
"Beckett is a great pitcher, but this lineup is unbelievable," said Sabathia, who threw 80 of his 118 pitches for strikes. "I've had confidence in this offense all year."
Derek Jeter punished Beckett's first pitch for a home run and Hideki Matsui went deep twice. Robinson Cano and Alex Rodriguez also homered off Beckett, who had a most unusual pitching line.
Beckett worked eight innings, allowing eight earned runs and five homers. The only other pitcher since 1954 to match those totals in a game was Toronto's Pat Hentgen against Boston on June 25, 1997.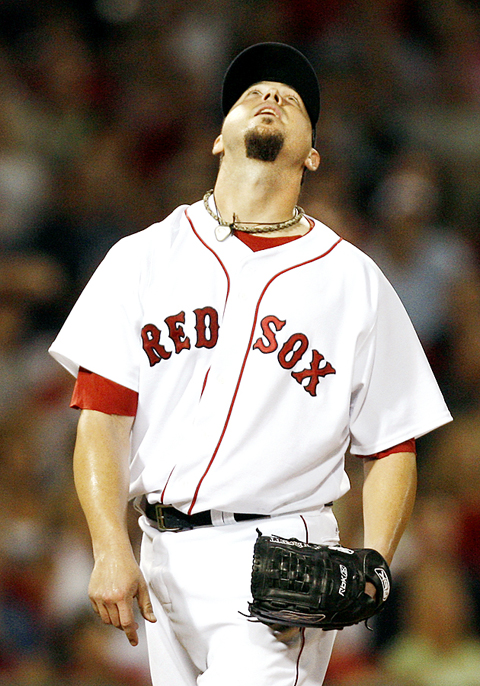 Boston Red Sox starter Josh Beckett watches a hit by the New York Yankees during the eighth inning in Boston on Sunday.
PHOTO: AP
"You tend to remember these," Beckett said. "These are humbling deals. I'm still confident in the guys. Today is on me."
The Yankees escaped Boston with a series victory and a seven-and-a-half game lead in the American League East.
They have won 10 of 11 series since the All-Star break, including all three on this trip through Oakland, Seattle and Boston.
Their early futility against the Red Sox is a distant memory. In seven meetings this month, the Yankees won six times.
"We were 0-8 before this all started, and to be able to win six of seven is really good," manager Joe Girardi said.
The game offered the promise of a pitchers' duel after 46 runs rumbled home on Friday and Saturday. Sabathia (15-7) and Beckett (14-5) were the only American Leaguers with 14 victories, and both threw at least seven shutout innings when the teams met earlier this month.
But Beckett has had two rough starts in a row, allowing runs in his last five innings last Tuesday in Toronto and his first five this time. After Jeter jumped on the first pitch of the first inning, Matsui mashed the first pitch of the second. The Yankees were on their way.
"We got pitches to hit, and we hit them," said Jeter, who went 21 for 43 on the road trip. "It's really not more complicated than that. He's always tough on us. I'm pretty sure he'll be fine."
Sabathia struck out three of his first five hitters and issued no walks over six and two-thirds innings. Two doubles and a single tied the score, 2-2, in the second inning, but it did not stay that way for long.
The Yankees nicked Beckett for three singles in the third — just one, a first-pitch smash by Jeter, was hit hard — and took a 4-2 lead. A deep drive by Cano, over the bullpen just to the right of straightaway center field, made it 5-2 in the fourth. It was the 19th homer for Cano, matching his career high.
In the fifth, it was Rodriguez's turn. He had five hits in the first two games of the series, but still had only two homers in his previous 114 at-bats when he stood in against Beckett with Damon on base in the fifth.
Rodriguez brought the count full and seemed to get fooled on a curveball before ripping the same pitch down the left-field line and over the Green Monster for his 22nd home run. He has 575 career homers, eight shy of Mark McGwire for eighth on the career list.
It put the Yankees ahead by 7-3, the Red Sox having scored in the fourth when Cano overran a pop-up by Varitek in short right field that clanged off the heel of his glove. It fell to the grass for an error, allowing an unearned run.
It was an embarrassing blooper for Cano, but it did not really cost the Yankees, who seemingly can do no wrong these days.
In other AL action it was:
• Rangers 4, Rays 0
• Blue Jays 8, Angels 3
• Athletics 9, Tigers 4
• Orioles 5, White Sox 4
• Twins 10, Royals 3
• Indians 6, Mariners 1
NATIONAL LEAGUE
AP, NEW YORK
Second baseman Eric Bruntlett produced an unassisted triple play to cap the Philadelphia Phillies' 9-7 victory over the New York Mets in the National League on Sunday.
It was the 15th unassisted triple play in major league history — the second that ended a game. Detroit Tigers first baseman Johnny Neun also accomplished the feat on May 31, 1927, completing a 1-0 victory over Cleveland, according to STATS LLC.
With runners on first and second in the ninth inning, Jeff Francoeur hit a line drive up the middle that appeared headed toward center field for a single. But both runners were stealing on the pitch, so Bruntlett was in perfect position as he moved over to cover second base.
He caught the liner easily, stepped on second to double up Luis Castillo and then turned to tag Daniel Murphy for the third out.
Murphy tried to backpedal away from Bruntlett, but had nowhere to go. The Phillies raced onto the field to congratulate Bruntlett after the stunning ending gave Lidge his 25th save in 33 chances.
Philadelphia scored six times in the first inning off Oliver Perez.
ROCKIES 4, GIANTS 2
At Denver, Colorado, Ubaldo Jimenez threw eight innings and Seth Smith hit a two-run homer as Colorado downed San Francisco.
In other NL action it was:
• Cardinals 5, Padres 2
• Cubs 3, Dodgers 1
• Braves 7, Marlins 5
• Diamondbacks 7, Astros 5
• Nationals 8, Brewers 3
• Reds 4, Pirates 1
Comments will be moderated. Keep comments relevant to the article. Remarks containing abusive and obscene language, personal attacks of any kind or promotion will be removed and the user banned. Final decision will be at the discretion of the Taipei Times.