Lions outbat Bulls in 13-8 slugfest
Overcoming deficits as large as five runs, the Uni-President Lions outslugged the Sinon Bulls 13-8 at the Tainan Municipal Baseball Stadium on Friday night to win their third in a row.
The home Cats found themselves in a 0-5 hole after the opening inning, with the Bulls dialing up five quick runs off starter Luther Hackman. Bulls batters pounced on the American right-hander, connecting for a pair of doubles and four singles.
The Lions weren't rattled, however, and chipped the Sinon down to 6-3 with a run in each of the each of the second through fourth innings. They then erupted for a five-run sixth, highlighted by Pan Wu-hsiung's two-run triple.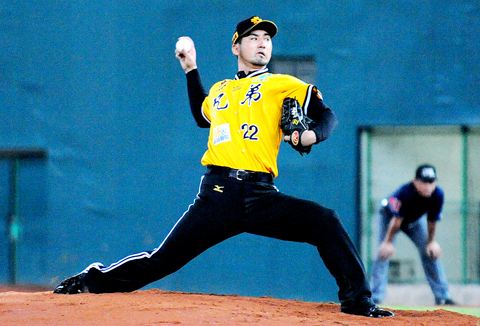 Brother Elephants starter Kobayashi Ryokan pitches to a La New Bears batter during their game in Kaohsiung on Friday.
PHOTO: CHANG CHUNG-YI, TAIPEI TIMES
Pan put the game away with a two-run home run, his sixth of the season, making it 10-6 before the Lions tacked on three more runs in the eighth.
The Lions' 20-hit outbreak more than made up for a lack of runs last week that saw them averaging less than three runs per game over a four-game span.
Bulls starter Shoda Itsuki failed to take advantage of the 5-0 lead that his offense spotted him in what could have been his 12th win of the year. Itsuki allowed seven runs (five earned) on a dozen hits over five-and-a-third innings of work to lose his sixth game of the season.
Sinon hitters did their part by amassing 18 hits of their own, including homers from Chang "Prince of the Forest" Tai-shan and Cheng Da-hong.
But on a night when it seemed the Lions could do no wrong, even 18 hits did not translate into a win as they dropped their fourth consecutive game.
ELEPHANTS 7, BEARS 2
The Brother Elephants won their season-best sixth in a row in a 7-2 decision over the La New Bears in Kaohsiung on Friday evening to up their lead over the second-place Bears to a second half-high seven games in the standings.
Peng "Chia Chia" Cheng-min's two-run shot off Bears starter Josh Miller broke a scoreless tie in the top of the fourth before Kuo Yi-fong's RBI single and a run-scoring error by the Bears defense gave the Elephants a 4-0 lead through the fourth.
That was more than ample for Elephants starter Kobayashi Ryokan, who pitched a brilliant four-hitter over six-and-a-third innings to pick up his sixth win of the year. Other than a two-run blast that the Japanese pitcher allowed the Bears' Lin Chih-sheng in the sixth, he was virtually unhittable.
Equally effective was the Elephants bullpen, which took over one out into the seventh and retired all but one of the next nine La New batters it faced to keep win intact.
Comments will be moderated. Keep comments relevant to the article. Remarks containing abusive and obscene language, personal attacks of any kind or promotion will be removed and the user banned. Final decision will be at the discretion of the Taipei Times.