NFL: Battle heats up in Steeler QB's case
A lawyer for the woman who alleges Ben Roethlisberger raped her at Lake Tahoe last summer is asking a judge to sanction the NFL star's legal team, saying they tried to "bully" her into dropping her civil lawsuit.
Roethlisberger's lawyers tried to smear the woman with an affidavit from an ex-friend who said the sex in Roethlisberger's room at Harrah's Lake Tahoe hotel and casino was consensual and that the woman bragged about it, said Cal Dunlap, her Reno lawyer.
He also said in a motion filed on Thursday in Washoe District Court in Reno that Roethlisberger's lawyers made a settlement offer this week suggesting they might countersue her for defamation — a move Dunlap said "borders on criminal extortion."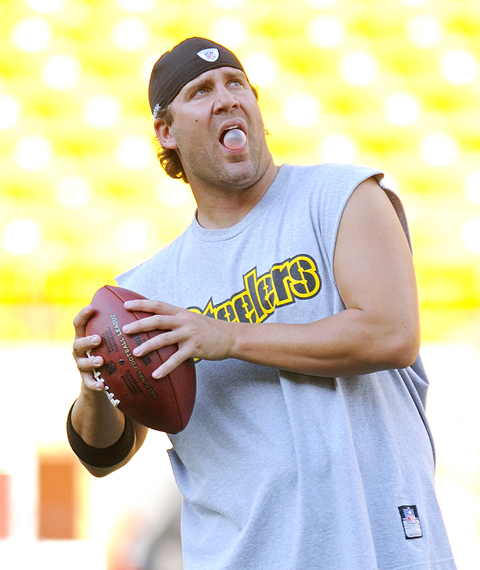 The Pittsburgh Steelers' Ben Roethlisberger warms up before a pre-season game against the Arizona Cardinals in Pittsburgh, Pennsylvania, on Thursday last week.
PHOTO: REUTERS
Lawyers for the quarterback of the Super Bowl champion Pittsburgh Steelers said in the offer that a "conspiracy to extort and defame" him has harmed his potential earnings in excess of US$20 million.
Settlement alternatives outlined in the offer included one scenario where Roethlisberger would release both the woman and Dunlap from any legal liability if the woman dropped her lawsuit and wrote a letter of apology to the two-time Super Bowl winner.
Another said Roethlisberger would pay for a psychiatric evaluation of the woman but offered no other financial payment.
The woman contends in the lawsuit filed last month that Roethlisberger raped her in July last year while he was there to play in a celebrity golf tournament.
The woman reported the incident to Harrah's security. But she said she never filed a criminal complaint because she feared Harrah's would side with Roethlisberger and she would be fired. She also accused Harrah's officials of orchestrating a cover-up.
The suit seeks a minimum of US$440,000 in damages from Roethlisberger, at least US$50,000 in damages from the eight Harrah's officials named as defendants and an unspecified amount of punitive damages.
Earlier this week, Roethlisberger lawyer W. David Cornwell provided reporters with 18 pages of e-mails and texts purportedly between the 31-year-old woman and a male friend that Cornwell said prove she was not assaulted.
In one written less than 24 hours after the alleged rape, she wrote about how much she had enjoyed entertaining the celebrities.
Comments will be moderated. Keep comments relevant to the article. Remarks containing abusive and obscene language, personal attacks of any kind or promotion will be removed and the user banned. Final decision will be at the discretion of the Taipei Times.