Martinez makes winning Phillies debut
POTENT OFFENSE Three-time Cy Young Award winner Pedro Martinez notched up his 215th career win in a game in which a Cubs fan drenched Shane Victorino in beer
NATIONAL LEAGUE
Pedro Martinez made a victorious return to the mound behind a potent offense to help the Philadelphia Phillies storm to a 12-5 thrashing of the Chicago Cubs in his first start with his new team on Wednesday.
Pitching for the first time since ending a four-year stint with the New York Mets last September, the three-time Cy Young Award winner worked his way through five innings, striking out five batters while allowing three runs.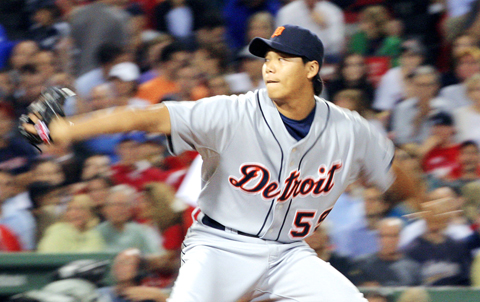 The Detroit Tigers' Ni Fu-te of Taiwan pitches against the Boston Red Sox in the seventh inning at Fenway Park in Boston, Massachusetts, on Wednesday.
PHOTO: REUTERS
"It was really fun to get back to the game," Martinez told reporters. "Last year was a horrible year. [Now] I'm healthy and I'm going to improve. I expect to improve."
Martinez, who has battled a number of injuries in recent years and is coming back from a shoulder ailment, filed for free agency after last season and was finally signed by the Phillies on July 15.
As the 37-year-old Martinez enjoyed a successful return to his familiar place as a starting pitcher, Chicago youngster Jeff Samardzija was battered by the World Series champions on his first career start.
Philadelphia (63-48) scored eight runs in the fourth inning, forcing Samardzija to leave the game after being charged with seven runs in 3-1/3 innings.
Jimmy Rollins and Raul Ibanez both hit three-run homers in the fourth after Shane Victorino had a two-run shot in the third to help consign the Cubs (58-54) to a fourth straight loss and sixth in their last seven contests.
Chicago is struggling with starting pitchers Ted Lilly and Carlos Zambrano on the disabled list as well as third baseman Aramis Ramirez.
"They hit [Samardzija] hard," Cubs manager Lou Piniella said. "That's going to happen when you have two starters on the [disabled list]. This is a tough lineup. This is a world championship team you're talking about."
Philadelphia returned to championship form one night after squeaking out a win against Chicago despite recording just three hits. This time around, Philadelphia tallied 14 hits with every starter reaching base safely besides Martinez.
For his part, the wily Martinez allowed hits in the first three innings and got into a no-out bases-loaded jam in the fifth inning but escaped with minimum damage on his way to his 215th career win.
A bizarre moment marred the contest in the fifth inning when a fan threw a cup of beer on center fielder Victorino as he was making a catch. The Cubs general manager offered an apology to the Phillies for the incident.
GIANTS 4, DODGERS 2, 10 INNINGS
At San Francisco, Juan Uribe hit a game-ending two-run homer in the 10th inning allowing San Francisco to avoid a three-game sweep by the archrival Los Angeles.
It was a wild game in which the benches cleared and both Giants manager Bruce Bochy and bench coach — and acting manager — Ron Wotus were ejected in separate arguments.
METS 6, DIAMONDBACKS 4
At Phoenix, Cory Sullivan tripled twice and Gary Sheffield had two singles in his return to the lineup, helping New York avoid a three-game sweep.
Luis Castillo's pinch-hit single with two outs off Arizona's Jon Rauch (2-1) brought in the go-ahead run, then Sullivan tripled to the right-center gap to make it 5-3 in the eighth. Soon after, Rauch, upset at the strike zone, and Arizona manager A.J. Hinch were thrown out of the game by plate umpire Mike Everitt.
Also on Wednesday, it was:
• Astros 14, Marlins 6
• Padres 6, Brewers 5
• Cardinals 5, Reds 2
• Rockies 8, Pirates 0
• Braves 6, Nationals 2
AMERICAN LEAGUE
AP, SEATTLE
Pinch-hitter Ken Griffey Jr lined a single off the right-field wall with two outs in the bottom of the 14th to give the Mariners a 1-0 victory over the Chicago White Sox on Wednesday night and end the longest scoreless game in Seattle's 33-year history.
After the second seventh-inning stretch of the night, Adrian Beltre, eight days removed from the disabled list following shoulder surgery, singled with one out in the 14th.
Griffey rekindled his Seattle magic of the 1990s by lining a 1-2 pitch into the corner.
Also on Wednesday, it was:
• Yankees 4, Blue Jays 3, 11 innings
• Red Sox 8, Tigers 2
• Angels 10, Rays 5
• Athletics 6, Orioles 3
• Rangers 5, Indians 0
• Twins 7, Royals 1
Comments will be moderated. Keep comments relevant to the article. Remarks containing abusive and obscene language, personal attacks of any kind or promotion will be removed and the user banned. Final decision will be at the discretion of the Taipei Times.