Female fighter gains chokehold on fame
Gina Carano lives on a cul-de-sac where all the houses look the same. For companionship, she puts up two pit bulls and a convicted felon. She stays out of nightclubs, maintains few friendships and drives a foul-smelling Impala. She never finished college. She has never heard of Chuck Berry. In conversation, she assumes you have never heard of her.
Though austerity often attends the life of a young fighter, Carano has achieved the sort of renown that inspires sultry magazine spreads, online popularity contests and even mean-spirited sex tape rumors. At 27, she has become the face of women's mixed martial arts, fighting her way to respectability in a male-dominated sport that has yet to secure its own respectable place in the mainstream.
"I think anybody else would have lost their mind a long time ago, especially someone who doesn't enjoy being in the spotlight," said Kevin Ross, a friend who introduced Carano to combat sports. "She's a very secluded person."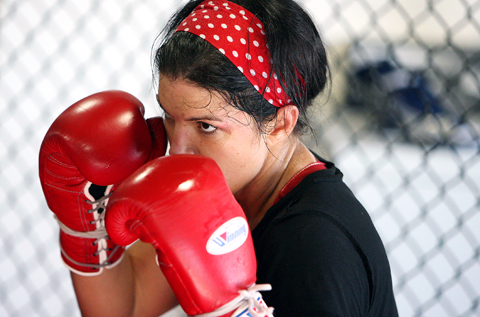 Gina Carano works out in Las Vegas on Sunday. Carano may be the public face of women's mixed martial arts, but she keeps a very private persona.
PHOTO: NY TIMES NEWS SERVICE
Building a career on such girl fighter novelty stunts as a role on a reality TV show and a turn on **American Gladiators,** Carano has emerged as a defining figure at a defining moment for her sport, cast as part suffragette, part test case, part marketing ploy and part crossover star.
Inside the cage where mixed martial arts competitors combine elements of kickboxing, wrestling and jujitsu in a manner still banned in New York for its brutality, Carano has demonstrated discipline, endurance and powerful striking. The promoters call her Conviction. Last year, appearing on the undercard of the first mixed martial arts event broadcast on prime-time network TV, she showed up male fighters whose bouts were called oversold, anticlimactic and possibly even staged.
On the strength of that performance, she was recruited to headline a presentation on Showtime on Aug. 15, with male fighters on the undercard. In publicity materials making reference to her beauty, promoters have promised nothing less than "one of the most eagerly anticipated battles of all time."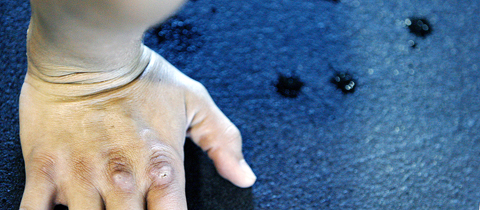 Calluses on the hand of Gina Carano, pictured during a training session in Las Vegas on Sunday, attest to her hard work.
PHOTO: NY TIMES NEWS SERVICE
At the HP Pavilion at San Jose, California, Carano (7-0) will face Cristiane Santos of Brazil (7-1), who is known as Cyborg and whose grappling skills are deployed with an aggressive, improvisational flair. In one video posted online, Santos demonstrated a chokehold on an interviewer who was either taken by surprise or a skilled actor. For five rounds of cage fighting, Carano and Santos will split a US$200,000 payday. The winner stands to gain a title in a new category for 145 pound (65kg) women.
The premier mixed martial arts league, the Ultimate Fighting Championship, has taken no interest in the fight. Its president, Dana White, broke off talks with Carano after concluding that insufficient talent had been developed to support a thriving women's division, according to a spokesman.
Instead, a promotion called Strikeforce has underwritten the match as part of its effort to gain some purchase in the thriving mixed martial arts business. With varying degrees of success, other upstart ventures have sought to distinguish themselves as the team league and the Hispanic league. Strikeforce has cast its lot with women.
In an interview at a diner near her home, Carano recounted the curiosity of a strict religious upbringing in Las Vegas. She was enrolled in a private school not far from the Strip. Halloween was forbidden. Her family walked out of a screening of **Forrest Gump** on account of the sinful language. Her sisters seemed so effortlessly thin and pretty until the older one dragged the family through a crucible of the drug variety.
Enrolled in psychology classes at the University of Nevada, Carano was 13kg too heavy, rudderless, half-lost to drinking and chatting up other girls' boyfriends by the time a friend's Muay Thai martial arts instructor finally called her a mess. And the church of athletic redemption narratives found itself another lost soul.
"I've only answered to God, sometimes my family, sometimes not, and fighting," Carano said. "No relationship, no boyfriend, girlfriend, it's the only thing that has kept me focused."
In time she was traveling the world, taking fights in Thailand and staving off concerned relatives. After a while she started making money. After a while she developed a sense of mission.
"I want it to be easier for other females to be able to walk into a gym and train, because it changed my life," she said. "I live in Las Vegas, where it's difficult to meet a gentleman who doesn't think of you as a stripper or a piece of meat. I like the training and the lifestyle. I get to wake up and focus on myself and being better. It eliminates all the drama when you have to think about somebody punching you and taking your head off."
As her big title fight approaches, distractions abound. Photo shoots round out her schedule. She flies to New York for promotional appearances. Separate publicity men fly out from New York and Los Angeles to eavesdrop and text.
For training, she has enlisted a team of six coaches led by Randy Couture, a onetime champion of the Ultimate Fighting Championship. She has acquired a scar above her chin, a bruise around her eye and deep calluses across her knuckles.
One morning in late July, Carano arrived at a gym in a highway strip mall for a workout with a strength coach she has affectionately nicknamed Satan for his mercilessness. The place was decked out like a prison, with black chain-link fences around the exercise gear. Counting the receptionist and a photographer, fewer than five women were present. Around a fighting cage, out of earshot from Carano, a group of teenagers cracked jokes.
For two hours, Carano ran from weight machine to treadmill to weight machine, sweating into a polka dot headband. As the keyboard strains of Van Halen's **Jump filled the speakers, the coach ordered her to perform something he called a speed round. When it was done, she collapsed into an enormous rubber tire. The fight, she said later, would be no easier than the getting ready.
"I've been carrying this whole thing with women's mixed martial arts for a couple years, and that's a lot," Carano said. "It'd be a great thing to win and hold that belt. But that means that load stays right where it's at."
Comments will be moderated. Keep comments relevant to the article. Remarks containing abusive and obscene language, personal attacks of any kind or promotion will be removed and the user banned. Final decision will be at the discretion of the Taipei Times.