Hirvonen claims maiden home win
Home favorite Mikko Hirvonen won the Rally of Finland for the first time on Sunday ahead of France's Sebastien Loeb.
The 29-year-old Ford Focus driver finished a comfortable 25.1 seconds ahead of the five-time world champion to increase his lead on the Frenchman in the world championship series to three points.
"The crown of Finland returns to a Finnish driver," said Hirvonen, who climbed onto the roof of his car and punched the air in celebration.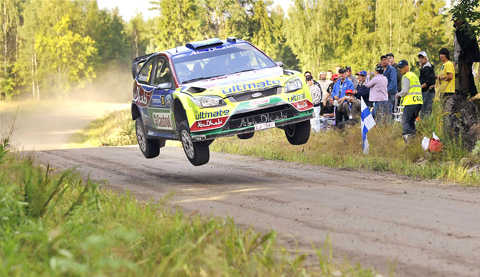 Finnish driver Mikko Hirvonen competes during the first special stage of the fourth day of the Rally of Finland in Jyvaskyla on Sunday. Home favorite Mikko Hirvonen won the rally for the first time, ahead of France's Sebastien Loeb.
PHOTO: AFP
"I've been watching this rally since I was a kid, and now I've won it myself it's an absolutely fantastic feeling!" he said. "The rally went exactly like we planned. I always knew it would be close with Sebastien. I've enjoyed myself all weekend."
Hirvonen secured the 10th rally victory of his career and third in a row this season after Greece and Poland. But it was the first at home for the Finn, who lives in Jyvaskyla and was competing in the event for the eighth time.
Hirvonen took the lead from the second stage and his grip tightened on Saturday when Loeb, last year's winner here, lost 13 seconds after suffering a damaged wheel when he hit a pothole.
Loeb, who held a 20-point lead in the title race just four rounds ago, was glad to return to the podium after crashing on both of the last two rallies.
"It was a good battle with Mikko, but he was really fast here," Citroen driver Loeb said. "It was looking good for Mikko to begin with but after my puncture it was over. I lost too much time and it was not possible to come back — the gap was too much.
"But okay, we are here, we lost two points in the championship — but it's better than losing 10 like we did on the last couple of events! We're still in the running which is what counts. Everything is still to play for. It will be an interesting end to the championship I think," Loeb said.
Finland's Jari-Matti Latvala finished third in a Ford Focus 49.9 seconds behind the winner and was also relieved to make the podium after his last stage disaster on the previous round in Poland.
"I've never had to fight so hard for third place!" Latvala said. "I had extremely big pressure on Friday because of what happened in Poland, then I was really, really sick on Friday and had to fight Dani [Sordo] — who was driving his best ever Rally Finland."
Ferrari's former Formula One world champion Kimi Raikkonen retired on Saturday after rolling his Abarth Grande Punto S2000 off the road. Despite being out of the race, Raikkonen was unhurt.
Comments will be moderated. Keep comments relevant to the article. Remarks containing abusive and obscene language, personal attacks of any kind or promotion will be removed and the user banned. Final decision will be at the discretion of the Taipei Times.