Wang Chien-ming suffers another recovery setback
New York Yankees pitcher Wang Chien-ming has suffered a setback in his recovery from a shoulder injury delaying his rehabilitation, the team said on Monday.
The Taiwanese right-hander felt tenderness in his biceps while playing catch before Monday's game against Baltimore and will not throw again until at least Friday, New York manager Joe Girardi told the Major League Baseball Web site.
"We're going to give him a few more days and some more strengthening before he goes back out. Any time you're dealing with a [rotator] cuff issue and shoulder tendonitis — or whatever you want to describe it as — there's concern," Girardi said.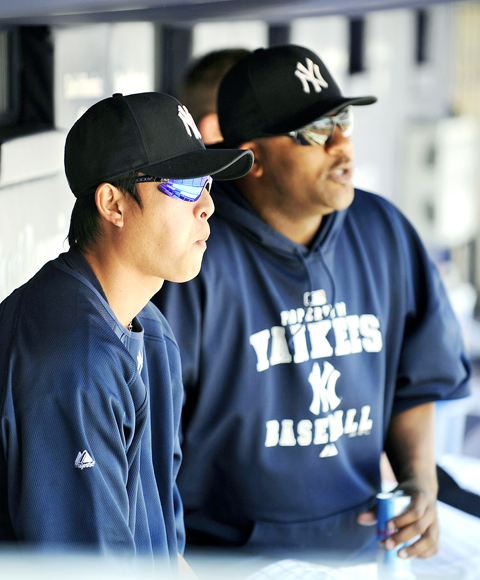 New York Yankees pitcher Wang Chien-ming, left, sits with pitcher CC Sabathia in the dugout during their game against the Toronto Blue Jays in New York on July 6.
PHOTO: REUTERS
The 29-year-old had struggled to start the season, posting a 1-6 record with a 9.64 earned run average. He appeared to be regaining form when he suddenly felt tightness in his right shoulder while pitching on July 4, and went on the disabled list the next day.
"It's not exactly the news that I wanted," Girardi said. "It's not what you want to hear because we were hoping that two weeks' rest is enough for him to get on a throwing program."
Girardi said he did not believe the injury will require surgery but could not provide a timetable for Wang's return.
"We hoped that two weeks would be enough for him to get on a throwing program," he said. "Does that mean he won't pitch this year? No, I'm not saying that, but obviously it's not going to be as soon as we thought because now we're taking a few days off … But I think any time someone is injured and you're not sure when they're exactly going to be back, you can't really count on them in a sense."
Wang was playing catch for the first time since going on the disabled list and had been scheduled to throw again yesterday.
Wang injured his right foot while running the bases at Houston on June 15 last year and missed the rest of the season.
Hit hard at the start of this year, he didn't pitch for the Yankees from April 18 to May 22 because of what the team described as weakness in the adductor muscles in his hips.
He also had shoulder problems in 2001, missing the entire minor league season, and in 2005.
Comments will be moderated. Keep comments relevant to the article. Remarks containing abusive and obscene language, personal attacks of any kind or promotion will be removed and the user banned. Final decision will be at the discretion of the Taipei Times.