The World Games 2009 Kaohsiung: Boules, bowling and Brazilian breasts
The World Games boules competition got underway in a humid 228 Memorial Park yesterday with a number of Taiwanese athletes in action.
In the first matches of the day, Taiwan's men's duo Chen Hung-wen and Sun Chia-yi got off to a good start against their French opponents and took a 5-0 lead, only to lose 10-7.
Later on, Chen and Sun lost 13-0 to Thailand, before finishing off the day with a 13-6 victory over Israel.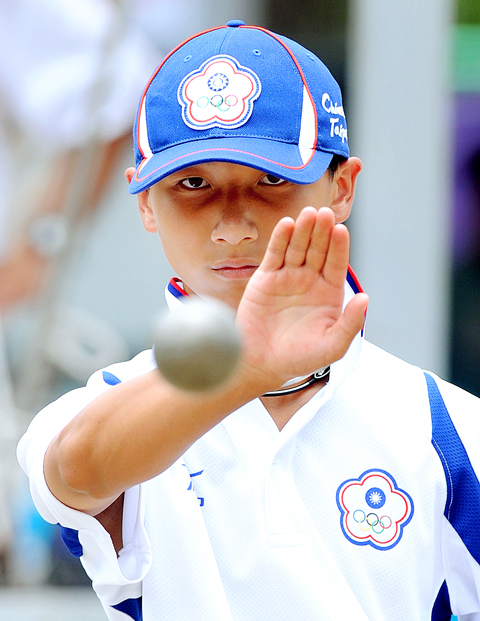 Taiwan's Chen Hung-wen throws a boule during a match at the World Games in Kaohsiung yesterday.
PHOTO: LIN CHENG-KUNG, TAIPEI TIMES
Meanwhile, in their women's doubles opening fixture Chen Szu-an and Yang Tai-hua were on the end of a 13-1 drubbing by a Thai pairing. Chen and Yang later lost 13-3 to France and also 13-2 to Spain, before drawing 12-12 with Canada in their final match.
In the raffa, men's pairing Chen Hung-ting and Huang Wei-hsiang went down 15-5 to Argentina, while women's duo Chung Yu-chun and Yang Ya-ting lost by the same score to a Turkish pair.
On the first day of 10-pin bowling at the Happy Bowling Center, Taiwanese mixed doubles pair Fang Chin-nan and Wang Yu-ling failed to make the grade, finishing a disappointing 11th in their qualifying round.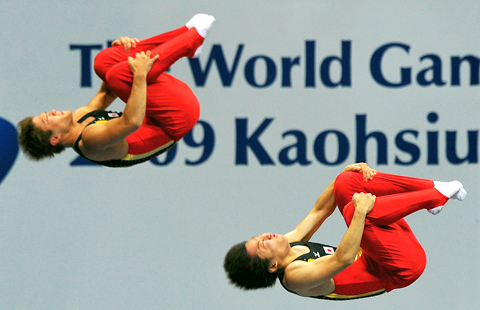 Japanese gymnasts Masaki Ito, right, and Shunsuke Nagasaki compete in the trampoline at the World Games in Kaohsiung yesterday. The pair won gold.
PHOTO: SAM YEH, AFP
Meanwhile, in the frisbee at the Main Stadium, Taiwan continued their poor form, losing 13-4 to the US and 13-7 to Canada.
In gymnastics, acrobatics and trampoline competitions at the Kaohsiung Arena, Taiwanese athletes failed to make any of the finals.
Down by the sea at Siziwan, Taiwan's men finished fifth in the beach handball after defeating Pakistan 24-17, 22-11, while the women secured fifth place after beating Ukraine 10-6 in a penalty shootout. Italy took the women's gold.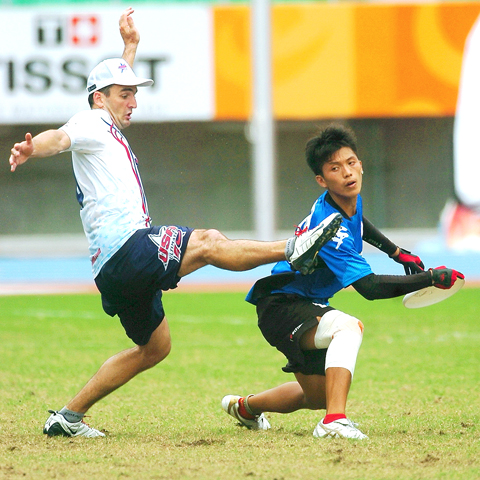 A unidentified US player, left, tries to prevent an unidentified Taiwanese player from throwing the frisbee during their showdown at the World Games in Kaohsiung yesterday. Taiwan lost 4-13.
PHOTO: HUANG CHIH-YUAN, TAIPEI TIMES
In related news, a Brazilian competitor got into trouble with police after taking off her top to catch some sun on the Siziwan sand. The rare site of a topless female attracted a lot of attention, according to reports, but the Brazilian beauty was quickly reminded of local customs and made to put her clothes back on by officers at the scene ... after they had also gotten an eyeful, of course.
Publication Notes
MEDALS TABLE
G S B Tot.
Russia 8 4 6 18
South Korea 6 2 2 10
Taiwan 5 4 2 11
Ukraine 4 7 3 14
Japan 4 2 4 10
Publication Notes
Yesterday's medalists and finalists
FRIDAY, July 17
Beach Handball
(non-medal event)
Women's Finals
First: Italy
Second: Croatia
Third: Brazil
Men's Finals
First: Brazil
Second: Hungary
Third: Croatia
Ten Pin Bowling
Mixed Doubles
Gold: Kong Byoung-hee/Gye Min-young (South Korea)
Silver: Manuel Otalora/Anggie Ramirez (Colombia)
Bronze: Adrian Ang/Zatil Iman (Malaysia)
Gymnastics Acrobatic
Mixed Pairs
Gold: Kristin Allen/Michael Rodrigues (US)
Silver: Julie van Gelder/
Menno Vanderghote (Belgium)
Bronze: Katie Axten/Nicholas Illingworth (Great Britain)
Women's Pairs
Gold: Tastana De Vos/Florence Henrist (Belgium)
Silver: Ayla Ammadova/Dilara Sultanova (Azerbaijan)
Bronze: Mollie Grehan/Maiken Thorne (Great Britain)
Gymnastics Trampoline
Men's Synchro
Gold: Masaki Ito/Shunsuke Nagasaki (Japan)
Silver: Sebastien Martiny/Gregoire Pennes (France)
Bronze: Martin Gromowski/
Dennis Luxon-Pitkamin (Germany)
Fistball
Men's Finals
Gold: Brazil
Silver: Switzerland
Bronze: Austria
Women's Softball
(non-medal event)
First: Japan
Second: Taiwan
Third: South Korea
Comments will be moderated. Keep comments relevant to the article. Remarks containing abusive and obscene language, personal attacks of any kind or promotion will be removed and the user banned. Final decision will be at the discretion of the Taipei Times.