Warne backs Australia to keep Ashes
Shane Warne backed Australia to retain the Ashes on Monday despite the injury setback suffered by fast bowler Brett Lee.
The New South Wales quick, who appeared to be coming into form at just the right time, was ruled out on Monday of the first Test against England in Cardiff, which starts today, with a rib muscle injury that could also sideline him from the second Test at Lord's.
Leg-spin legend Warne added on Monday to his list of great days at Lord's, in what could be his final match there, after leading Indian Premier League champions Rajasthan Royals to a 46-run victory over English Twenty20 kings Middlesex in the inaugural British Asian Challenge.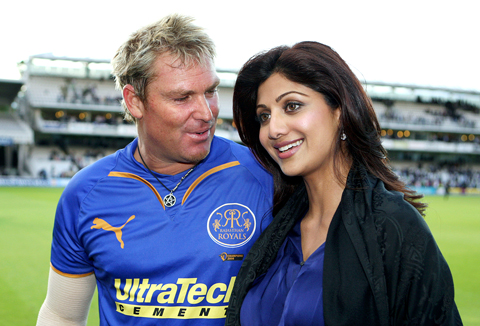 Shane Warne and actress Shilpa Shetty wait for the presentation after the British Asian Trust Twenty20 cricket match between the Rajasthan Royals and Middlesex Panthers at Lord's cricket ground in London on Monday.
PHOTO: AP
Warne, turning his attention to Lee, said: "It's a big blow for Australia. "He was in my starting XI. Him and Mitchell Johnson with the new ball was quite exciting."
"At 90mph-plus, with both swinging the ball, it was an exciting prospect for Australia," Warne said. "They have good back-up but it's a shame because Brett was starting to find some form."
Warne retired from Tests after Australia's 5-0 Ashes clean sweep of England in 2006-2007 saw them regain the Ashes after their 2-1 loss in England in 2005.
He is not the only Australian to have called time on his career in the five-day game ahead of this latest Ashes series with Matthew Hayden, Justin Langer, Damien Martyn, Adam Gilchrist and Glenn McGrath also joining the ranks of former Test cricketers.
But Warne said the fact that a new-look Australia side had won a Test series in South Africa earlier this year was significant.
And he insisted that England, whose Test form since 2005 has been mediocre, should not get carried away by an early season series win over a lackluster West Indies.
"Beating South Africa in South Africa is not that easy to do, so for that group the transitional period is over," Warne said.
"I think they'll do exceptionally well over here. Both sides' batting will be okay, the issues will be their starting XI and how to take 20 wickets," he said. "There's not much to choose between them but if you had to put your house on someone you'd have to say Australia."
"Even England fans must think Australia are favorites," Warne said.
"Apart from the West Indies ­series over here they haven't actually played that well — and that's trying to find a positive," he added. "Everyone talks about the 2005 Ashes but there was another one after that which Australia won 5-0 and England should be embarrassed by that."
Warne marked what may be his farewell appearance at the "home of cricket" by having Dawid Malan stumped.
"That will be my last game at Lord's unless the Royals play here again in the next 12 months or in the future," Warne said.
"It will be my last competitive game in England, that's for sure," the former Hampshire captain added. "I love being out there and thought I did quite well considering I'd just jumped off a plane and haven't bowled for a couple of weeks."
Comments will be moderated. Keep comments relevant to the article. Remarks containing abusive and obscene language, personal attacks of any kind or promotion will be removed and the user banned. Final decision will be at the discretion of the Taipei Times.