Jewish quartet set for MLB first
STAR OF DAVID: An author has used statistical analysis to predict that Ryan Braun of the Milwaukee Brewers will retire as the third-greatest Jewish baseball player ever
Jewish baseball fans — fascinated with Hall of Famers Sandy Koufax, Hank Greenberg and Lou Boudreau — may have a new crop of athletes to dote upon at this year's All-Star Game.
Ryan Braun, Kevin Youkilis and Ian Kinsler lead in balloting for the squads, and pitcher Jason Marquis had the most wins in his league through June 30, meaning the four Jewish players are favorites to earn invitations to Major League Baseball's All-Star Game on July 14. It would be the first time four Jews were named to the event.
"We're in a glory time for Jewish baseball players," said Howard Megdal, author of The Baseball Talmud: The Definitive Position-by-Position Ranking of Baseball's Chosen Players.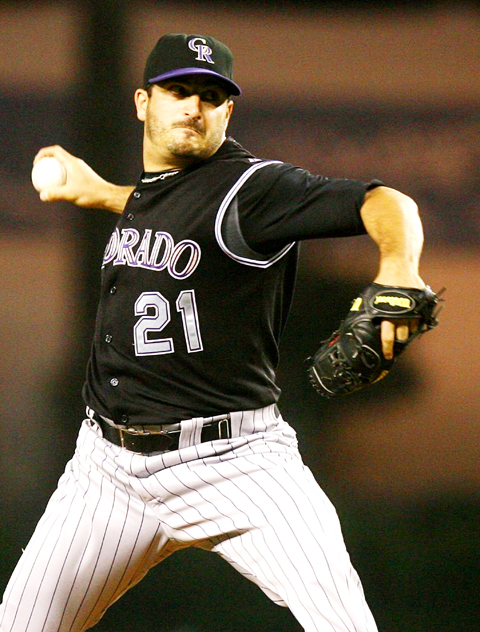 Jewish starting pitcher Jason Marquis of the Colorado Rockies pitches against the Los Angeles Dodgers at Dodger Stadium in Los Angeles on Tuesday.
PHOTO: AFP
"The fact that you have three stars in Kinsler, Braun and Youkilis all under the age of 30 and all seemingly continuing to improve is a very impressive thing," he said.
Greenberg, Boudreau and Goody Rosen all were named 1945 All-Stars, though the game wasn't played due to World War II. Jewish players Mike Lieberthal, Brad Ausmus and Shawn Green each earned the honor in 1999, and last year, Braun, Youkilis and Kinsler were selected.
Youkilis was raised in a conservative Jewish household, as was Marquis, also 30. Braun, 25, and Kinsler, 27, both said they consider themselves representatives of the Jewish community after being born to Jewish fathers and Christian mothers.
Both Kinsler, the Texas Rangers' second-baseman, and Youkilis, a first baseman for the Boston Red Sox, lead the American League voting at their positions. Braun of the Milwaukee Brewers is second in the National League outfielder voting, with the top three earning starting positions.
Marquis, who is 10-5 for the Colorado Rockies, two days ago became the first NL pitcher to win his 10th game this season. The All-Star starters will be announced on Sunday.
"I don't know if it's a heyday or what you'd call it," Youkilis said in an interview. "Hopefully, there's more to come after us."
Youkilis, who is batting .314, isn't hesitant to joke about his background with fellow Jewish players.
"He'll throw little comments at me every once in a while if I reach first while he's playing," Kinsler, who had 19 home runs through June 30, said in an interview. "He'll just say, 'Happy Passover,' or something stupid like that. He's pretty into it."
Just 160 Jews have played in the big leagues, according to the Jewish Sports Review, making up 0.9 percent of the approximately 16,900-man all-time roster. While Jews make up 2.2 percent of the US population, according to the American Jewish Yearbook, the 11 active pro players account for 1.5 percent of today's major-leaguers.
With books on Jews and baseball, as well as an upcoming documentary and even some college classes, the sport provides a way for Jews, and all Americans, to think about the way the world works, said Rabbi Rebecca Alpert, who teaches a course titled "Jews, America and Sports" at Temple University in Philadelphia.
"It's a way of Jews feeling like we belong," she said. "If baseball is the national pastime, it's kind of a way of saying, 'We're part of that too. We're part of that story.'"
Megdal's book ranks every Jewish major-leaguer by the position he has played, using modern statistical analysis to compare generations. He found that Greenberg narrowly topped Koufax as the greatest Jewish ballplayer, and that third base was the weakest Jewish position.
"Third base is a paradox for the Jewish people," according to Megdal's The Baseball Talmud. "Given the lack of Jewish players at the position, you'd think the bag was made of pork."
"That's pretty funny," Braun said in an interview when read the excerpt. Rather than Kosher considerations, he suggested that the inactivity and tendency for short hops at third base were the reasons he struggled there for a season before being moved to left field.
Megdal predicts that Braun will retire as the third-greatest Jewish player, with Kinsler and Youkilis also making the top 10.
Comments will be moderated. Keep comments relevant to the article. Remarks containing abusive and obscene language, personal attacks of any kind or promotion will be removed and the user banned. Final decision will be at the discretion of the Taipei Times.