Mets defeat Yankees 6-2 to salvage a little pride
CATCHING ON After failing to catch a two-out fly for the loss on Friday, the Yankees' Luis Castillo faced the press, shook off derisive applause and returned to usual form
Welcome to the losers' bracket. That's what the weekend interleague frolics at Yankee Stadium felt like after the Mets and the Yankees were cuffed around by divisional rivals in midweek.
In their annual June appointment, the Mets rallied for a 6-2 victory on a soggy Saturday afternoon, after their vintage collapse on Friday night when Luis Castillo muffed a two-out pop fly that allowed the tying and winning runs to score.
Yankees Fill-in pitcher Fernando Nieve earned his first major league victory in three years. Nieve (1-0) allowed two runs and four hits over six-and-two-third innings in his first major league start in three years.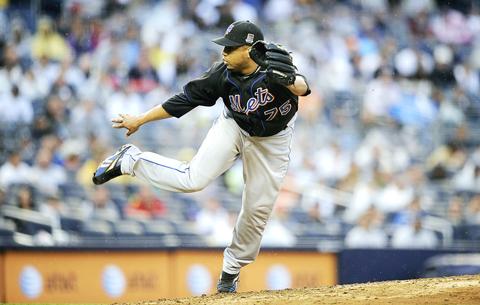 New York Mets reliever Francisco Rodriguez delivers to the plate in the ninth inning against the New York Yankees at Yankee Stadium in New York on Saturday.
PHOTO: AFP
Gary Sheffield homered for the second straight day against his former team and Omir Santos hit a two-run shot off Andy Pettitte (6-3).
Castillo's clank off the heel of his glove on Friday was worse than anything Marvelous Marv Throneberry ever did at first base. It was downright Bucknerian, except that it did not lose the sixth game of a World Series.
In an admirable display of professionalism, Castillo met reporters before Saturday's game, telling them he had no option but to move forward. He was saved by the quotidian renewal of baseball that allows somebody to perform some hideous error late one evening and be back leading off the next afternoon. Castillo was greeted with loud, derisive applause by appreciative Yankee fans, but he might have anticipated that.
And wonder of wonders, life did begin again. Castillo stroked a hit in the second inning, handled grounders and a line drive, beat out a roller in the eighth and generally kept chugging along.
The long and loopy Friday game came after the two New York teams had stumbled around against the two division leaders, the Red Sox and the Phillies.
The interleague schedule is something of a burden for teams with intracity opponents, giving the Yankees and the Mets six challenging games every season, just as it does for teams around Los Angeles, the Bay Area and Chicago.
This year's interleague demands seem downright cruel: The Yankees just got whacked three times in Boston, giving them an 0-8 record against the Sox, while the Mets lost two of three to the Phillies. It's a long season, but both New York teams gave indications of not being as good as their rivals.
"But it's good for baseball," Mets manager Jerry Manuel, said of interleague play. "It outweighs the fact that you are playing a good team."
Is there anything positive that can come from six games against the Yankees?
"It tells you where you are as a team," Manuel said. "And you still have 100 games left."
Manuel has a unique perspective, having managed the White Sox. Cajoled into comparing the rivalries, he said: "I thought the Chicago thing was a little more intense."
"It was so intense," he added, "that we had to play all day games at our place, and that hurt us."
Why did they have to play only day games on the South Side, which has played a vast majority of its games at night for half a century?
"Fights," Manuel said. "Tyson, Ali, stuff like that."
There were no fights on Friday. Folks who can afford the outrageous prices in this Yankee Stadium palace are probably not brawlers, at least in the physical sense.
Yankee fans might even have gotten their money's worth on Friday from a play they will remember a long time — a seasoned major league second baseman performing the modern one-handed stab at a ball in the throes of gravity. Apparently, it is absolutely against the contemporary code of honor to raise the other hand alongside the glove to capture the ball — or swipe at a fumble, in an emergency. Style counts, after all.
To be fair, Mark Teixeira, the solid Yankee who legged his way from first to home on the play, did allude to a slight wind that carried the high, drifting pop-up by Alex Rodriguez.
There is a draft in the Yankees' new launching pad, and this was Castillo's first game there, but this was one epic blunder.
Castillo compounded his error by hitting the deck to retrieve the ball, thereby depriving himself of being in position to make a strong throw as Teixeira steamed home. Look at it this way: Whose knees would not buckle after making an atrocious error like that?
"I need to catch the ball," Castillo said later, standing up and speaking like an adult. "I feel bad. I feel bad. I need to catch the ball."
In other interleague play, it was:
• Dodgers 3, Rangers 1
• Red Sox 11, Phillies 6
• Marlins 6, Blue Jays 5
• Pirates 9, Tigers 3
• White Sox 7, Brewers 1
• Cardinals 3, Indians 1
• Twins 2, Cubs 0
• Rockies 5, Mariners 3
• Giants 5, Athletics 2
• Angels 9, Padres 1
• Royals 7, Reds 4
• Orioles 8, Braves 4
• Astros 6, Diamondbacks 4
• Rays 8, Nationals 3
Comments will be moderated. Keep comments relevant to the article. Remarks containing abusive and obscene language, personal attacks of any kind or promotion will be removed and the user banned. Final decision will be at the discretion of the Taipei Times.