SOUTH AFRICA 2010: Zuma kicks off countdown to Cup
South African President Jacob Zuma on Thursday kicked a soccer ball into a crowd of cheering construction workers at Cape Town's new stadium, marking the one year countdown to the 2010 World Cup.
"We have made it," Zuma said to cheers in the new 4.45 billion rand (US$558 million) Green Point Stadium, which is still under construction.
At 4pm, precisely one year before the World Cup's kick-off, a girl passed the ball to Zuma and he kicked it into the stands.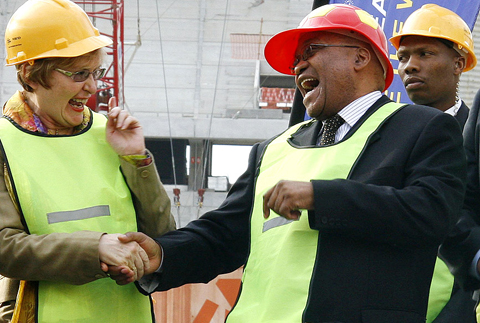 South African President Jacob Zuma, right, laughs with opposition Democratic Alliance leader Helen Zille during a visit to Green Point Stadium in Cape Town on Thursday. Zuma started the one-year countdown to the 2010 World Cup and said its success would confound skeptics.
PHOTO: REUTERS
"Now there is one year before the kick-off and of course we have a wonderful team, the Bafana Bafana. Once again they will surprise the world," said Zuma, wearing a hardhat decorated like a soccer ball.
Jerome Valcke, secretary general of FIFA, and the head of the local organizing committee, Danny Jordaan, attended the ceremony along with the opposition leader Helen Zille, who is the provincial premier.
FIFA and the local organizing committee said everything was ready for the Confederations Cup, which begins tomorrow in what is seen as a curtainraiser to the main event next year.
"It's ready. There are still a certain number of tickets to be sold. The Confederations Cup will serve as a test, so there are some things that will be improved. It's not going to be perfect, and the Confederations Cup is never perfect," Valcke told reporters. "But generally, we have the four stadiums, we have most of what we asked for and we are in a situation that will allow us to adequately test things to be ready for the World Cup," he said.
At Green Point, the crowd was effusive as Zuma thanked the construction workers at length for their labors.
"It was amazing. I met the president," said Zolizwa Gila, a crane operator. "I can't wait for 2010. I want to finish the stadium. At the end of the day, I want to say, I made it, I did the stadium."
The new 68,000-seat stadium is one of the showpieces of the World Cup, situated between the ocean and Cape Town's landmark Table Mountain.
It's one of 10 stadiums that will host the tournament, which runs from June 11 to July 11 next year.
Comments will be moderated. Keep comments relevant to the article. Remarks containing abusive and obscene language, personal attacks of any kind or promotion will be removed and the user banned. Final decision will be at the discretion of the Taipei Times.