F1: Button leads Brawn to debut win
Jenson Button left Brawn GP boss Ross Brawn speechless yesterday after the British driver won the season-opening Australian Grand Prix and led his team to an astonishing one-two on their debut.
The 29-year-old Briton, written off as on overpaid has-been after two dismal seasons with Honda, made it look like a walk in the park while his two closest rivals drove each other off the track in the twilight.
Brazilian teammate Rubens Barrichello started and finished second but only after Red Bull's Sebastian Vettel and BMW-Sauber's Robert Kubica collided three laps from the end while second and third respectively.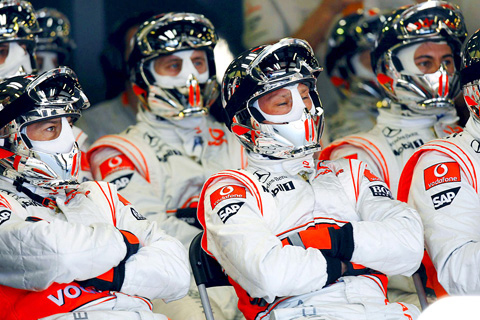 McLaren Mercedes mechanics watch the race on a monitor inside their garage during the Australian Formula 1 Grand Prix in Melbourne, Australia, yesterday.
PHOTO: EPA
The safety car came out and led the field until the final corner of the race.
McLaren's world champion Lewis Hamilton, starting 18th after a catastrophic gearbox failure in qualifying, showed all of his fighting spirit by clawing his way back to fourth place while the Ferraris of Felipe Massa and Kimi Raikkonen failed to finish.
"It wasn't my best race, but I still won," Button said. "This win is for me and the team. That's what I care about. I don't need to poke anyone in the eye about what was said in the past."
No Formula One team had won on their debut since South African Jody Scheckter won Walter Wolf in 1977, while the last to secure the top two places first time out was Mercedes, Brawn's current engine suppliers in 1954.
Fifty-five years on, Button and Barrichello followed in the footsteps of the great Argentine champion Juan Manuel Fangio and Germany's Karl Kling.
HORROR STOP
Button, who survived a horror pit stop to take the checkered flag, was honest after the race and said that he had made it difficult for the team.
"I really made a mistake in my pit stop," he said. "I was just confused with Massa ahead of me. It cost me a few seconds and I made it difficult for the team, but we got there."
Button led from pole to checkered flag, despite two safety car periods, to take his first victory since Hungary in 2006 and score more points in a single afternoon than he had in two years with Honda.
He said team owner Brawn had been lost for words.
"You don't find Ross speechless very often," he said. "But in the last 15 minutes I'd be surprised if he said a word. The big bear was just speechless."
Barrichello said that he was surprised how tough the car was.
"The car is very strong. I was hit from behind, I hit somebody upfront," he said. I never thought I could finish on the podium after my start and after being hit I thought the car was done, but I managed to finish. I had a lot of mixed emotions during the race and am very happy to have finished second."
The first race of a new-look Formula One, with radically revised aerodynamic regulations, slick tires and the new KERS energy recovery systems, turned the starting grid upside down and shook up the pecking order as many had predicted.
Italian Jarno Trulli, who had started 19th and in the pit lane for Toyota, took third place but that was cast in doubt when he was called to the stewards for an enquiry into an overtaking maneuver.
DISQUALIFIED
Germany's Timo Glock, who also started in the pit lane after Toyota were disqualified from qualifying for using an illegal rear wing, was fifth ahead of Renault's Fernando Alonso and Williams' Nico Rosberg.
Toro Rosso's Swiss rookie Sebastien Buemi became the 58th driver to score on his debut with eighth place.
McLaren's Heikki Kovalainen retired after being caught in a first lap coming together.
Neither of the Ferraris finished, with last year's overall runner-up Massa retiring on the 46th lap and 2007 world champion Raikkonen following him out.
Comments will be moderated. Keep comments relevant to the article. Remarks containing abusive and obscene language, personal attacks of any kind or promotion will be removed and the user banned. Final decision will be at the discretion of the Taipei Times.