UEFA to charge a club with match fixing within days
UEFA will bring match fixing charges against a European club within days, European soccer's governing body said on Wednesday.
"There are a number of cases we have been looking at," UEFA general secretary David Taylor told a news conference after the UEFA Congress. "It's very complex and very difficult to find proof. But within the next couple of days we will be issuing charges against one club."
Taylor did not say what country the club was from.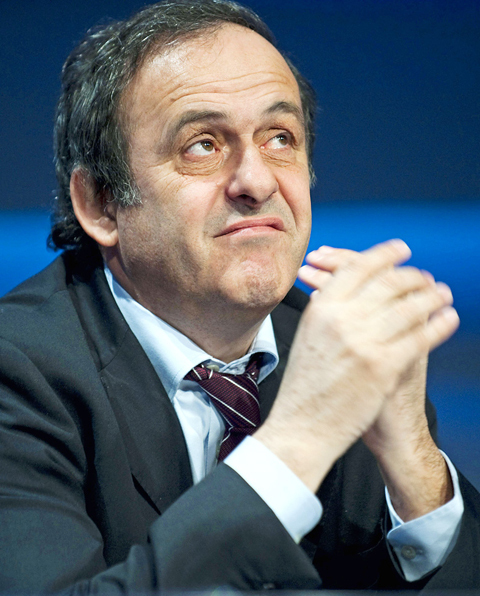 UEFA president Michel Platini grimaces during the UEFA Congress in Copenhagen on Wednesday.
PHOTO: AP
In September, UEFA said it was reviewing 10 matches from the current UEFA Cup season and 15 from last season for irregular betting patterns, all in the competition's preliminary rounds.
UEFA will launch a gambling investigating unit next season featuring experts who will review suspected irregularities in matches from European competitions.
"UEFA is setting up this betting fraud detection system across Europe to include 27,000 matches in the first and second division in each national association," Taylor said. "Only a few matches cause us problems, but we are determined to root out this problem."
UEFA president Michel Platini called match fixing "a serious risk to football."
"Through this early warning system we will find out what bets are being placed," Platini said. "I'll be extremely firm with those who cheat. I don't accept players who cheat and will suspend them from any activity in football."
Platini also said the 2012 European Championship, to be jointly hosted by Poland and Ukraine, would likely generate lower revenues than last year's tournament.
The situation at the organizational level was "not easy" for either Poland, Ukraine or UEFA, Platini said as he opened the congress.
"These two countries, Poland and Ukraine, are working hard," Platini said. "UEFA too, makes all necessary efforts to move forward. And we are moving. However, the benefits linked to the organization of Euro 2012 will probably not be the same as the exceptional [ones] of Euro 2008."
The tournament hosted by Austria and Switzerland in 2008 earned UEFA 2 billion euros (US$2.7 billion) in television and marketing money and a total profit of 250 million euros.
Comments will be moderated. Keep comments relevant to the article. Remarks containing abusive and obscene language, personal attacks of any kind or promotion will be removed and the user banned. Final decision will be at the discretion of the Taipei Times.