NBA: Artest hits 24 as Rockets come back to beat Spurs
Luis Scola dropped in the winning layup with 11.2 seconds left after a bullet pass from Yao Ming as the Houston Rockets rallied to edge San Antonio 87-85 on Sunday and wrest first place in the division.
Ron Artest scored 24 as Houston won its fourth straight to reclaim the top spot in the division for the first time since Christmas. The Rockets lead San Antonio by half a game.
Tim Duncan scored 23 points for the Spurs, whose grip on the No. 2 spot in the West disappeared when Matt Bonner's three-pointer at the buzzer clanked off the rim.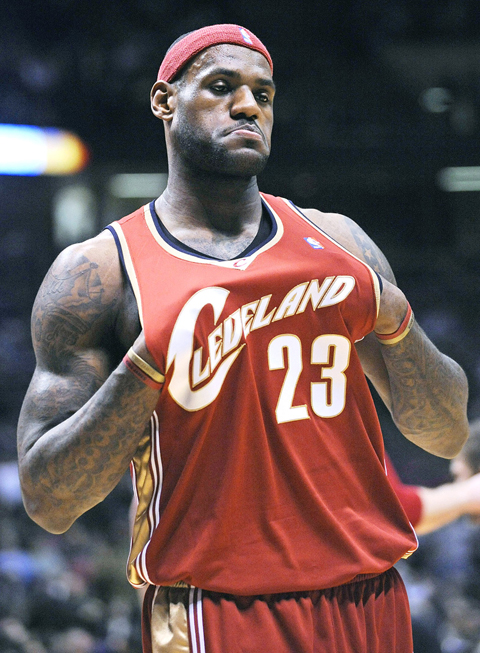 The Cleveland Cavaliers' LeBron James entertains himself during the first quarter of a game against the New Jersey Nets in East Rutherford, New Jersey, on Sunday.
PHOTO: AP
Scola finished with 19 points and 17 rebounds for Houston, who trailed by five midway through the fourth before storming back.
Tony Parker had 22 points and 12 assists but missed a tough 7-footer with 2.9 seconds left with San Antonio trailing by one.
CAVALIERS 96, NETS 88
At East Rutherford, New Jersey, LeBron James had 30 points and 11 rebounds as Cleveland won its ninth straight game to tie a franchise record with its 57th victory.
Zydrunas Ilgauskas added 18 points and became the career leader in blocked shots for the Cavaliers, who improved the NBA's best record to 57-13.
Vince Carter had 25 points and nine rebounds, but without injured All-Star point guard Devin Harris the Nets simply lacked the firepower to hang with the NBA's toughest defensive team. New Jersey fell two games behind Chicago for the eighth and final playoff berth in the Eastern Conference.
HEAT 101, PISTONS 96
At Auburn Hills, Michigan, Dwyane Wade scored 39 points for Miami and Udonis Haslem hit the go-ahead jumper with 6.3 seconds left.
Wade also blocked two shots in the final 30 seconds, helping fifth-place Miami stretch its lead over Detroit to three games in the Eastern Conference standings.
Rodney Stuckey scored 24 points and Antonio McDyess had 16 points and 14 rebounds for the seventh-place Pistons.
Walter Hermann's baseline three-pointer gave the Pistons a 96-95 lead with 13 seconds left.
Mario Chalmers missed at the other end, but Haslem grabbed the rebound and hit a shot to put the Heat back in front for good.
Detroit led for most of the game despite missing three key players — Richard Hamilton (groin), Rasheed Wallace (calf) and Allen Iverson (back).
RAPTORS 100, CLIPPERS 76
At Toronto, Chris Bosh had 16 points and 13 rebounds and Shawn Marion added 14 points and 13 boards for Toronto.
Jose Calderon scored 15 points and Joey Graham added 13 for the Raptors, who have won five of six against the Clippers.
The Raptors had lost nine of 10 coming in but had little difficulty handling the struggling Clippers, leading by as many as 28 in a runaway fourth quarter. Toronto outrebounded Los Angeles 57-34.
Zach Randolph scored 20 points and Baron Davis added 12 for the Clippers, who have not won on the road since a 121-97 victory at Atlanta on Feb. 7. Los Angeles is 7-27 overall on the road and has lost eight straight away from home.
In other games it was:
• Thunder 97, Timberwolves 90
• Hornets 99, Warriors 89
• 76ers 112, Kings 100
Comments will be moderated. Keep comments relevant to the article. Remarks containing abusive and obscene language, personal attacks of any kind or promotion will be removed and the user banned. Final decision will be at the discretion of the Taipei Times.