Bucknor bids farewell to Test cricket
Former Pakistan captain Inzamam-ul-Haq praised Steve Bucknor yesterday after cricket's most experienced international umpire stood in his 128th and last Test — South Africa's win over Australia in Cape Town.
"It was an absolute privilege to play in matches he umpired," Inzamam said. "I always respected his decision-making, man-management skills and above all, his humble and friendly attitude."
Bucknor is the most experienced umpire to date in Test cricket, with 29 more Test matches than South Africa's Rudi Koertzen.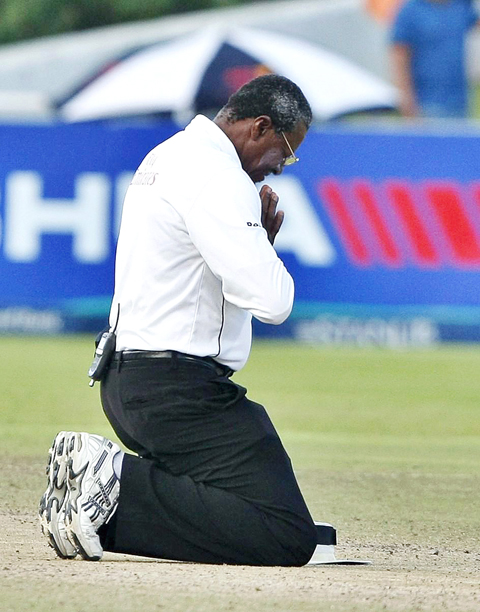 Umpire Steve Bucknor prays on the pitch after the completion of the third Test between Australia and South Africa in Cape Town, South Africa, on Sunday. It was the Jamaican's final Test match.
PHOTO: EPA
Bucknor lingered briefly in the middle of the ground to pray and then embarked on a lap of the ground at the end of the game on Sunday.
Administrators, colleagues and former players all paid tribute to Bucknor.
Former West Indies captain and coach Clive Lloyd described him as honest and dedicated.
"Things that come to mind about him are his honesty and hard-working attitude," he said.
"We all have to go at some time and now it is Steve's time but I hope he continues to work within cricket. It will be a loss to the game if he doesn't continue in some capacity with cricket and I hope that the West Indies Cricket Board will look to use his knowledge and experience when it comes to training and coaching new umpires," he said.
Comments will be moderated. Keep comments relevant to the article. Remarks containing abusive and obscene language, personal attacks of any kind or promotion will be removed and the user banned. Final decision will be at the discretion of the Taipei Times.