NHL: Smyth, Hejduk hit 300 mark together
Ryan Smyth and Milan Hejduk scored their 300th career goals in the Colorado Avalanche's 6-2 win over the Calgary Flames on Sunday, becoming just the second set of players in NHL history to reach the milestone in the same game.
Marek Svatos, Chris Stewart, Ruslan Salei and Cody McLeod also scored to help the Avalanche beat Northwest-leading Calgary for the first time in five games this season.
Michael Cammalleri and Rene Bourque scored for the fatigued Flames, coming off a Saturday night home loss to Phoenix. It's the first time the team has dropped two straight in regulation since early November.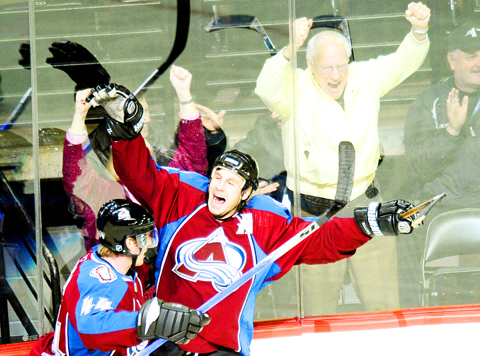 The Colorado Avalanche's Ryan Smyth, middle, celebrates his 300th career goal with teammate Jordan Leapold, left, and an unidentified elderly spectator during Colorado's game against the Calgary Flames in Denver, Colorado, on Sunday.
Peter Budaj stopped 38 shots to snap a personal four-game skid.
Smyth had a short-handed goal in the second period, followed by Hejduk's power-play goal 4:44 later. Smyth also added two assists and Hejduk had one.
Detroit's Danny Gare and Ivan Boldirev are the only other duo to reach the milestone in the same game, each scoring No. 300 on Feb. 26, 1983, against the New York Islanders.
Hejduk also became just the fourth player in franchise history to reach 300 goals, joining Joe Sakic (625), Michel Goulet (456) and Peter Stastny (380). Hejduk has spent his entire career with Colorado.
PENGUINS 3, RANGERS 0
At Pittsburgh, Pennsylvania, Marc-Andre Fleury stopped 33 shots and Petr Sykora had a goal and an assist as Pittsburgh beat the New York Rangers in Sidney Crosby's return to the lineup.
Crosby was back after sitting out on Friday night because of an apparent knee injury. He missed a penalty shot in the second period and his five-game scoring streak ended. Crosby was hurt on Wednesday night against Washington.
Fleury posted his second shutout of the season and 13th of his career. Chris Minard and Tyler Kennedy also scored for Pittsburgh.
The Penguins have won three of their last four games to move back into playoff position in the Eastern Conference.
BLUE JACKETS 6, CANUCKS 5, SO
At Vancouver, British Columbia, Columbus captain Rick Nash had a goal and two assists in regulation and scored the winning shootout goal in his first game after missing four because of a knee injury.
Jason Williams also scored in regulation and the shootout, and Mike Commodore, Raffi Torres, Manny Malhotra also scored in Columbus' fourth victory in five games.
Mats Sundin, Taylor Pyatt, Steve Bernier, Henrik Sedin and Kevin Bieksa scored for Vancouver.
OILERS 6, COYOTES 3
At Edmonton, Alberta, Ethan Moreau scored three goals for Edmonton against Phoenix on a festive night that featured the retirement of Hall of Famer Glenn Anderson's No. 9 jersey.
Moreau completed his hat-trick with an empty-net goal in the final second. Ales Hemsky added two goals, Dustin Penner also scored and goaltender Dwayne Roloson made 25 saves.
Keith Yandle, Daniel Carcillo and Peter Mueller all scored for Phoenix.
Comments will be moderated. Keep comments relevant to the article. Remarks containing abusive and obscene language, personal attacks of any kind or promotion will be removed and the user banned. Final decision will be at the discretion of the Taipei Times.