Tour of India up to players: Pietersen
DECISIONS The Indian cricket board moved the second Test against England to Chennai to ensure the series will go ahead in the wake of deadly terror attacks
England players will be allowed to make their own decision on whether to return to India for a two-test series next month after the militant attacks in Mumbai, captain Kevin Pietersen said yesterday.
England cut short their one-day series to fly home yesterday, but are scheduled to return next month.
The first Test will be in Ahmadabad as scheduled from Dec. 11 and the second Test, due to be played from Dec. 19 to Dec. 23 at Mumbai, has been shifted to Chennai on the same dates.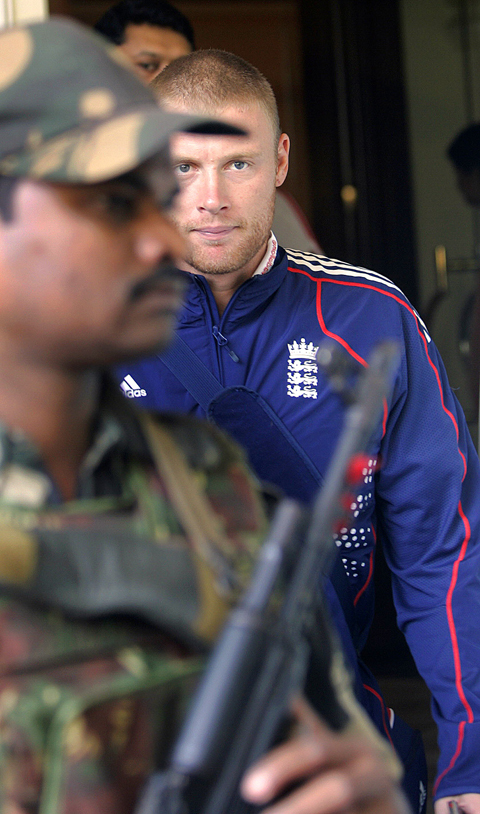 An Indian commando walks in front of Andrew Flintoff as the England cricketer prepares to board a bus at the team hotel in Bhubaneswar, India, yesterday.
PHOTO: AFP
"We will make every effort to come back and play in the Tests but at the end of the day if it's not safe we won't be coming back," Pietersen told BBC radio.
"I'll never force anybody to do anything. A man is a man and he can make his own decisions for himself," he said. "It's the right decision right now to get the boys out of here, to get them to their families, even if it's only going to be for a couple of days. It has been really, really hard. It's something that we weren't expecting and when unexpected things happen you deal with them in certain ways."
Pietersen said postponing the series until after Christmas were not practical and that plans were in place to set up a new practice match in place of the scheduled three-day game in Baroda from Friday next week.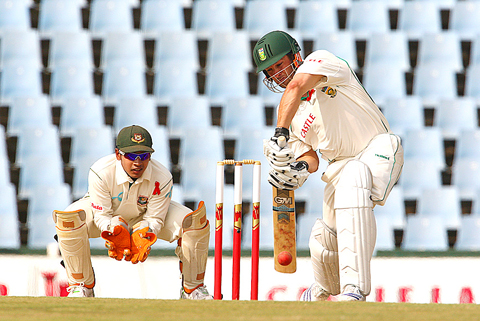 South Africa batsman Mark Boucher aims for the ball on the second day of their second Test against Bangladesh in Centurion, South Africa, on Thursday.
PHOTO: AFP
Former England captain Michael Vaughan said he and the rest of the performance squad would have been in Mumbai, and possibly in one of the hotels targeted by gunmen, if they had not been moved to Bangalore.
"It was only at the last minute it was switched, I don't know why," Vaughan wrote in his Daily Telegraph column.
The Board of Control for Cricket in India (BCCI) yesterday confirmed next month's two-Test series would go ahead.
"India's Test series against England will be played as per schedule," BCCI secretary N. Srinivasan said.
England's cricket team left the eastern city of Bhubaneswar for Bangalore on the first leg of its journey home after the last two limited-overs internationals in a seven-match series were canceled.
India already had a 5-0 lead in the series.
Two dozen commandos from Karnataka state's special action force cordoned off the arrival lounge at the Bangalore airport. The team was taken under high-security escort to a city hotel to wait until its early morning flight to London.
The England and Wales Cricket Board (ECB) had already sent its second-string squad, which was in Bangalore, home yesterday.
■ S AFRICA, BANGLADESH
AFP, CENTURION, SOUTH AFRICA
Bangladesh slow bowler Shakib Al Hasan took three wickets in four balls but could not stop South Africa from taking a firm grip on the third day of the second and final Test at Centurion Park yesterday.
Despite left-arm spinner Shakib's haul of six for 99, South Africa took a first-innings lead of 179 when they were bowled out for 429.
Bangladesh were eight for one in their second innings at lunch with Imrul Kayes caught at first slip off Makhaya Ntini for five.
Ashwell Prince scored a career-best 162 not out for South Africa.
He and Mark Boucher (117) made their South African record sixth wicket stand worth 271 before Shakib instituted a collapse in which the last five wickets fell for 24 runs.
After a slow start to the day, Prince and Boucher went on the attack and scored 26 runs off three overs from Mahbubul Alam and Shakib.
Boucher hit the first two balls of Shakib's next over for four but when he went down the pitch to the third delivery the ball bounced more than he expected and he pushed a simple catch to silly mid-off.
Prince was left unbeaten after facing 223 balls and hitting 23 fours and two sixes.
Comments will be moderated. Keep comments relevant to the article. Remarks containing abusive and obscene language, personal attacks of any kind or promotion will be removed and the user banned. Final decision will be at the discretion of the Taipei Times.