Phillies faithful celebrate first title in 25 years
Philadelphia Phillies manager Charlie Manuel hoisted the World Series trophy during a parade on Friday as hundreds of thousands of fans roared in celebration of the city's first major sports championship in 25 years.
Left fielder Pat Burrell led the procession, riding a horse-drawn carriage and pumping his fists. Next came eight flatbed trucks filled with waving players and other members of the Phillies organization, including the furry green Phanatic mascot.
Throngs in Phillies gear packed downtown sidewalks, making them almost impassable. Fans climbed trees, hung out of windows, watched from balconies, carried stepladders and stood on roofs to get a better view.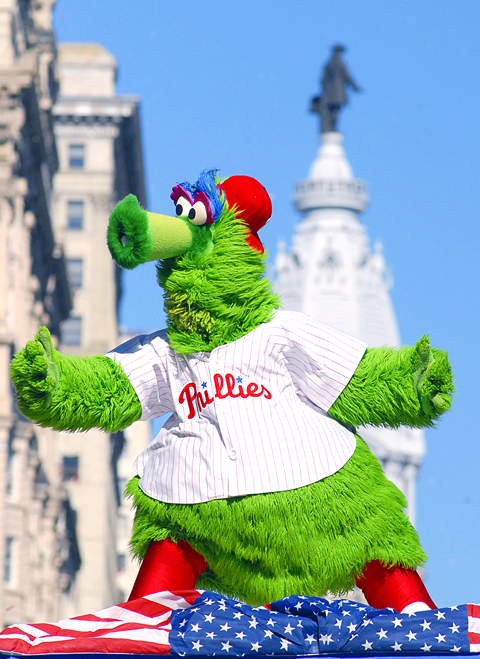 The Phillie Phanatic dances on a float in front of City Hall in Philadelphia, Pennsylvania, on Friday.
PHOTO: AFP
Center fielder Shane Victorino tossed soft pretzels to the crowd while shortstop Jimmy Rollins turned his hand-held video camera on the gathering.
World Series MVP Cole Hamels tried to fist bump a fan dressed like Philly's favorite fictional boxer, Rocky Balboa, but authorities intervened before they quite pulled it off.
The last time a Philadelphia team won a major title was in 1983, when the 76ers captured the NBA crown. The Phillies won their only other World Series in 1980. Current pitcher Jamie Moyer, who grew up in the Philadelphia suburbs, skipped school to attend it.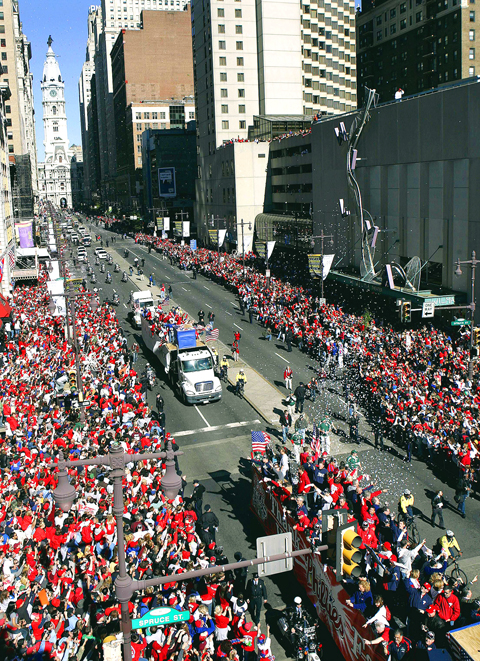 Fans line Broad Street in Philadelphia, Pennsylvania, on Friday during a parade to celebrate the Philadelphia Phillies' victory over the Tampa Bay Rays in the baseball World Series.
PHOTO: AP
"This is unbelievable. I'm starting to understand what it's really all about here," Moyer told reporters as he rode down Broad Street. "I was at the parade in 1980 and that was pretty exciting, but today tops it by far."
Ben Anderson, a 25-year-old fan from Bear, Delaware, pleaded "Come back! Come back next year!" to the team as the players rolled by. Others chanted, "Bring back Pat," a reference to Burrell, who will be a free agent next season.
The Phillies then greeted tens of thousands of fans who had watched the parade on big screens at the city's baseball and American football stadiums. The team first stopped at Lincoln Financial Field, where the NFL's Eagles play.
The Phillies then headed to their home field of Citizens Bank Park, where a red "2008" banner was raised to celebrate their World Series championship. Manuel leaned into the microphone and giving his best Rocky impersonation: "Yo, man. We love you."
Comments will be moderated. Keep comments relevant to the article. Remarks containing abusive and obscene language, personal attacks of any kind or promotion will be removed and the user banned. Final decision will be at the discretion of the Taipei Times.