NHL: Rangers arrest Toronto, Sjostrom scores winner
Steve Valiquette outdueled Toronto's Vesa Toskala in a goalie showdown as Fredrik Sjostrom scored the deciding goal in a shootout to lift the New York Rangers to a 1-0 victory over the Maple Leafs on Friday night.
Valiquette allowed a goal in the tiebreaker to Nikolai Kulemin, but earned his third NHL shutout when Jason Blake hit the post on the final shot of the shootout.
Nikolai Zherdev opened the shootout with a goal for the Rangers, who bounced back from a 3-1 loss to Buffalo on Wednesday night to improve to 6-1. Toronto is 0-1-2 since opening with a victory over the Stanley Cup champion Detroit.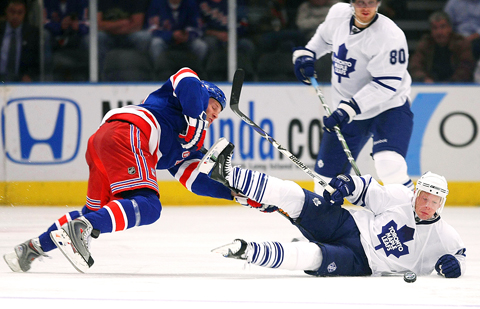 Jason Blake, right, of the Toronto Maple Leafs collides with Fredrik Sjostrom of the New York Rangers on Friday at Madison Square Garden in New York City.
PHOTO: AFP
Three of Valiquette's 11 career victories have come against the Maple Leafs, including a shootout victory last season. He skated off as the first star of the game to chants of "Vall-ey! Vall-ey!" from the appreciative Madison Square Garden crowd.
Valiquette, getting a rare home start over No. 1 goalie Henrik Lundqvist, made 21 saves — but only nine after the second period.
Lundqvist was expected back in Detroit last night.
BLUE JACKETS 5, PREDATORS 3
At Columbus, Ohio, Rick Nash had two goals and rookies Nikita Filatov and Jake Voracek added goals in a Columbus-record span of 8 seconds.
The victory ended Nashville's string of 16 consecutive games with a point against Columbus (15-0-1). It was the longest active streak in an NHL regular-season series.
Filatov — an 18-year-old playing in his first career NHL game — and Voracek scored 8 seconds apart in the opening period. Jason Chimera also scored for Columbus.
Blue Jackets goalie Pascal Leclaire stopped a hard shot with the palm side of his blocker with just over 5 minutes left, then left the ice in pain while holding out his bare right hand. The club said he didn't break any bones, just bruised a thumb.
Nashville's Greg de Vries and Scott Nichol scored in an 11-second span in the second period.
SABRES 5, CANUCKS 2
At Buffalo, New York, Thomas Vanek scored his NHL-leading sixth goal and added two assists, and Ales Kotalik scored twice to help Buffalo improve to 4-0.
OILERS 4, FLAMES 3
At Calgary, Alberta, Erik Cole, Lubomir Visnovsky and Robert Nilsson scored power-play goals in the second period for Edmonton.
Adrian Aucoin, David Moss and Todd Bertuzzi scored for Calgary.
SENATORS 6, COYOTES 3

At Ottawa, Jason Spezza had two goals and two assists, Jarko Ruutu also scored twice, and Martin Gerber made 34 saves for Ottawa.
Dany Heatley and Anton Volchenkov added goals for the Senators.
DUCKS 4, SHARKS 0
At Anaheim, California, Jean-Sebastien Giguere made 38 saves for his 30th career shutout and Anaheim's first victory of the season.
Comments will be moderated. Keep comments relevant to the article. Remarks containing abusive and obscene language, personal attacks of any kind or promotion will be removed and the user banned. Final decision will be at the discretion of the Taipei Times.