NBA: Hornets defeat Wizards in Euro finale
SLOPPY DEFENSE JaVale McGee gave Washington some life in the third quarter with several post baskets, while Chris Paul kept New Orleans' offensive steady
Life without Gilbert Arenas isn't getting any easier for the Washington Wizards, who dropped their second straight European exhibition game to the New Orleans Hornets 102-80 in Barcelona on Friday.
Melvin Ely had 19 points and eight rebounds and Chris Paul added 10 points and eight assists to help the Hornets wrap up the NBA's annual preseason tour of Europe with another strong performance. New Orleans, which cruised to a 96-80 victory over Washington in the first meeting on Tuesday in Berlin, will return home with a 5-0 preseason record.
"It's always great to win preseason games but the most important thing is the team's mentality," Hornets coach Byron Scott said.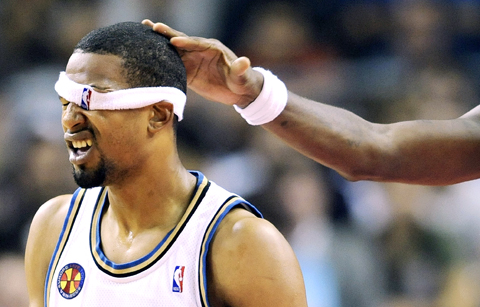 The Washington Wizards' Dominic McGuire reacts during an NBA Europe Live 2008 Tour game against the New Orleans Hornets in Barcelona, Spain, on Friday.
PHOTO: AP
"The team's mentality is strong, I think they're getting out to a better start than last year."
The Wizards' defense was sloppy and the offense lacked punch even with All-Stars Caron Butler and Antawn Jamison in the lineup. Guards Antonio Daniels and Juan Dixon also returned from injury. Arenas is out for the first month of the season after undergoing knee surgery.
"That's what preseason's all about," Jamison said. "[We have] a lot of wrinkles we need to get situated, defensively we have to get better, some of the young guys have to know better what they have to do."
Butler and rookie center JaVale McGee led Washington with 15 points each, while Jamison, who missed Tuesday's loss, shot just 4-of-14 to finish with nine points.
McGee gave the Wizards some life in the third quarter with several post baskets, including a one-handed dunk off Dixon's lofted pass. Ukrainian forward Oleksiy Pecherov scored 10 points, Andray Blatche had 11 and McGee added two blocks.
Wizards coach Eddie Jordan wasn't full of praise for the players he had singled out for a performance before tip-off.
"I was pleased with JaVale's effort, but he made a lot of mistakes but we knew that would happen," Jordan said. "I'm not pleased with Andray's performance and I'm not pleased with Oleksiy's performance. They missed their assignments while not giving enough effort."
Paul was impressed with McGee, who overcame early nerves from his first start.
"He can fly. He is easily one of the most athletic guys in the NBA," Paul said. "You can put him in that category with Dwight Howard."
The Wizards' offensive drought wasn't as glaring at the start as it was in Tuesday's loss, when the Hornets held them scoreless for the first five-plus minutes. Butler popped a baseline jumper to get the team on the board just over two minutes in.
Paul's poise kept the Hornets' offense steady, helping them jump out to an early eight-point lead.
Scott had called on Paul to step it up for the NBA title contenders, even after a near MVP season last year in which he guided the Hornets to the Western Conference semifinals.
"After last season I expect more from myself," the All-Star guard said. "And it might not all just be stats because our team is so good this year that I don't have to do as much."
Still, Paul stutter-stepped clear into the lane to score with a finger-roll and New Orleans led by 15 at the end of the first quarter.
"Chris was Chris, he always plays extremely well," Scott said. "This is going to be a very, very special year for him."
Ely opened the second period with a two-handed slam dunk to stretch the Hornets' lead to 17, but Washington trimmed it to 10 thanks after Butler scored on a dunk and a jumper.
But Rasual Butler nailed a 3-pointer and Ryan Bowen added a couple of free throws for an 18-point New Orleans lead at halftime.
"They're a team to beat for the NBA championship," Jordan said.
A stop-and-go match failed to get the crowd of 15,872 roaring until the fourth quarter, when things opened up after Scott brought Paul back out.
"We really have a lot of guys playing really well and it's going to make the rotations much easier," Scott said.
The game, played at the site of the 1992 Barcelona Olympics, capped the NBA's four-game exhibition series. The New Jersey Nets and Miami Heat were also part of the tour, with the Nets winning both games — 100-98 in overtime in Paris before a 94-92 win in London.
Spain has always held an important place in the NBA's overseas tour plans as the league made its ninth visit and fourth to Barcelona.
Jamison said the series was just what the team needed but that he would like to also face some European opposition on the next tour.
"These games, the preseason doesn't count, but they are important to help you see where you are. Maybe playing a European team would make you see different things," Jamison said.
Comments will be moderated. Keep comments relevant to the article. Remarks containing abusive and obscene language, personal attacks of any kind or promotion will be removed and the user banned. Final decision will be at the discretion of the Taipei Times.