Rafael Nadal to play Kiefer for Rogers Cup
Rafael Nadal beat Andy Murray 7-6 (2), 6-3 to reach the final of the Rogers Cup on Saturday and put himself in line for his seventh title of the year.
He'll face Nicolas Kiefer, who reached the championship match with a 6-7 (4), 6-3, 7-6 (5) win over France's Gilles Simon in the first semifinal.
Nadal, winner of his first hardcourt title at the Rogers Cup in 2005, won the French Open and Wimbledon this year. He's on a 28-match winning streak.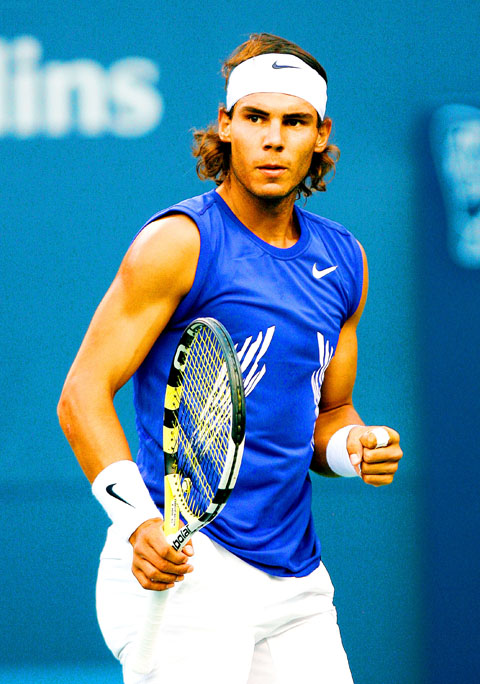 Rafael Nadal of Spain reacts after winning a point against Andy Murray of Great Britain during the Rogers Cup at the Rexall Centre at York University on Saturday in Toronto, Canada.
PHOTO: AFP
"You know, he's definitely doing a lot of things better than he was in the past," Murray said of Nadal.
"I think he's moving better on hard courts, and I think he's sort of changing the pace of the ball a little bit more and not playing so far behind the baseline like he did in the past," Murray said.
"That's why I think he'll be No. 1 in the world soon," he said.
First he has to beat Kiefer. In three career meetings, all this year, he's never lost a set to Kiefer.
Kiefer, 31, hasn't won an ATP title since 2000 Hong Kong and hasn't appeared in a final since 2005 St. Petersburg.
"All I can do is go out there and fight," Kiefer said.
Nadal was wary.
"He's a very aggressive player, no?" Nadal said.
"Very good serve. He's good going to the volley. He has not bad control, very good control with the backhand," Nadal said.
"I'm going to try to play an aggressive match. I'm going to try to play inside the court and try to move him," he said.
"Of course, I have to pick up one more level," Kiefer said.
Murray certainly did, but Nadal seemed to use it as motivation to take his own game up a notch.
"I played against Andy very good today because he — my opinion — he played one of his best matches against me," Nadal said.
An uncharacteristically aggressive Murray went shot for shot with Nadal in the first set, during which both players held serve. It wasn't until the tiebreaker that he flinched. Down 2-6, Murray double-faulted on set point.
He still came out strong in the second set.
It took 18 points for Nadal to hold serve in the first game, and when Nadal broke Murray in the fourth game, the gangly Scotsman broke back in the fifth.
But Nadal wore him down. Murray wound up with 40 unforced errors to Nadal's 16, and lost despite firing 14 more winners than Nadal.
He said the margin of error was just too small for him to keep pace.
"I made a few too many errors, and he played solid like always," Murray said.
Nadal hasn't lost since Rome in May. And in his last four finals, he's defeated top-ranked Roger Federer three times and world No. 3 Novak Djokovic once.
But he says he's not taking a win against Kiefer for granted.
"I played a very good tournament, but tomorrow makes a lot of difference win or lose one final, no?" he said.
Kiefer, the first German to reach the final since Boris Becker 22 years ago, won a plodding affair in front of a subdued Rexall Centre crowd that didn't seem to take an interest until the final tiebreak.
Simon, who ousted Federer, and Kiefer mostly traded groundstrokes from the baseline. As he's done all tournament, Simon played patiently, kept the ball in play and waited for Kiefer to make mistakes. And, again, it worked, as Kiefer made 69 unforced errors.
But Simon made a few too many errors of his own.
Up 5-4 in the third set, Simon had a ball gently bounce high in front of him and he primed for an overhead smash, before launching the ball into the bottom of the net.
He finished with 32 unforced errors, and capitalized only on three of 13 break-point opportunities.
"I didn't need to play a long match like this, but it was a great fight," Simon said.
"I'm proud. I just gave all I had today," he said.
Kiefer, meanwhile, hit 50 winners and 12 aces.
"I didn't play my best tennis, but in the important moments I could pick up my game and I was playing pretty good," he said.
Comments will be moderated. Keep comments relevant to the article. Remarks containing abusive and obscene language, personal attacks of any kind or promotion will be removed and the user banned. Final decision will be at the discretion of the Taipei Times.