Yanks win 8th straight against Boston
GROUNDOUT Carl Crawford's two-run triple sent Tampa Bay past Kansas City, while Jeremy Hermida scored the decisive run to lead the Marlins over the Chicago Cubs
AMERICAN LEAGUE
Robinson Cano homered and drove in three runs, Andy Pettitte gave the Yankees another strong start and New York beat the Boston Red Sox 10-3 for its season-best eighth straight win on Saturday.
Newly acquired Xavier Nady started in left field in his first game with New York, and reliever Damaso Marte struck out David Ortiz in a key spot. The Yankees finalized their deal with Pittsburgh on Saturday, acquiring Nady and Marte for four minor leaguers.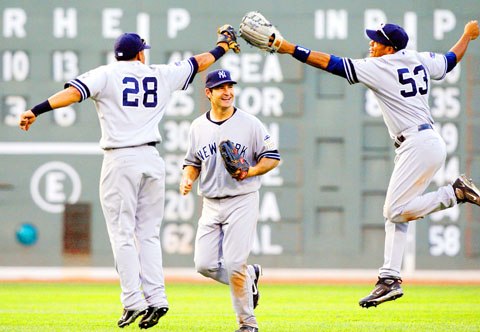 The New York Yankees' Melky Cabrera, left, Xavier Nady, center, and Bobby Abreu celebrate the Yankees' 10-3 win over the Boston Red Sox in a baseball game at Fenway Park in Boston, Massachusetts, on Saturday.
PHOTO: AP
Cano went 3-for-4 with his ninth homer and a two-run double, improving to 18-for-35 since the All-Star break.
Pettitte (12-7) allowed one earned run and struck out seven over six innings to continue a brilliant run by New York starters.
They've allowed three earned runs or less in 15 of their last 16 games.
RANGERS 9, ATHLETICS 4
At Oakland, California, Josh Hamilton hit a three-run homer to increase his major league-leading RBI total to 103, and Texas beat All-Star pitcher Justin Duchscherer.
Chris Davis hit a solo homer and doubled in a run, Marlon Byrd added a solo shot and Jarrod Saltalamacchia had a two-run double for the Rangers, who took the lead in the third. But Duchscherer settled down and retired eight straight before running into more trouble.
Davis' homer to start the seventh was the first of four straight hits off Duchscherer (10-7), and Michael Young's RBI single chased the pitcher.
BLUE JAYS 8, MARINERS 3
At Toronto, Alex Rios homered twice, David Purcey earned his first major league win and streaking Toronto handed Seattle its season-tying seventh consecutive defeat.
The Blue Jays equaled a season high by winning their fifth straight.
Purcey (1-1), who made two spot starts for Toronto this season, gave up three runs and seven hits in six innings.
Jose Lopez homered and drove in three runs for Seattle, extending his hitting streak to a career-high 13 games.
ANGELS 11, ORIOLES 6
At Baltimore, Torii Hunter homered twice, had five RBIs and scored four runs to carry Los Angeles past skidding Baltimore.
Casey Kotchman and Juan Rivera also homered for the Angels, and Garret Anderson became the first player in franchise history to score 1,000 runs.
Aubrey Huff and Luke Scott homered for the Orioles, who have lost five straight. They are winless in eight consecutive series after dropping the first two games of this three-game set.
WHITE SOX 7, TIGERS 6
At Detroit, Carlos Quentin and Jermaine Dye hit consecutive homers and drove in two runs apiece to help Chicago hold off Detroit.
Gary Sheffield and Magglio Ordonez homered for the Tigers.
John Danks (8-4) allowed five runs — four earned — and eight hits in six innings to improve to 5-0 in his last 11 starts.
Justin Verlander (8-10) gave up seven runs and nine hits in four-plus innings, ending his six-game winning streak. He is 2-7 with a 6.03 ERA against Chicago in his career, including 1-3 with a 6.15 ERA this season. Verlander had never lost 10 games in a season before.
TWINS 11, INDIANS 4
At Cleveland, Brian Buscher hit a three-run homer and had a career-high five RBIs to help Minnesota end a five-game losing streak with a victory over Cleveland.
Fausto Carmona (4-3) had a rocky return to the Indians' rotation.
The right-hander, who missed two months with a strained left hip, allowed nine runs in 2 1-3 innings, including six in the first.
Delmon Young had three hits for the Twins, including a two-run single.
RAYS 5, ROYALS 3
At Kansas City, Missouri, Carl Crawford's tiebreaking, two-run triple with two outs in the eighth inning sent Tampa Bay past Kansas City.
Teammate Carlos Pena added a home run in the ninth, his 17th of the season. He is batting .393 with four home runs and 11 RBIs against the Royals this season.
Crawford, who had his seventh career two-triple game and second of the season, drove Horacio Ramirez's pitch to right-center in the eighth, scoring Akinori Iwamura and B.J. Upton to give the Rays a 4-2 lead.
NATIONAL LEAGUE
AP, PHILADELPHIA
Pinch-hitter Greg Dobbs delivered a three-run homer in a seven-run fifth inning and the Philadelphia Phillies rallied past the Atlanta Braves 10-9 to spoil Mike Hampton's return to the major leagues on Saturday. Making his first appearance since August 2005, Hampton gave up six runs and eight hits in four-plus innings and couldn't protect a 9-3 lead.
The two-time All-Star overcame two major operations on his left elbow and an assortment of other injuries to finally make it back.
Chris Coste was 3-for-4 with three RBIs for the struggling Phillies.
Mark Teixeira hit a three-run homer during Atlanta's nine-run fourth inning, but the Braves lost their 25th straight one-run game on the road.
BREWERS 6, ASTROS 4
At Milwaukee, Ryan Braun homered and drove in four runs, Bill Hall hit a tiebreaking RBI single in the eighth inning and Milwaukee grabbed a share of the National League Central lead with a victory over Houston.
The Brewers tied it with two runs in the seventh and went in front in the eighth. Corey Hart hit Doug Brocail's first pitch of the eighth for a double and Hall followed with a bloop single to right-center on the next offering.
Hall went to second on a balk by Brocail (4-5), and later scored on a groundout by Jason Kendall to make it 6-4.
ROCKIES 5, REDS 1
At Cincinnati, Colorado piled up 15 hits in less than five innings off Homer Bailey, another offensive splurge that sent Jorge De La Rosa and Colorado to a victory over Cincinnati.
Ken Griffey Jr. hit his 607th career homer off De La Rosa (5-5), who gave up two hits in 6 2-3 innings of a breakthrough win.
The left-hander hadn't won a game on the road all season.
Every Rockies starter had at least one hit off the right-handed Bailey (0-4), who left after De La Rosa singled home a pair of runs with two outs in the fourth for a 5-1 lead.
PADRES 9, PIRATES 6
At Pittsburgh, Adrian Gonzalez hit two of San Diego's four home runs while driving in four runs in a victory over the Pittsburgh.
Gonzalez and Kevin Kouzmanoff hit three-run homers off John Van Benschoten (1-3), who gave up seven runs, four extra-base hits and walked four in 1 2-3 innings of another miserable start.
As a starter, the former first-round draft pick is 0-9 the last two seasons and 1-11 in his career.
Josh Banks (3-4) won for the first time in seven starts since June 19 despite giving up five runs and six hits in 5 2-3 innings.
Jason Michaels, Adam LaRoche and Jose Bautista homered for Pittsburgh.
MARLINS 3, CUBS 2, 12 INNINGS
At Chicago, Jeremy Hermida hit two homers and scored the decisive run on Jorge Cantu's 12th-inning double to lead Florida over Chicago.
Rich Harden struck out 10 for the third time in three starts with Chicago, but the Marlins fought back to win despite striking out 20 times.
Hermida, who had three hits and two RBIs, homered leading off the eighth against Sean Marshall to tie the score at 2.
Hermida then doubled with two outs in the 12th off Chad Gaudin (0-1) and scored on Cantu's double down the left-field line.
Comments will be moderated. Keep comments relevant to the article. Remarks containing abusive and obscene language, personal attacks of any kind or promotion will be removed and the user banned. Final decision will be at the discretion of the Taipei Times.