Asashoryu pulls out of tourney after weak start
Mongolian grand champion Asashoryu, the fifth-ranked wrestler in modern sumo history, yesterday abruptly pulled out of the Nagoya Grand Sumo Tournament after a weak start.
The yokozuna complained that he was in poor physical condition, a Japan Sumo Association spokesman said without elaborating.
Jiji Press reported he was diagnosed with a damaged ligament in the left elbow and needed about three weeks of treatment.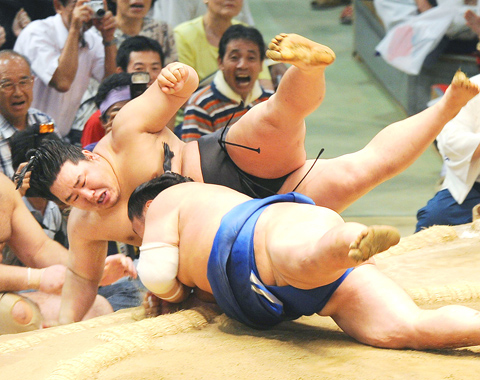 Tochinonada pushes Mongolian grand champion Asashoryu out of the ring in their fifth-day bout at the Nagoya Grand Sumo Tournament in Nagoya, Japan, on Thursday. Asashoryu pulled out of the tournament yesterday after his second loss in five days at the tournament.
PHOTO: AFP
"I feel sorry for my fans," the 27-year-old Mongolian told reporters with his left arm in a sling.
Asashoryu, whose real name is Dolgorsuren Dagvadorj, opened the tournament in Nagoya with a defeat and lost another bout on Thursday, which was only the fifth day of the 15-day competition.
"Nothing has gone well," Asashoryu mumbled after being sent to the ground in Thursday's bout against Tochinonada. He hurt the elbow in this bout, Jiji said.
Asashoryu forfeited yesterday's bout against fourth-ranked maegashira Wakanosato, who improved to 4-2.
Japanese sports tabloids harshly reviewed the match, with the Nikkan Sports publishing a column saying the yokozuna was clearly weakening.
"He lost two bouts in the early stage of the tournament. He is not the same Asashoryu we saw before," the column said.
Asashoryu, despite his success in the ring, has been a controversial figure for his abrasive remarks and manners, which Japanese traditionalists say does not fit the ideal of a taciturn grand champion.
The Mongolian returned to the ring in January after being suspended from two bi-monthly tournaments when he played a charity soccer match despite skipping a provincial non-competition tournament citing injuries.
The Sports Nippon said that Asashoryu had also been distracted by speculation that a first-ever sumo tour of Mongolia, which the grand champion has pushed for eagerly, may be postponed.
The tour was scheduled for next month. But the report said it may be postponed due to safety concerns.
Five people were killed in violent riots in the Mongolian capital Ulan Bator earlier this month after allegations of fraud in parliamentary elections.
Grand champion Hakuho defeated Futeno yesterday to move into sole possession of the lead.
In the day's final bout at Aichi Prefectural Gymnasium, Mongolian Hakuho swatted down winless No. 3 maegashira Futeno to improve to a perfect 6-0 in the 15-day tournament.
Hakuho moved one win ahead of compatriot Ama, who was handed his first loss of the tournament, dropping to 5-1 when he was forced out by fellow sekiwake Kotoshogiku, who improved to 3-3.
Ozeki Kotomitsuki is also one win off the pace at 5-1 after dispatching komusubi Toyonoshima, who fell to a 3-3 record.
Bulgarian ozeki Kotooshu improved to 4-2 by beating komusubi Kisenosato, who fell to 2-4.
Comments will be moderated. Keep comments relevant to the article. Remarks containing abusive and obscene language, personal attacks of any kind or promotion will be removed and the user banned. Final decision will be at the discretion of the Taipei Times.