Federer to let his tennis do all the talking
Bjorn Borg and Novak Djokovic say Roger Federer's reign at Wimbledon is in jeopardy. Rafael Nadal says Federer remains the man to beat on grass.
Federer prefers to let his tennis do the talking.
"It's maybe a time where some people talk a little bit too much," Federer said on Sunday, a day before playing the first Center Court match as he begins his pursuit of a sixth consecutive Wimbledon title.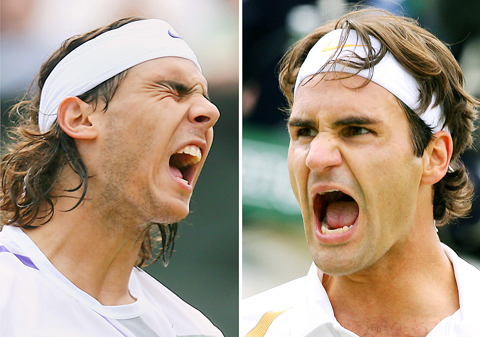 This combo photo shows Spain's Rafael Nadal, left, and Switzerland's Roger Federer during last year's Wimbledon Tennis Championships in southwest London.
PHOTO: AFP
That would equal the record established by William Renshaw, the champion between 1881 and 1886. Since the early 1900s, Federer and Borg (1976-1980) are the only men to win Wimbledon five times in a row.
Federer's 59-match winning streak on grass is the longest in the 40-year Open era.
Yet there has been plenty of debate in the past two weeks regarding whether Federer is this year's favorite. It seems everyone but old Willie Renshaw has weighed in on the subject.
Nobody disputes that 26-year-old Federer has struggled in recent months. For only the second time since early 2003, he has been beaten at two consecutive major tournaments. He has lost eight matches this year, only one less than in all of last year. And he endured his most lopsided Grand Slam defeat in the French Open final two weeks ago, winning only four games against Nadal.
Ranked No. 1 since February 2004, Federer blames his slow start this year on a winter bout of mononucleosis and says he feels fine now. He showed no signs of slippage when he moved to grass the week after the loss at Roland Garros, winning a tournament in Halle, Germany, without dropping his serve, much less a set.
That was against a weak field, however, and the title failed to squelch speculation Federer will soon be an ex-champion in men's singles at the All England Club.
"I got the question, 'can Roger win Wimbledon?'" said Andy Roddick, who lost to Federer in the 2004 and 2005 finals. "I found that to be one of the most ridiculous questions I've ever answered in my life. You know, he has won it five times. I'm not sure what else he has to do."
Tell it to Borg. After erroneously predicting Federer would give Nadal a tough test in the French Open final, Borg now says Nadal and Djokovic are more likely to win Wimbledon than Federer.
Djokovic likes the sound of that. He won his first major title at the Australian Open after beating Federer in the semi-finals — the first sign of a narrowing gap atop the rankings.
Djokovic, ranked third, believes Federer will suffer from a French Open hangover.
"I think he's a little bit shaken with that loss and mentally he has been struggling in the last couple of months," Djokovic said. "New names are coming, fresh talented players who believe more they can win against him and I am one of them. Suddenly he is worried a little bit."
The world No.1's biggest nemesis disagrees.
The No. 2-ranked Nadal is 11-6 against Federer, was runner-up at Wimbledon the past two years and pushed Federer to five sets in last year's final.
But Nadal scoffed at the notion Federer is more vulnerable on grass this year.
"Yes, a lot," Nadal said facetiously. "He didn't lose a set in Halle — 59 matches without losing. Come on."
There's little debate the competition for Federer is stiffer at Wimbledon than when he began his reign in 2003. The lawn courts have become slower, which gives baseline players a fighting chance, and the precocious Nadal and Djokovic have adapted to grass more quickly than many young players.
The big-serving Roddick, once Federer's most formidable obstacle at Wimbledon, has been reduced to an afterthought in discussions about the title contenders.
How does Federer size up the field?
"I feel like I'm the big favorite, obviously," he said. "It's a huge year for me, going for my sixth. Getting the fifth one was a dream come true. It's something that's going to be very hard to match, I think, in the future. I hope I can also match Pete's [Sampras} record of seven Wimbledons here. That's what my focus is."
It is worth mentioning again that since 2003, Federer's opponents are 0-59 against him on grass.
"The game changes a whole lot when you play on grass," Federer said. "It really favors my game because of my ability to move, the way I defend, the way I use my shot selection. I haven't lost in such a long time on grass. Obviously my confidence is really, really high. Then again, other players are around to really challenge me. That only motivates me. So it should be an interesting Wimbledon."
That is one point on which everyone can agree.
Comments will be moderated. Keep comments relevant to the article. Remarks containing abusive and obscene language, personal attacks of any kind or promotion will be removed and the user banned. Final decision will be at the discretion of the Taipei Times.