Tiger Woods out for season over injury
Tiger Woods' epic US Open triumph may have exacted a costly price as golf's undisputed superstar announced on Wednesday he needed season-ending knee surgery.
Woods, 32, is to have reconstructive surgery on his left anterior cruciate ligament (ACL), and also needs time off to allow two stress fractures in his left tibia to heal.
The news, released via the player's Web site www.tigerwoods.com, comes two days after Woods defeated Rocco Mediate in a thrilling US Open playoff to earn his 14th major championship.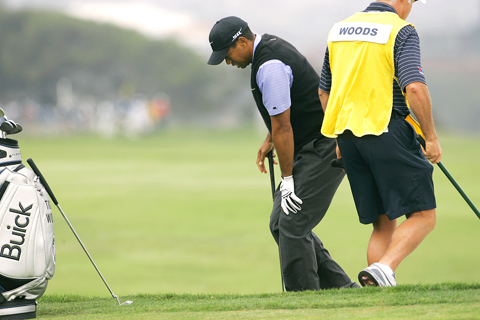 Tiger Woods holds onto his knee as he comes out of a bunker on the fourth hole during the third round of the US Open championship at Torrey Pines Golf Course in San Diego, California, on Tuesday.
PHOTO: AP
The gritty victory took Woods one step closer to matching Jack Nicklaus's record of 18 major titles, but the revelation that he will need a fourth operation on his left knee cast a shadow over his pursuit of that revered mark.
"I will be as dedicated to rehabilitating my knee as I am in all other aspects of my career," Woods vowed.
"While I am obviously disappointed to have to miss the remainder of the season, I have to do the right thing for my long-term health and look forward to returning to competitive golf when my doctors agree that my knee is sufficiently healthy," he said. "My doctors assure me with the proper rehabilitation and training, the knee will be strong and there will be no long-term effects."
Throughout the US Open, played on the Torrey Pines South course in San Diego, California, Woods could be seen limping and grimacing, sometimes even doubling over in pain after hitting a shot.
His distress was most apparent during Saturday's remarkable third round, when Woods seized the tournament lead with a back nine that included a 65-foot putt for eagle on the par-five 13th hole, a chip-in birdie at 17 and another eagle at 18.
Woods admitted on Monday that in his determination he may have done more damage to his already injured knee.
Until last Thursday's first round at Torrey Pines, he hadn't walked 18 holes since the Masters.
Comments will be moderated. Keep comments relevant to the article. Remarks containing abusive and obscene language, personal attacks of any kind or promotion will be removed and the user banned. Final decision will be at the discretion of the Taipei Times.