MAJOR LEAGUES: Mets' homer in 10th downs Angels 5-4
CROSS-STATE RIVALS At New York, Alex Rodriguez hit a home run for the fourth straight game and the Yankees beat the Padres 8-5 to snatch their sixth victory in a row
Jerry Manuel got his first win managing the Mets when New York rallied to tie it in the ninth inning and Damion Easley homered in the 10th to beat the Los Angeles Angels 5-4 on Wednesday.
Manuel, who replaced the fired Willie Randolph, lost his debut with the Mets on Tuesday night.
Down to their last out, the Mets made it 4-all in the ninth on David Wright's RBI single off All-Star closer Francisco Rodriguez.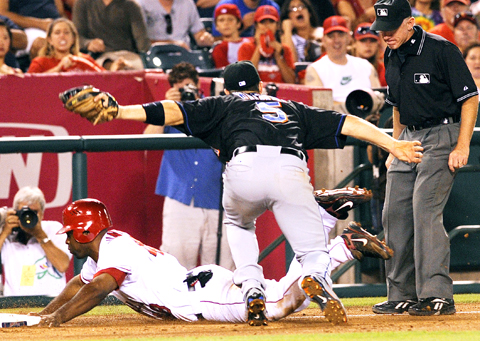 The Los Angeles Angels' Torii Hunter, left, is tagged out by New York Mets third baseman David Wright after getting caught in a rundown during the fifth inning of their baseball game in Anaheim, California, on Wednesday. At right is third base umpire Lance Barksdale.
PHOTO: AP
Easley connected with two outs off Justin Speier (0-4) for his second homer of the season.
Red Sox 7, Phillies 4
At Philadelphia, J.D. Drew tied a career-high with four hits and fell a triple short of the cycle as Boston beat Philadelphia in interleague play.
Drew hit a three-run homer in the first inning, doubled in the third, had an RBI single in the fourth and singled in the sixth before tapping out in the eighth. He finished 4-for-5 with four RBIs.
Justin Masterson (4-1) allowed two runs and four hits in five innings, the shortest of his six career starts.
Tigers 7, Giants 2
At San Francisco, Placido Polanco had four hits, drove in two runs and scored three as Detroit knocked struggling San Francisco starter Barry Zito out after two innings.
Armando Galarraga (7-2) didn't allow an earned run in six innings and struck out five.
Marcus Thames had his stretch of consecutive games with a home run end at five, which tied a team record. Still, his last eight hits have been homers.
Orioles 2, Astros 1, 10 innings
At Baltimore, Kevin Millar singled in the game-winning run in the 10th inning, and Baltimore handed Houston its seventh straight loss.
It was the fourth straight one-run game for the Orioles, three of them victories. Baltimore is 17-10 in one-run games compared to 13-31 last year.
Lance Berkman hit his 20th home run and had two of Houston's five hits.
Rays 5, Cubs 4
At St. Petersburg, Florida, Andy Sonnanstine allowed three runs in five-plus innings for Tampa Bay.
B.J. Upton, Eric Hinske, Evan Longoria and Willy Aybar drove in runs off Carlos Zambrano (8-3) during Tampa Bay's four-run third inning, helping the Rays clinch their ninth consecutive series at home.
White Sox 8, Pirates 2
At Chicago, backup catcher Toby Hall hit his first home run in two years and Carlos Quentin slugged his 17th this season for Chicago.
Mark Buehrle (4-6) gave up two runs and four hits with two walks in eight innings. He struck out three and threw only 96 pitches. He lost a no-hit bid in the sixth when Jose Bautista homered on the first pitch.
Royals 3, Cardinals 2
At St. Louis, David DeJesus and Alex Gordon hit solo home runs in the eighth inning to rally Brian Bannister and Kansas City.
Last in the AL Central, the Royals improved to 6-2 in interleague play and will try for a three-game sweep of their cross-state rivals on yesterday. Kansas City had been 0-37 this season when trailing after seven innings.
Braden Looper held the Royals scoreless on two hits until John Buck had an RBI single in the seventh. Reliever Kyle McClellan (0-2) had allowed only two home runs in 35 2-3 innings when he took over in the eighth with a 2-1 lead. DeJesus hit his eighth homer with one out. Gordon connected off the rookie right-hander with two outs for his eighth home run.
Twins 11, Nationals 2
At Minneapolis, Kevin Slowey (4-6) allowed one earned run and seven hits over six-plus innings and Justin Morneau had three RBIs for Minnesota.
Carlos Gomez of the Twins bunted for two of his three singles, scored two runs and drove in an insurance run in the seventh.
Braves 5, Rangers 2
At Arlington, Texas, Omar Infante hit a tiebreaking single and Atlanta scored three times in the ninth inning.
Jeff Francoeur led off the inning with a grounder that Rangers closer C.J. Wilson (0-2) threw wildly to first for a two-base error.
One out later, Infante singled to right to drive in Francoeur, and Gregor Blanco followed with a run-scoring triple to right-center.
Kelly Johnson added his second RBI of the game with a run-scoring groundout to make it 5-2.
Brewers 5, Blue Jays 4
At Milwaukee, Mike Cameron and Russell Branyan homered for Milwaukee, which won its third straight.
Relievers Carlos Villanueva, Brian Shouse, Guillermo Mota and Salomon Torres, who picked up his ninth save by getting four outs, combined to give up two runs and six hits after starter Ben Sheets (8-1) left with a 4-2 lead after giving up four hits in six innings.
Yankees 8, Padres 5
At New York, Alex Rodriguez homered for the fourth straight game and New York set a season high with its sixth consecutive victory.
Darrell Rasner (4-4) walked five in five innings, but yielded only two runs and three hits to snap his four-start losing streak.
New York beat NL Cy Young Award winner Jake Peavy (5-4), who gave up four runs — three earned — and six hits in four innings.
Rockies 4, Indians 2
At Denver, Jeff Baker homered and scored three runs and Jeff Francis (3-6) allowed one run over six innings for Colorado.
Omar Quintanilla went 2-for-3 and had two RBIs for the Rockies.
Cleveland's Aaron Laffey (4-4) lost for the first time since May 22 and for just the second time since April 28.
Diamondbacks 11, Athletics 1
At Phoenix, Dan Haren allowed one run and drove in three for Arizona against his old team.
Haren (7-4) limited the A's to four hits in seven innings, walking one and striking out eight. He hit a three-run double as the Diamondbacks paid back the A's for a 15-1 drubbing in the series opener.
Marlins 8, Mariners 3
At Seattle, Dan Uggla and Mike Jacobs hit two-run homers for Florida, the top home run hitting team in the majors.
Dodgers 6, Reds 1
Derek Lowe earned his first road win since last August by pitching into the sixth inning, and the Los Angeles Dodgers extended their season-long domination of the Cincinnati Reds with a 6-1 victory on Wednesday.
James Loney had a solo homer and a run-scoring double off Bronson Arroyo (4-6), sending the Dodgers to their sixth victory in seven games against the Reds this season. Juan Pierre broke the game open with a two-run triple in the seventh.
Comments will be moderated. Keep comments relevant to the article. Remarks containing abusive and obscene language, personal attacks of any kind or promotion will be removed and the user banned. Final decision will be at the discretion of the Taipei Times.