McLaren's Dennis does not rule out breakaway series
McLaren team chief Ron Dennis would support an overhaul of Formula One to restore stability in the wake of the Max Mosley sex scandal, and doesn't rule out backing a breakaway series.
Dennis gave his outlook on the sport's future on Wednesday, days after participating in F1 boss Bernie Ecclestone's talks about breaking away from the FIA, which has governed the sport for its entire 58-year history.
"I will always support what I think is in the interests of Formula One," Dennis said in an interview at McLaren's headquarters in Woking, England.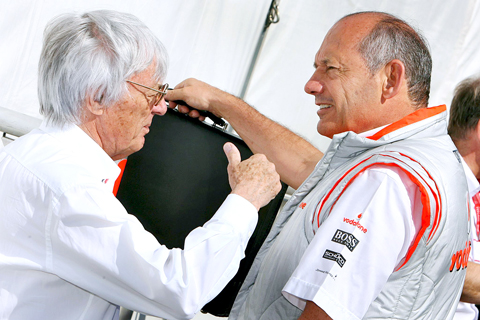 McLaren team principal Ron Dennis, right, chats with Formula One boss Bernie Ecclestone in the paddock before the start of the Canadian Grand Prix in Montreal on Sunday.
PHOTO: EPA
"If anything is put forward as an initiative that is in the best interests of Formula One and this company I will support it. That does not mean I favor any particular path at the moment. We need stability, consistency and the right values and images for Formula One and whatever process is put forward if it's the right one I'll support it," he said.
The showpiece series has been plunged into turmoil since Mosley, the FIA president, was shown in a British tabloid engaged in a sadomasochistic sex session with prostitutes allegedly involving a Nazi theme.
Mosley survived a FIA vote of confidence earlier this month, but the fallout lingers.
The discussions on splitting with the FIA were held at last weekend's Montreal Grand Prix.
"There were a series of meetings that took place in Canada," Dennis said. "Those meetings were meant to be private and confidential. Inevitably rumors come out of those meetings."
"We want a stable Formula One in which we can participate at a level playing field for everybody and a good commercial basis under which to compete. That has always been a challenge for the teams to achieve those objectives. The challenge isn't any less now than it has been for several years," he said.
Dennis believes F1 will undergo a transformation to remain at the pinnacle of motorsport.
"It's highly unlikely that Formula One will look the same as it does today in five years' time," he said. "The key ingredient in any formula motorsport is to remember the objective, which is to have clean, competitive fights on the circuit."
But disputes will likely continue away from the track.
"Inevitably, it's there in every sport — why should it not be in Formula One?" Dennis said at the launch of Go Motorsport, an initiative to encourage wider participation in Britain.
Comments will be moderated. Keep comments relevant to the article. Remarks containing abusive and obscene language, personal attacks of any kind or promotion will be removed and the user banned. Final decision will be at the discretion of the Taipei Times.