Chamberlain helps Yanks past Royals
SEASON-BEST The White Sox routed the Minnesota Twins for their sixth straight win, while Ken Griffey Jr remained just a single home run shy of reaching 600
AMERICAN LEAGUE
AP, NEW YORK
Joba Chamberlain bounced back from a disappointing first start with the Yankees, pitching into the fifth inning to help New York beat the Kansas City Royals 6-3 on Sunday.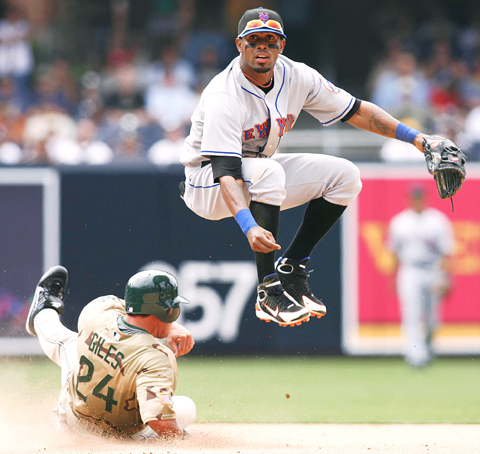 New York Mets shortstop Jose Reyes jumps over the San Diego Padres' Brian Giles as he turns a double play during the seventh inning of their baseball game on Sunday in San Diego, California.
PHOTO: AP
Jason Giambi hit a tiebreaking homer in the sixth and Bobby Abreu finished with a home run and three RBIs for the Yankees, who have won four of five. Johnny Damon got two more hits after going 6-for-6 with the game-winning single in New York's 12-11 comeback victory on Saturday.
Jose Guillen hit a two-run homer and Joey Gathright made three outstanding plays in center field for Kansas City, which has lost 17 of 20.
Working under a strict pitch count as he transitions from the bullpen to the rotation, Chamberlain threw 78 pitches on a 35°C afternoon. He allowed three runs — two earned — and five hits in 4 1-3 innings, striking out five and walking one.
Dan Giese (1-1) replaced Chamberlain and pitched 2 2-3 hitless innings for his first major league win. Mariano Rivera tossed a perfect ninth for his 16th save.
RED SOX 2, MARINERS 1
In Boston, Justin Masterson pitched six strong innings and J.D. Drew hit a go-ahead homer for Boston, lifting the Red Sox over the Seattle Mariners.
Masterson (3-0) gave up one run on three hits and struck out four for Boston, which has won 15 of its last 16 at home and eight of 10 overall. Jonathan Papelbon pitched a perfect ninth for his 18th save.
Drew greeted Seattle reliever Sean Green (1-2) with his eighth homer of the season in the sixth inning to break a 1-1 tie. It was only the second homer allowed by Green, who made his 32nd appearance, tied for first in the American League.
BLUE JAYS 5, ORIOLES 4
In Toronto, Roy Halladay won his fourth straight start and Vernon Wells homered as the Toronto Blue Jays snapped a four-game losing streak.
Marco Scutaro drove in two runs for Toronto, which avoided a three-game sweep.
Luke Scott hit two homers for the Orioles, a solo shot in the second inning and a two-run drive in the sixth. It was the third multihomer game of his career.
Halladay (8-5) allowed four runs and eight hits in 7 2-3 innings and has not lost since May 9 at Cleveland, a span of six starts.
B.J. Ryan worked the ninth for his 13th save.
WHITE SOX 12, TWINS 2
In Chicago, Nick Swisher and Alexei Ramirez homered as the Chicago White Sox routed the Minnesota Twins for their sixth straight win.
The latest outburst came exactly one week after manager Ozzie Guillen lashed out at his struggling hitters. They responded with 54 runs during this streak, and have scored 10 or more in three consecutive games for the first time since July 15-17, 2000, against St. Louis and Milwaukee.
Swisher's three-run homer off Kevin Slowey (2-6) in the second made it 3-1 and Chicago broke it open with five more in the third.
Gavin Floyd (7-3) struck out a career-high nine and walked one while allowing two runs and six hits in seven innings.
TIGERS 5, INDIANS 2
In Detroit, Curtis Granderson homered and Placido Polanco hit a key two-run single as the Detroit Tigers beat the Cleveland Indians.
Armando Galarraga (5-2) picked up the win, allowing two runs in 5 2-3 innings. Todd Jones pitching the ninth for his 10th save.
Jeremy Sowers (0-1) took the loss, giving up five runs on seven hits and two walks in four innings.
RANGERS 6, RAYS 3
In Arlington, Texas, David Murphy hit one of Texas' three homers and the Rangers beat bickering Tampa Bay despite playing without ailing hitting stars Josh Hamilton and Michael Young.
German Duran and Ramon Vazquez also homered for the Rangers. The Rays missed out on their first road sweep this season with a loss that included a scuffle between pitcher Matt Garza and catcher Dioner Navarro.
In the fourth inning, after No. 9 hitter Duran hit a two-run homer for a 3-0 lead, Garza (4-3) and Navarro had heated words as pitching coach Jim Hickey came out to the mound. Hickey even appeared to shove Navarro.
When Garza and Navarro got in the dugout after the inning, television cameras caught them face-to-face in a tussle that spilled into the tunnel leading to the clubhouse. Manager Joe Maddon, Hickey and others could be seen rushing to break up the fracas. It wasn't clear if any punches were thrown.
ATHLETICS 7, ANGELS 3, 12 INNINGS
In Oakland, California, Mark Ellis hit a grand slam with two outs in the 12th inning, as Oakland ended Los Angeles' season-best seven-game winning streak.
Ellis hit the first pitch from Chris Bootcheck (0-1) just inside the left-field foul pole for his second career game-ending homer and his third grand slam.
It was the fifth walk-off grand slam by the Athletics and first since Mark McGwire did it on June 30, 1995, also against the Angels.
NATIONAL LEAGU
AP, ATLANTA
Ryan Howard drove in two runs in the ninth inning with his third double of the game as the Philadelphia Phillies beat the Atlanta Braves 6-3 on Sunday to complete a three-game sweep.
Howard finished 3-for-5 with four RBIs.
The game was tied at 3 through eight innings, but the Phillies bullied Blaine Boyer (1-4) for four hits and three runs in the ninth, including a single by Shane Victorino that drove in the go-ahead run.
The Phillies boosted their road record to 18-13, best in the National League, and have won 15 of 19 overall.
Philadelphia also improved to 5-1 against the Braves and became the first visiting team to sweep a three-game series in Atlanta this season.
MARLINS 9, REDS 2
At Miami, Hanley Ramirez homered twice and Ryan Tucker pitched five effective innings to win his major league debut, leading Florida past Cincinnati.
Ken Griffey Jr remained one home run shy of becoming the sixth player to reach 600. He went 0-for-1 with two walks before being replaced in the seventh.
Ramirez hit a pair of two-run shots off Aaron Harang (2-9), giving him five homers in his last five games. Dan Uggla had two doubles and three RBIs, and Jorge Cantu added two hits and an RBI for the Marlins.
Tucker (1-0) allowed one run, two hits and five walks (one intentional) in five innings. He struck out six. The right-hander was called up from Double-A Carolina of the Southern League before the game.
PADRES 8, METS 6
At San Diego, pinch-hitter Tony Clark connected for a go-ahead, three-run homer off Billy Wagner with two outs in the eighth inning to give San Diego a four-game sweep of New York.
Wagner (0-1) relieved Duaner Sanchez with two outs and runners on first and second. The left-hander gave up an RBI single to Jody Gerut that cut New York's lead to 6-5. Clark then hit a full-count fastball over the center-field wall to extend the Padres' season-high winning streak to five games.
The pinch-hit homer was the 11th of Clark's career and the first of the season for San Diego. It also deprived a shaky Pedro Martinez of his second win since he returned from the disabled list last Tuesday.
The Padres, who have won eight of 11 overall, won their previous four games all by 2-1 scores.
In other games, it was:
• Cardinals 5, Astros 4
• Giants 6, Nationals 3
• Brewers 3, Rockies 2
• Cubs 3, Dodgers 1
Comments will be moderated. Keep comments relevant to the article. Remarks containing abusive and obscene language, personal attacks of any kind or promotion will be removed and the user banned. Final decision will be at the discretion of the Taipei Times.