Japanese hail Matsuzaka performance
DUEL Many baseball fans in Japan saw Saturday's clash between the Colorado Rockies and the Boston Red Sox as a battle between Daisuke Matsuzaka and Kazuo Matsui
Japan yesterday celebrated Boston ace Daisuke Matsuzaka's performance in the World Series, which helped bring the Red Sox to the brink of capturing the championship.
Matsuzaka became the first Japanese pitcher to open a World Series game, smacking the first hit of his US career to left field as part of a six-run third inning for the Red Sox on his way to earning the win.
"Matsuzaka sweeps his first victory in World Series; Red Sox checkmates," ran a headline on the Web edition of the Sports Nippon tabloid.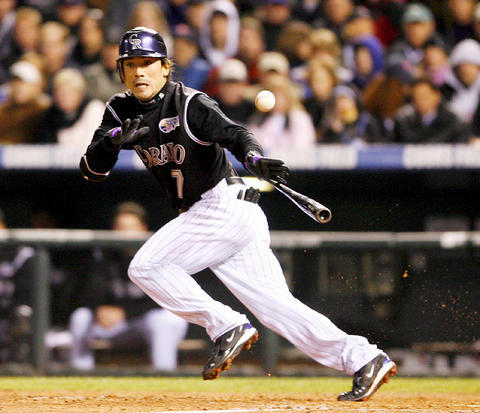 The Colorado Rockies' Kazuo Matsui lays down a successful bunt in the seventh inning against the Boston Red Sox in Denver on Saturday.
PHOTO: EPA
"Matsuzaka, well done for pitching, batting," read another headline on the Sports Navi Web site.
Matsuzaka, a 27-year-old right-hander, signed a six-year deal for US$52 million with the Red Sox after Boston paid the Seibu Lions US$51.1 million simply for the rights to negotiate with him.
Japanese baseball fans eagerly watched the game, viewed by many as a battle between former Matsuzaka and his former Seibu Lions teammate, Colorado's second baseman Kazuo Matsui.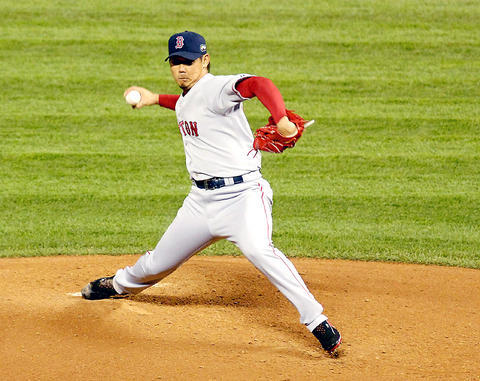 The Boston Red Sox's Daisuke Matsuzaka delivers against the Colorado Rockies in game three of the World Series in Denver, Colorado, on Saturday.
PHOTO:EPA
Hiroshi Horikawa, 40, said he supported Matsui, who transferred to the Colorado Rockies last year after suffering frequent injuries with the New York Mets.
"It's tough to play over there because you get easily cut off unless you produce fast results," he said after checking on the game result at a Tokyo Internet cafe.
Horikawa expected the Red Sox to win through to the World Series championship. "They have already won the first three games," he said.
After the game, Matsuzaka told Japan's public broadcaster NHK the Rockies were a very strong team.
"I don't think they have got this point just by luck," he said. "I hope we can play well tomorrow too."
"I think that I felt more pressure going into Game Seven of the LCS, so today was easier mentally," Matsuzaka said. "The team won and I didn't end up being the one to stop our momentum. So in that sense I feel very relieved."
Lead-off hitter Matsui took the Japanese hurler's first pitch of the game into right-center for a single, but was retired the next two times by Matsuzaka. Matsui collected two more hits in the game after Matsuzaka's exit.
Matsuzaka described in detail his opening confrontation with Matsui, who left Japan in 2004 to come to Major League Baseball.
"I knew that if the first pitch was a fastball, Kazuo was probably going to come after it, so I knew I had to pitch to a good location," he told reporters through an interpreter.
"I know the pitch wasn't his favorite spot, but he did hit it well. But after that I guess he helped me out," he said.
Matsuzaka struck Matsui out in the third and got him to ground out in the fifth on a nice play by shortstop Julio Lugo with two men on.
"As their lead-off man I wanted to focus on not allowing him on base but I also wanted to enjoy the match-up today, which I felt I did," he said.
Matsuzaka also helped his own cause with a two-run single through the hole to left during Boston's six-run outburst in the third inning.
"I can't quite say that I'm a confident hitter, but I love hitting," Matsuzaka said.
Comments will be moderated. Keep comments relevant to the article. Remarks containing abusive and obscene language, personal attacks of any kind or promotion will be removed and the user banned. Final decision will be at the discretion of the Taipei Times.