All Blacks call on moon forecaster to gain winning edge
Rugby World Cup favorite New Zealand has turned to the heavens for help in ending its 20-year quest for victory at the sport's most prestigious tournament.
Ken Ring, a New Zealander who produces weather forecasts based on the movements of the moon and planets, has provided the All Blacks with weather predictions for the Cup which, he said, coach Graham Henry may use in making difficult team selections.
Ring, who has previously provided weather information to racehorse trainers and America's Cup sailing teams, foresees a mainly fine and warm World Cup, with occasional humidity and moderate winds.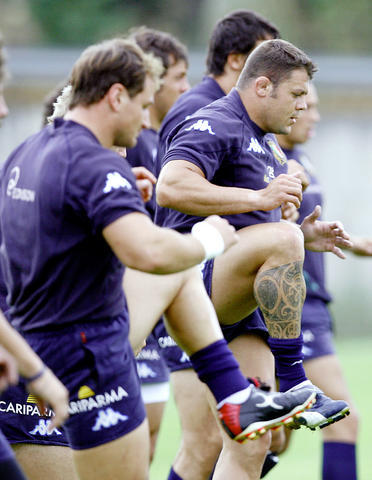 Italy's Andrea Lo Cicero, right, trains at La Borghesiana sporting center in Rome yesterday. Based on the movements of the moon and planets, New Zealander Ken Ring predicts dry, cool conditions for the All Blacks' rugby World Cup Group C opening game in Marseille, France, on Saturday.
PHOTO: AP
"I was approached and asked to do [a forecast] by one of the All Blacks' management team," Ring said yesterday.
"My understanding is that the information was to go to Graham Henry, who might use the it in deciding which players to use in certain games. I made my predictions into a proper report with weather maps which I hope will be useful, but I don't know what kind of official sanction they will receive," he said.
Ring has published a summary of his predictions in his regular e-mail magazine.
He predicts dry conditions, temperatures of 16oC and winds of up to 40kph for the All Blacks' opening game against Italy at Marseilles on Sept. 8.
Ring sees cloudy and showery conditions with light winds for the second match against Portugal at Lyon on Sept. 15 and cool temperatures and light rain for the Sept. 23 match against Scotland in Edinburgh. Fine, clear and warm conditions are predicted for New Zealand's Sept. 29 match against Romania in Toulouse.
Showers or light rain could affect the All Blacks' quarter-final and semi-final matches, but the tens of thousands of fans traveling to Paris for the final might be heartened by Ring's prediction of perfect rugby conditions.
He foresees morning fog giving way to dry and calm conditions for the tournament decider at Stadium Francais on Oct. 20.
Comments will be moderated. Keep comments relevant to the article. Remarks containing abusive and obscene language, personal attacks of any kind or promotion will be removed and the user banned. Final decision will be at the discretion of the Taipei Times.