Bonds hits No. 756, but Washington win
GIANT AMONG GIANTS Slugger Barry Bonds took sole possession of baseball's revered home run record but Washington took home the spoils in San Francisco
Felipe Lopez hit a tiebreaking double in the eighth inning and Washington overcame Barry Bonds' record-breaking career home run for an 8-6 victory over San Francisco on Tuesday.
Bonds' 756th career homer broke his tie with Hank Aaron and he took sole possession of baseball's most hallowed record.
San Francisco extended its lead to 6-4 in the seventh. Then Austin Kearns started Washington's four-run rally in the eighth with a double.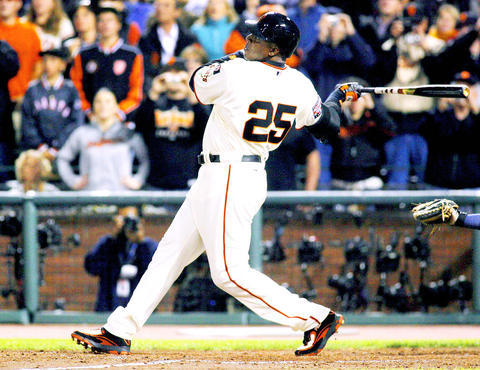 San Francisco Giants slugger Barry Bonds connects for his 756th career home run off a pitch by Washington Nationals pitcher Mike Bacsik during the fifth inning at AT&T Park in San Francisco, California, on Tuesday.
PHOTO: EPA
San Francisco's Kevin Correia (1-6) took the mound with runners on first and third and one out, but allowed an RBI single to Nook Logan, a game-tying single to pinch-hitter Tony Batista and Lopez's double that gave Washington a 7-6 lead.
Chris Schroder (1-0) pitched two innings for his first career win. Chad Cordero got three outs for his 24th save.
Washington has won seven of eight.
Braves 7, Mets 3
In New York, Jeff Francoeur hit a three-run homer to lead Atlanta to its seventh win in 10 games against New York this season.
The second-placed Atlanta moved within three-and-a-half games of New York in the National League East.
New York starter Oliver Perez (10-8) had pitched all three New York wins over Atlanta this season, but the Braves hit him for six runs in five innings.
Phillies 11, Marlins 1
In Philadelphia, Ryan Howard homered twice and Philadelphia trounced Florida.
Philadelphia starter Jamie Moyer (10-8) allowed just one run in six innings, and hit an RBI double. That one run came from a homer from the first pitch of the game.
J.D. Durbin pitched the final three innings for his first career save.
Rick VandenHurk (3-3) gave up six runs and walked five in two-and-a-third innings.
Reds 4, Dodgers 0
In Cincinatti, Bronson Arroyo pitched into the seventh inning as Cincinnati ended its nine-game losing streak against Los Angeles.
Los Angeles lost its fifth in a row, the longest losing streak of its season, and the slump has dumped the Dodgers from first to third in the National League West.
Arroyo (5-12) gave up six hits in six-and-two-third innings and didn't walk a batter.
Astros 5, Cubs 2
In Houston, Craig Biggio drove in the go-ahead run in a four-run sixth inning for Houston as Chicago lost a third straight game.
Biggio now has 3,023 career hits, tying him with Lou Brock for 22nd on the all-time list.
Houston's Woody Williams (6-12) took the win, allowing just one run in six innings.
Brad Lidge pitched the ninth for his seventh save, all since he was activated from the disabled list on July 12.
Padres 4, Cardinals 0
In St. Louis, Jake Peavy extended his scoreless streak to 19 innings, and San Diego got its major league-leading 16th shutout of the season in a win over St. Louis.
Peavy (12-5) allowed three hits in six innings, improving to a NL-best 0.89 ERA in nine road starts. His 2.21 overall ERA is second in the majors.
Rockies 11, Brewers 4
In Denver, Todd Helton hit two home runs and Colorado handed Milwaukee a third straight loss.
The first-placed Milwaukee remain a game ahead of Chicago in the NL Central.
Milwaukee starter Chris Capuano (5-9) took his ninth straight loss. The Brewers have lost all 14 of his starts since May 7.
Colorado won for the 18th time in its last 22 home games.
Pirates 8, Diamondbacks 3
In Phoenix, Tom Gorzelanny returned from injury to strike out a career-high nine to lead Pittsburgh over Arizona.
Arizona's Justin Upton fell a single shy of the cycle in his home debut.
Gorzelanny (10-6) allowed four hits, three by the 19-year-old Upton.
It was only Pittsburgh's second road victory in 11 games.
Gary Matthews drove in four runs and Los Angeles beat a faltering Boston 10-4 on Tuesday.
Boston knuckleballer Tim Wakefield (13-10) allowed seven runs -- six earned -- in four-plus innings for Boston, which saw its lead in the AL East, which was a season-high 12 games as recently as July 5, drop to five games over New York. It's the smallest lead for the Red Sox since May 2.
Boston took a 4-2 lead in the fifth, but Los Angeles responded with five runs in the bottom half to go ahead 7-4.
Orlando Cabrera had an RBI double and Matthews put the Angels back in front with a two-run single that saw Wakefield withdrawn. Matthews hit his 14th home run of the season in the eighth.
Joe Saunders (6-0) allowed four runs over five-and-a-third innings for Los Angeles.
Yankees 9, Blue Jays 2
In Toronto, Bobby Abreu drove in four runs and Roger Clemens threw six shutout innings before being ejected for hitting a batter as New York won its fifth straight.
Alex Rodriguez was hit on his knee by a pitch from Toronto's Josh Towers in the third as the benches and bullpens emptied twice in the inning.
Clemens (4-5) hit Alex Rios in the middle of his back leading off the seventh with New York ahead 7-0. Clemens and Yankees manager Joe Torre were ejected.
Top prospect Joba Chamberlain made his major league debut for the Yankees and Jason Giambi returned after more than two months on the disabled list.
Tigers 9, Devil Rays 6
In Detroit, Rookie Ryan Raburn had two RBIs and scored the go-ahead run in the eighth inning as Detroit downed Tampa Bay.
The Tigers led 6-1 after six innings, but Tampa Bay's Jonny Gomes tripled and scored in the seventh, then hit his second career grand slam in the eighth to tie the scores.
Raburn led off the bottom of the eighth with a double off Dan Wheeler (0-1). He scored on a groundout, and Sean Casey hit an RBI double to make it 9-6.
Detroit have won successive games following a season-high five-game skid. Todd Jones pitched the ninth for his 30th save.
Mariners 10, Orioles 3
In Baltimore, Raul Ibanez had two homers and four RBIs and Seattle cruised past Baltimore.
Ibanez had gone 116 at-bats without a home run until his solo shot in the second inning. He added a two-run drive off Jamie Walker (1-2) in the seventh and doubled in a run in the eighth.
Seattle starter Jeff Weaver (3-10) earned his first win since June, and allowed three runs in six innings.
Indians 2, White Sox 1
In Chicago, Jake Westbrook retired 23 of 24 batters at one stretch as Cleveland edged Chicago.
Westbrook (3-6) won his second straight outing after going 12 straight starts without a win. After allowing a run in the first inning, he retired 12 in a row before Scott Podsednik's fifth-inning single and then set down 11 another straight.
Joe Borowski pitched the ninth for his 31st save.
Royals 5, Twins 1
In Kansas City, Mark Teahen had four hits for his third straight multihit game and Kansas City downed Minnesota.
Brian Bannister won his third straight decision for Kansas City.
Teahen went 4-for-4 with two doubles and an RBI. He tied his career high with the four hits.
Brian Bannister (8-6) won his third straight decision and has a 1.61 ERA in his past four starts.
Rangers 8, Athletics 6
In Arlington, Texas, Jarrod Saltalamacchia drove in the tiebreaking run with a double in the sixth inning to give Texas victory over Oakland.
The game was tied 3-3 in the sixth when Oakland starter Chad Gaudin (8-8) walked Nelson Cruz leading off, and Jason Botts followed with a single.
Saltalamacchia doubled in Cruz to give the Rangers a 4-3 lead. Gerald Laird hit a two-run double to end Gaudin's game, and Frank Catalanotto's double extended the lead to 7-3.
Comments will be moderated. Keep comments relevant to the article. Remarks containing abusive and obscene language, personal attacks of any kind or promotion will be removed and the user banned. Final decision will be at the discretion of the Taipei Times.