Bonds hits No. 755 to equal the record
JOINT BEST The godson of Willie Mays and the son of an All-Star outfielder, the speed of Barry bonds dres more attention than his strength when he broke into the majors
Barry Bonds swung, took a half-dozen steps and clapped his hands. With no trace of a smile but a strong shot for all the doubters, he caught Hank Aaron and tied the career home run record on Saturday night.
No. 755 was an opposite-field drive to left-center field, moving Bonds within one swing of having baseball's pinnacle of power all to himself.
Commissioner Bud Selig stood up and put his hands in his pockets while Bonds' family hugged and high-fived. When Bonds crossed the plate, he lifted his batboy son, Nikolai, and carried him several steps in an embrace.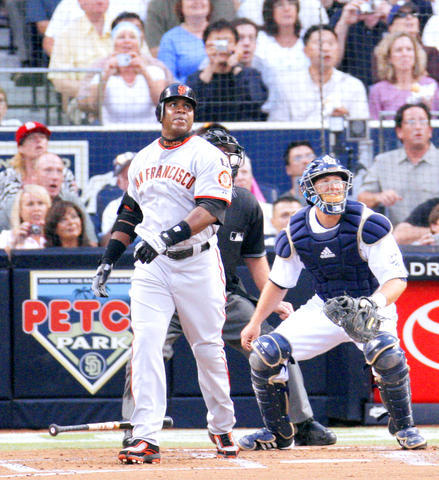 Barry Bonds of the San Francisco Giants, left front, watches a home run, his 755th, during the second inning of the Giants' Major League Baseball game against the San Diego Padres in San Diego, California, on Saturday.
PHOTO: AP
The San Diego crowd stood and cheered, with some boos mixed in, when the San Francisco slugger homered off Clay Hensley in the second inning. Several fans held up asterisk signs. The boos and the asterisk -- denoting his record entries should be conditional -- arise from allegations of Bonds' use of steroids.
Bonds was booed as he headed to left field at the end of the inning. The 43-year-old star has been shadowed by the steroid allegations for years, and many fans feel it taints his chase for the home run record.
It had been eight days since Bonds hit his 754th home run, and he came out for early batting practice on Saturday, hoping to break his slump. He did it quickly, homering to lead off the second.
Bonds hit the tying homer, in fact, off a former Giants draft pick who was suspended in 2005 for violating baseball's minor league steroids policy.
It was a day of records. Earlier on Saturday, New York Yankee Alex Rodriguez hit his 500th home run to become the youngest player in history to reach that mark.
Bonds' milestone shot came at 7:29pm local time and traveled an estimated 116m. The ball clunked off an advertising sign on the facade and fell into the navy blue bleachers below -- right below the main scoreboard featuring a giant photo of the smiling slugger.
A fan sitting in that area threw back a ball onto the field, but that was not the historic ball. The man who ended up with the prized souvenir was whisked to a secure area so the specially marked ball could be authenticated.
After Bonds crossed the plate, teammate Ryan Klesko hugged him. Bonds slowly walked through a greeting line of other Giants. Moments later, he walked over to the field-level seats and kissed eight-year-old daughter Aisha and wife, Liz, through the screen.
Bonds then lifted his cap before going to the far end of the dugout and hugging Sue Burns, the wife of late Giants ownership partner Harmon Burns.
The godson of Willie Mays and the son of an All-Star outfielder, Bonds seemed destined for greatness from the start. But his speed drew a lot more attention than his strength when he broke into the majors as a lanky leadoff hitter.
Even when Bonds became a threat to Aaron's record, many fans thought age would slow him down. Instead, his power numbers surged -- as did speculation about steroid use.
Bonds denied that he knowingly used performance-enhancing drugs and let the allegations bounce off him, the same way fastballs deflected off his bulky body armor.
The No. 25 became the No. 1 target for boobirds outside the Bay Area. Bonds was constantly shadowed by doubts rather than showered in affection the way Mark McGwire was when he broke the single-season homer record nearly a decade ago.
Yet the McGwire story did not have a happy ending. Disgraced by a poor performance in front of a congressional panel looking into steroids, McGwire basically became a recluse and never came close in his first bid to make the Hall of Fame.
Bonds broke McGwire's mark of 70, hitting 73 homers in 2001. Ever since, he's been on a path toward Aaron, a journey that hasn't been full of joy. Bonds has been hobbled by bad knees, bickered with Giants management, and his chase was hardly backed by Selig.
A lot of fans are already rooting for the day when Bonds' record falls. While Sammy Sosa, Ken Griffey Jr. and Frank Thomas are next up among active players, Rodriguez is considered the most likely successor. The Yankees star just turned 32 and is well ahead of Bonds' pace at the same age.
That said, Bonds' quest was the main reason Giants owner Peter Magowan brought Bonds back for a 15th season in San Francisco, signing the slugger to a US$15.8 million, one-year contract, right before spring training.
Even with Bonds at 755, there is bound to be a split among many fans over who is the real home run champ.
There will be some who always consider Babe Ruth as the best -- those old films of him wearing a crown will last forever. Others will give that honor to Aaron, as much for his slugging as his quiet dignity in breaking Ruth's record in 1974.
While steroids tinged Bonds' chase, race was the predominant issue when Aaron took aim at Ruth's mark of 714.
Aaron dealt with hate mail and death threats from racist fans who thought a black man was not worthy of breaking the record set by a white hero, the beloved Babe. Bonds, too, has said he deals with racial issues and that threats have been made on his life at times.
Comments will be moderated. Keep comments relevant to the article. Remarks containing abusive and obscene language, personal attacks of any kind or promotion will be removed and the user banned. Final decision will be at the discretion of the Taipei Times.