Top-seeded Chakvetadze cruises past Sania Mirza
Top-seeded Russian Anna Chakvetadze cruised past India's Sania Mirza 6-3, 6-2 on Sunday to capture her second WTA Tour title in as many weeks.
Chakvetadze had earned a three-set victory against Mirza in the semi-finals en route to the title at Cincinnati last week, and Mirza was unable to improve on that result in this US$600,000 hardcourt tournament.
Chakvetadze, ranked eighth in the world, claimed her sixth career title and fourth title of the season, after triumphs at Cincinnati, Hobart and 's-Hertogenbosch.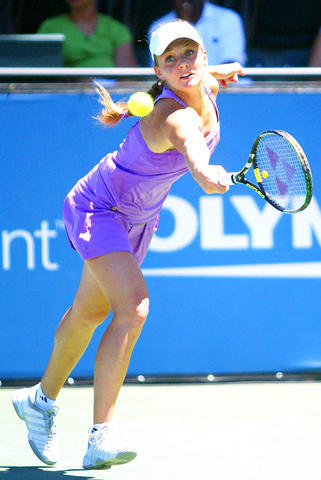 Anna Chakvetadze returns a shot to Sania Mirza during the final of the Bank of the West Classic tennis tournament in Stanford, California, on Sunday.
PHOTO: AFP
Prior to Cincinnati, she won one of her two singles matches to help Russia top the United States in the semi-finals of the Fed Cup in Vermont.
"I have to play only on hard courts in the United States," she said. "I still had some trouble in the first set with my serve. After this kind of thing I concentrated more on every point."
Mirza, playing in her first Tier II final, had upset three seeded opponents en route to the final, ousting No. 4 Patty Schnyder, No. 6 Tatiana Golovin and No. 8 Sybille Bammer.
Her wins over Golovin and Schnyder were her first over top-20 opponents in a season that has been disrupted by a knee injury that required surgery in March and sidelined her for more than two months.
"After I lost the first set she dominated," Mirza said. "She comes up with her best in the finals. I wasn't feeling it as well as I have. I was getting tentative and hoping she'd make mistakes. I didn't hit the ball as cleanly as I did the whole week."
But Chakvetadze said she thought Mirza was stronger than she was a week earlier.
"She had a great week," Chakvetadze said. "Compared to our match in Cincinnati, even when we went three sets, here was a better match. I told myself I'm not feeling that great to run for three sets so I had to finish it fast."
Comments will be moderated. Keep comments relevant to the article. Remarks containing abusive and obscene language, personal attacks of any kind or promotion will be removed and the user banned. Final decision will be at the discretion of the Taipei Times.