Doping row overshadows Tour
NO ACTION The president of the Tour said until there is proof that Michael Rasmussen is guilty it will give him the benefit of the doubt and not take action
Tour de France leader Michael Rasmussen spent another day in the yellow jersey on Friday, but the way things are going the Danish climber will be happy to relinquish that position.
After a relatively uneventful 12th stage won by Belgian Tom Boonen, Rasmussen continued to brush off doping claims by claiming he had made an "administrative error" after missing two random doping controls.
Rasmussen, who rides for the Dutch Rabobank team, missed visits by International Cycling Union (UCI) officials on March 24, last year and June 28 this year.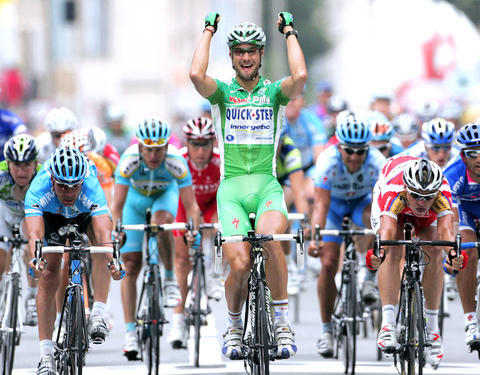 Belgian Tom Boonen reacts as he crosses the finish line to win the 12th stage of the Tour de France between Montpellier and Castres, France, on Friday.
PHOTO: AP
It has emerged that Rasmussen, who until December was licensed to the cycling federation of Mexico -- the native country of his wife -- had also been given two warnings by Anti-Doping Denmark after missing two doping tests run by the Danish Cycling Union (DCU) this year.
Under World Anti Doping Agency (WADA) rules missing three doping controls by any one body amounts to a doping violation.
UCI president Pat McQuaid confirmed earlier: "We issued him a warning that if he missed another test it would amount to a doping violation. But there's no evidence of doping."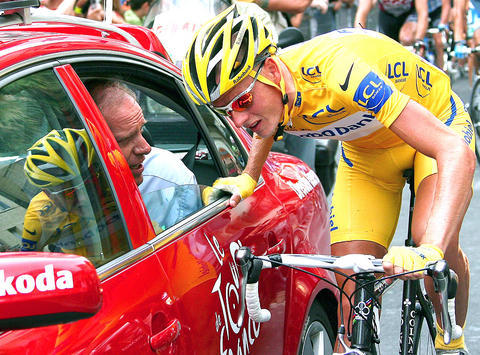 Dane Michael Rasmussen, in the yellow jersey of the overall leader, speaks to Christian Prudhomme, director of the Tour de France, after the start of the 12th stage of the Tour de France in Montpellier, France, on Friday.
PHOTO: EPA
After realizing he has missed four tests in total, the DCU decided to axe Rasmussen from their national squad for September's World Championships and next year's Olympic Games.
DCU chief Jesper Worre confirmed on Friday that Rasmussen had also been warned twice after missing two of their random anti-doping controls.
"If you add the number of warnings Michael Rasmussen has received, it comes to four," Worre said. "They are from two different bodies -- Anti Doping Denmark, and the UCI -- so they do not automatically lead to a doping violation."
PHOTO: EPA
Rasmussen, 33, maintains that all he was guilty of was forgetting to tell officials of his whereabouts.
"I do admit I committed an administrative error," he said. "I can confirm I have no positive doping tests and I have been tested out of competition in June and those tests were negative."
Tour de France director Christian Prudhomme meanwhile is angry at what he regarded as an attempt to discredit the Tour.
"If the Danish federation knew of this at the end of June, why did they not tell us at the start of July, or at least before the start of the Tour?" Prudhomme said. "Why are they suddenly deciding that Rasmussen can't take part in the World Championships and the Olympics? What evidence do the UCI and the DCU have at their disposal, and why are we not privvy to it?"
Both the DCU chief Worre and UCI chief McQuaid said that was not the case.
"It is regrettable that this case popped up during the Tour, but we actually did inform the UCI before the Tour," Worre said. "We got no answer, and since then time has passed."
McQuaid said: "It was not brought out deliberately to discredit the Tour. It [the information] was brought out by the Danish federation, who used their own rules to decide whether or not he's going to be picked for the World Championships or Olympic Games."
A lack of proof means that the company which runs the Tour de France has to give Rasmussen the benefit of the doubt.
Patrice Clerc, the president of the race's parent company Amaury Sports Organisation said that until they have proof, the Tour has no power to act.
However, he also hit out at the timing of the news.
"Rasmussen is someone who has been closely watched [by the authorities], but as things currently stand he is innocent," Clerc said. "He was tested randomly on June 30 at his national championships. Then he was tested when his team carried out a control on July 3. His blood was then tested by the UCI on July 5, along with the rest of the peloton."
"Again, he underwent a random blood test on July 17 when he won his stage in Tignes. He has also had urine samples tested on July 15, 17, 18 and 19," he said. "How do you expect us to act upon a rumor of suspicion?"
However, he added: "I believe we have to seriously doubt the motives of these revelations, and why they have been made on July 19 when the news of his errors has been known for so long."
Rasmussen also received a boost of support from Boonen, who said it was not so easy to get to grips with the procedures of letting the authorities know where you are every single day.
"This came out five weeks ago, so why say it now?" Boonen said. "The UCI has changed the system so many times, and sometimes without telling us."
Comments will be moderated. Keep comments relevant to the article. Remarks containing abusive and obscene language, personal attacks of any kind or promotion will be removed and the user banned. Final decision will be at the discretion of the Taipei Times.