Brazil, US dominate in the pool
REMATCH In baseball, nine-time champions Cuba beat Nicaragua 4-0 for a chance to face the US, who beat Mexico, in a repeat of the 2003 Pan American final
Brazil and the US won three gold medals each to dominate the swimming finals at the Pan American Games on Wednesday, and organizers declared a three-day mourning period because of a deadly plane crash.
Brazil made it into the finals of women's volleyball, and in women's soccer the hosts trashed Ecuador 10-0 while Canada routed Jamaica 11-1.
All nations' flags were at half-staff and not fully hoisted in medal ceremonies because of the crash that left at least 189 people dead after an airliner burst into flames while trying to land at a Sao Paulo airport on Tuesday night.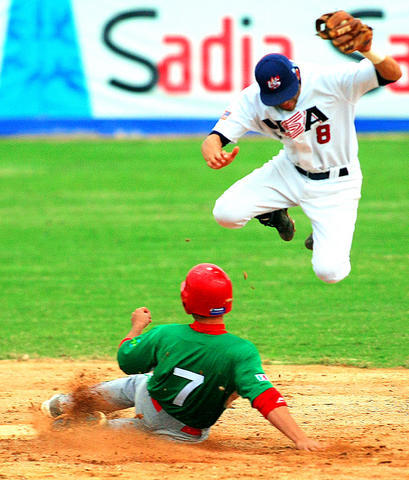 US short stop Danny Espinosa, right, jumps to avoid Mexican Ivan Terraza's slide in the seventh inning of their semi-final at the Cidade do Rock stadium in Rio de Janeiro, Brazil, on Wednesday
PHOTO: AFP
The Pan American Sports Organization ordered a minute of silence dedicated to the crash victims before all competitions in which Brazilian athletes were participating.
"My eyes filled with tears and I choked [during the moment of silence]," Brazilian volleyball player Fabiana Oliveira said.
Brazilian athletes wore black bands on their uniforms in honor of the victims.
"I pray for the families of the people involved in the accident," Brazilian swimmer Rebeca Gusmao said.
The US ended the day comfortably ahead in the medal count with 30 gold, 34 silver and 13 bronze. Cuba was second with 13 golds, and Brazil was just behind with 10.
Gusmao won one of Brazil's three golds by winning the 50m freestyle, setting a Pan Am record of 25.05 seconds and becoming the first Brazilian woman to win gold in the history of the games. She had won bronze in Winnipeg in 1999 and in Santo Domingo in 2003.
Kaio Marcio, the world record-holder in short-course 50m butterfly, won the 100m butterfly in 52.05 seconds, and Brazilian teammate Cesar Cielo clinched the men's 100m freestyle in 48.79 seconds. Both swimmers also broke the Pan American record.
American Kathleen Hersey won her second gold of the meet in the women's 100m butterfly in a Pan Am record 59.21 seconds.
American Matt Patton won the men's 400m freestyle in 3 minutes, 49.77 seconds and the US also was first in the women's 800m freestyle relay with Emily Kukors, Ava Ohlgren, Katie Carroll and Jessica Rodriguez.
Canada's Scott Dickens won the 100m breaststroke in 1 hour, 1 minutes, 20 seconds, which was four-hundredths of a second ahead of the US' Mark Gangloff.
Brazil easily defeated the US team 25-13, 25-20, 25-20 in the semi-finals of women's volleyball.
In women's soccer, world player of the year Marta and Cristiane Silva scored four goals each in Brazil's routing of Ecuador. Canada cruised past Jamaica with four goals by Christine Sinclair.
"I think they needed more energy to keep up with our pace," Sinclair said.
The US, with its under-20 squad, defeated Argentina 3-0, while Mexico beat Panama 2-0.
In the men's competition, defending champions Argentina remained winless in Rio after losing 2-0 to Jamaica, while Brazil got past Costa Rica 2-0 and Bolivia defeated the US 4-2. Argentina, Brazil and the US are fielding youth teams in Rio.
The women's tennis competition began with top-seeded Milagros Sequera of Venezuela defeating Puerto Rico's Vilmarie Castellvi 6-2, 6-2. Sequera is the defending Pan Am champion.
In rowing, Cuba won two golds -- in the men's double sculls with Janier Concepcion and Yoennis Hernandez, and in the women's lightweight double sculls with Yaima Velazquez and Ismaray Marerro. Argentina won the men's quad and the US' Sarah Trowbridge and Margaret Matia captured the women's double sculls.
In beach volleyball, Brazil's Ricardo Santos and Emanuel Rego routed Argentina's Fabio Perez and Miguel Pablo Suarez 21-16, 21-16, while Americans Hans Stolfus and Ty Loomis defeated Venezuelans Jackson Henrique and Igor Hernandez 21-17, 21-18.
Nine-time baseball champions Cuba beat Nicaragua 4-0 for a chance of another gold. They will face the US in a repeat of the 2003 final. The Americans advanced by beating Mexico 2-1.
The first badminton gold went to the US, with Eva Lee and Mesinee Mangkalakiri beating Canadians Fiona McKee and Charmaine Reid in the women's doubles.
Comments will be moderated. Keep comments relevant to the article. Remarks containing abusive and obscene language, personal attacks of any kind or promotion will be removed and the user banned. Final decision will be at the discretion of the Taipei Times.