Takahara's brace guides Japan to victory
Naohiro Takahara and Shunsuke Nakamura are proving why they have made the grade in Europe after guiding Japan to a 3-1 victory over the UAE to finally wring a smile from coach Ivica Osim.
Frankfurt striker Takahara struck twice in Friday's victory while Celtic star Nakamura orchestrated from midfield.
"Takahara is not playing in Germany just by chance. That is the killer instinct that helps him do so," said an unusually elated Osim.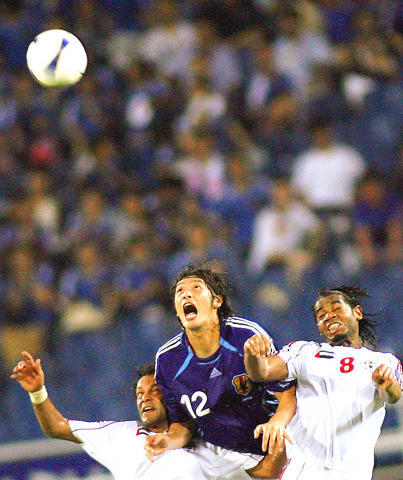 Japan's Seiichiro Maki, center, vies for the ball with the UAE's Mohammad Al Balooshi, left, and Haidar Mohamed during their Group B soccer match at the Asian Cup in Hanoi on Friday.
PHOTO: AFP
Nakamura set up Takahara's first goal and scored himself from the penalty spot as Japan bounced back from a disappointing 1-1 draw with Qatar in their Group B opener last Monday.
The performance of Takahara, who also bagged a goal against Qatar, was all the more impressive given he was ill.
He asked Osim to take him off after an hour due to weariness in the hot and humid tropical weather and because he had a fever.
PHOTO: AFP
"If he cannot play, it will be a big problem for us," admitted the 66-year-old Osim, who is not known for explicit praise of his players.
"I have to fill it in and I have a number of options," he said.
The victory signalled a shift in the mood of the Blue Samurai who Osim called a "bunch of amateurs" after they squandered several chances and allowed Qatar to salvage a point with a last-gasp free kick.
Japan face co-hosts and Asian Cup revelation Vietnam tomorrow in the battle to top the group, with both sides on four points.
"I had a fever but it's coming down now. I couldn't sleep at all the night before and my throat got sore," revealed Takahara.
"I will definitely prepare for the next match. I won't rest up at all," said the 28-year-old, whose career has blossomed with 11 Bundesliga goals since moving from Hamburg at the start of the last season.
"Vietnam are a team who play to the limit. They move well as they are used to the weather. They have individual skills and pass the ball around," he said. "We need to closely study them and play a kind of football they feel as nasty."
Nakamura, whose dead-ball skill helped earn Celtic their second straight Scottish Premier League title last season, said Takahara had "already gone beyond the Japanese level."
"He looks like strikers in Italy," said the former Reggina midfielder.
Osim, who took over from Brazilian legend Zico after Japan's winless exit from the World Cup in Germany last year, said his squad ran the Gulf Cup champions into the ground, a tactic he has long emphasized.
"We moved the ball more than the opponents and made them run more to tire them out," said Osim, a former Strasbourg star who led the former Yugoslavia to the 1990 World Cup quarter-finals.
"We managed to play the game at our pace and won as a result," he said.
The match was played in 30oC heat with 85 percent humidity.
"Most of all, I am happy that it has ended without any of our players and staff suffering a heart attack," quipped Osim. "It was such harsh weather conditions."
Comments will be moderated. Keep comments relevant to the article. Remarks containing abusive and obscene language, personal attacks of any kind or promotion will be removed and the user banned. Final decision will be at the discretion of the Taipei Times.