Brazil, Uruguay make Copa America semis
SAMBA SOCCER Real Madrid's Robinho hit the back of the net twice on Saturday to give him a chance of equaling Pele's long-standing tournament goal-scoring record
Defending champion Brazil thumped Chile 6-1 and Uruguay eliminated host Venezuela 4-1 in the Copa America on Saturday to set up a semi-final between two of South America's heavyweights at Maracaibo on Tuesday.
The Charruas haven't beaten Brazil in the Copa since the 1995 final at home in Montevideo. Since then, Brazil gained revenge in the 1999 final, and won again in the semi-finals three years ago in Peru.
Following criticism for its lack of attacking flair in the first round, Brazil's thrashing of Chile put to rest any doubts that coach Dunga's young team has the wherewithal to reach the finals.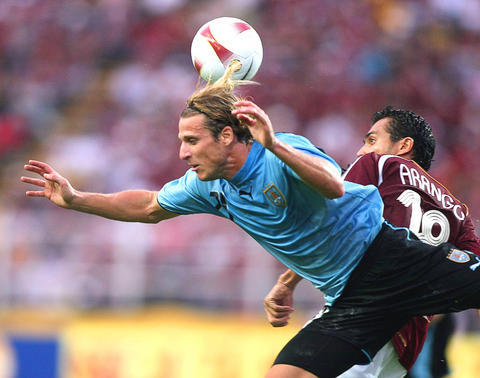 Uruguay's Diego Forlan, left, tries to head the ball while marked by Venezuela's Juan Arango during their Copa America match in San Cristobal, Venezuela, on Saturday.
PHOTO: AFP
`Jogo Bonito'
Brazil's blowout began in characteristic "jogo bonito" fashion, when a leaping Julio Baptista brushed a corner kick that Juan put away with a beautiful double-header after 11 minutes.
After Baptista scored on a breakaway six minutes later, Robinho added the first of his two goals in the 27th to allow Brazil to go into half-time with one foot already in the semis.
With a tournament-high six goals, the Real Madrid forward has a shot at equaling Pele's record eight-goal count in the 1959 tournament.
Josue and Vagner Love added goals in the second half while Humberto Suazo looked glum after scoring Chile's lone goal in the 75th.
Earlier in San Cristobal, Uruguay crushed hosts Venezuela's illusion of building upon what was already their best-ever tournament finish.
Uruguay crept into the quarter-finals with just a solitary first-round goal -- the lowest production of any of the 12 teams in the tournament.
awakening
But thanks to two goals by striker Diego Forlan, in the 38th minute and during second-half injury time, Uruguay's attack finally awakened against an inexperienced Venezuela that held the Charruas to a scoreless draw in their group meeting only four days ago.
"We didn't play well in the first round and some thought we'd end up a disaster, going home early, but here we are with a strong chance of reaching the finals," Uruguayan forward Cristian Rodriguez said.
The Vinotinto, playing in their first-ever Copa quarter-final, threatened after a Juan Arango free kick made it 1-1 after 41 minutes. But a charging Pablo Garcia gave Uruguay the lead for good in the 65th with a driving shot from the edge of the penalty area.
Paris St. Germain star Rodriguez scored Uruguay's third with three minutes remaining after Venezuela's attack lost much of its steam.
Comments will be moderated. Keep comments relevant to the article. Remarks containing abusive and obscene language, personal attacks of any kind or promotion will be removed and the user banned. Final decision will be at the discretion of the Taipei Times.