C.C. Sabathia beats hometown Athletics
IMPRESSIVE OUTING Cleveland's star pitcher tossed a complete game, struck out eight and didn't walk a single batter while demonstrating great control and command
C.C. Sabathia joined Boston's Josh Beckett as MLB's only 11-game winners and finally beat his hometown team again, leading the Cleveland Indians to a 5-2 victory over the Oakland Athletics on Monday night.
Sabathia (11-2) allowed nine hits in his second complete game this month. He struck out eight and didn't walk a batter, continuing an impressive run of great control and command of his pitches. In his last 14 starts, Sabathia has walked only 11 and not more than one in any outing. He has 89 strikeouts over the same span.
Ryan Garko drove in two runs with a fourth-inning double off Chad Gaudin (6-3), and Travis Hafner homered for Cleveland, just 11-12 this month.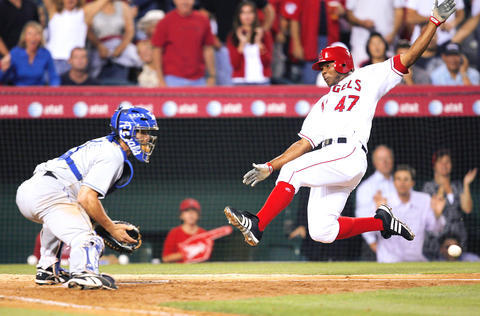 The Los Angeles Angels' Howie Kendrick, right, leaps toward home plate and Kansas City Royals catcher Jason LaRue to score in the fifth inning of their game in Anaheim, California, on Monday. The Royals won 5-3.
PHOTO: AP
Rangers 8, Tigers 3
At Detroit, Marlon Byrd drove in three runs and the Texas Rangers ended Jeremy Bonderman's unbeaten streak at 17 starts.
Bonderman (8-1) allowed four runs -- two earned -- and seven hits in six innings. He struck out a season-high nine, but walked four, matching the total in his last five starts combined, and made a key third-inning error.
Bonderman's last loss came in Minnesota on Sept. 10. His unbeaten streak ended one short of Bobo Newsom's 67-year-old team record.
Kameron Loe (4-6) had his third straight strong outing since giving up nine runs in two-and-two-thirds innings against Detroit on June 7.
White Sox 5, Devil Rays 4
At St. Petersburg, Florida, Rookie Andy Gonzalez went 4-for-5 and also drove in two runs to help the struggling White Sox snap a five-game losing streak.
Jim Thome, Paul Konerko and Josh Fields also drove in runs for the White Sox, who finished with 12 hits -- two shy of their season high -- after being limited to two runs and two extra-base hits while losing three straight to the crosstown Cubs over the weekend.
Left-hander John Danks (4-6) allowed four runs and four hits in five innings to win for the time in more than a month. Bobby Jenks earned his 19th save in 21 opportunities with a perfect ninth.
Casey Fossum (5-7) took the loss.
Blue Jays 8, Twins 5
At Minneapolis, Matt Stairs hit Toronto's third homer of the game in the eighth inning, a two-run shot that broke a tie and lifted the Blue Jays over the Twins.
Roy Halladay (9-2) won his fifth straight decision and the Blue Jays got consecutive homers from Vernon Wells and Alex Rios in extending their winning streak to a season-high four games.
Matt Guerrier (1-3), who had not allowed a run in his previous 10 appearances, gave up three runs and four hits in one-and-a-third innings.
Royals 5, Angels 3
At Anaheim, John Thomson won in his debut with the Kansas City Royals, outpitching Los Angeles' John Lackey.
Thomson (1-0) allowed three runs and six hits in seven innings. The 33-year-old right-hander spent the previous two-and-a-half months in the Toronto Blue Jays' minor league system before he was given his unconditional release last Wednesday.
Reliever Joakim Soria pitched a scoreless eighth inning and Octavio Dotel got three outs for his seventh save in nine chances after blowing his previous two opportunities.
Lackey (10-5) allowed five runs and seven hits in eight innings, striking out seven and walking one.
Mariners 9, Red Sox 4
At Seattle, Jeff Weaver won his second straight start, pitching Seattle past Boston.
Jose Lopez capped a five-run fifth inning with a two-run single and Kenji Johjima and Adrian Beltre hit back-to-back home runs for Seattle.
Weaver (2-6) yelled at himself, the plate umpire and his fielders during his second straight win following an 0-6 start. In four starts since coming off the disabled list, Weaver has lowered his ERA from 14.32 to 7.71.
Seattle won for the fifth time in seven games in its 12-game homestand despite Ichiro Suzuki, who went 0-for-4 with a walk to end his 19-game hitting streak.
Julian Tavarez (5-5) lost for the first time in eight starts.
Shawn Green hit a walk-off home run in the bottom of the 11th inning to lead the New York Mets to a 2-1 win and some measure of revenge against the St Louis Cardinals in National League play on Monday.
Green connected on a 3-2 pitch from reliever Russ Springer (3-1) leading off the ninth, driving the ball off the scoreboard in center field for the first New York hit since the third inning as the Mets' winning streak reached four.
"I wasn't necessarily trying to hit a home run, I was just trying to drive one somewhere," Green said.
Carlos Gomez also homered for the Mets, who made the most of just three hits to move three games ahead of second-place Philadelphia in the NL East in the first meeting between the teams since last year's NLCS.
So Taguchi's groundout in the third inning accounted for the only run of the game for the Cardinals, who beat the Mets on their way to a World Series title last year.
In other National League games on Monday it was:
*Braves 4, Nationals 1
*Brewers 6, Astros 1
*Dodgers 8, Diamondbacks 1
*Cubs 10, Rockies 9
*Giants 4, Padres 3
Comments will be moderated. Keep comments relevant to the article. Remarks containing abusive and obscene language, personal attacks of any kind or promotion will be removed and the user banned. Final decision will be at the discretion of the Taipei Times.