Djokovic powers to semi-finals in Paris
FRENCH OPEN Novak Djokovic will be the third Serb to feature in the last four, with Jelena Jankovic and Ana Ivanovic already in the semis of the women's singles
Novak Djokovic reached his first Grand Slam semi-final by beating Igor Andreev 6-3, 6-3, 6-3 yesterday at the French Open.
The sixth-seeded Djokovic, who quit while trailing in the quarter-finals at Roland Garros last year to Rafael Nadal, could meet the two-time defending champion again in the semi-finals.
Nadal was to play No. 23 Carlos Moya in an all-Spaniard matchup later yesterday. The second-seeded Nadal was looking for his 19th consecutive win at the French Open. Moya won the title in 1998.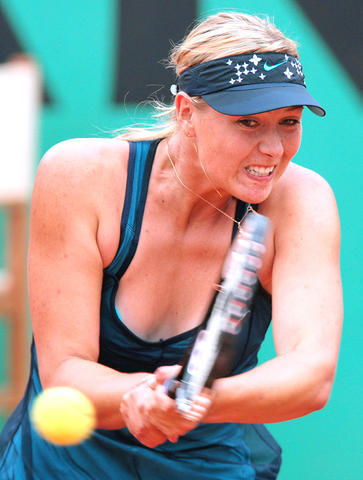 Russian player Maria Sharapova hits a backhand to Russia's Anna Chakvetadze during their French Open quarter-final match in Paris on Tuesday. Sharapova won 6-3, 6-4.
PHOTO: AFP
Djokovic leapt in the air when he went up 3-0 in the third set. The 125th-ranked Andreev could not find a way back, and Djokovic won on his first match point when Andreev hit a forehand into the net -- one of many similar errors he made during the match.
Djokovic took an early command, winning five straight games from 3-3 in the first set to go 2-0 up in the second.
Djokovic beat Andreev on clay at Estoril, Portugal, last month, and went on to win the tournament -- one of three titles the Serbian player has won this season.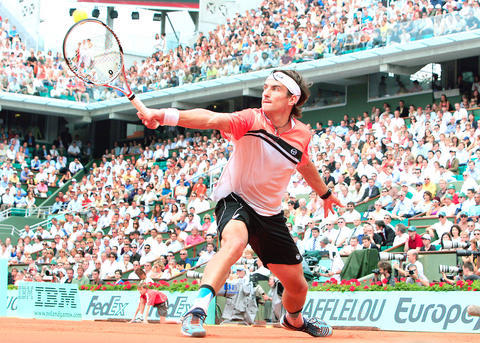 Spain's Tommy Robredo hits a backhand shot to Swiss player Roger Federer during their French Open quarter-final match at Roland Garros in Paris on Tuesday. Federer won 7-5, 1-6, 6-1, 6-2.
PHOTO: AFP
He becomes the third Serb to reach the semi-finals at this year's French Open. Jelena Jankovic and Ana Ivanovic reached the women's semi-finals on Tuesday.
On Tuesday, Maria Sharapova found her footing to beat Russian Anna Chakvetadze 6-3, 6-4 in the quarter-finals.
"I wouldn't say I'm surprised," Sharapova said. "I'm more proud and excited about it. ...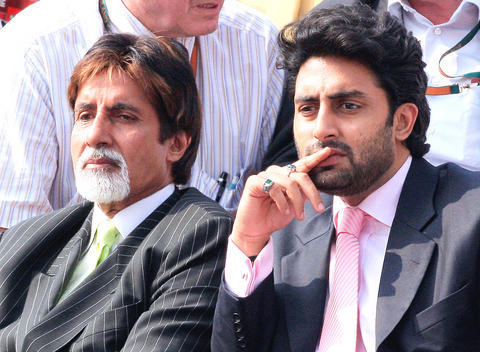 Indian actors Amitabh Bachchan, left, and his son Abhishek Bachchan attend the French Open quarter-final match between Roger Federer and Tommy Robredo in Paris on Tuesday.
PHOTO: AFP
"I didn't come off the court and go, `Wow, I'm in the semi-finals.' That wasn't really the feeling that I had. In any tournament that I play, whether it's on clay or mud or whatever it is, I know what I'm capable of, and I believe in myself."
Bidding for her third Grand Slam title, the No. 2-seeded Sharapova will play against No. 7 Ana Ivanovic today.
The other semi-final will be between top-ranked Justine Henin and No. 4-seeded Jelena Jankovic.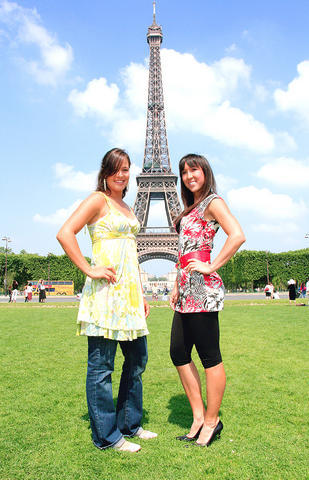 Serbian players Jelena Jankovic, left, and Ana Ivanovic yesterday pose in front of the Eiffel Tower in Paris on the eve of their respective French Open semi-final matches against Belgian Justine Henin and Russian Maria Sharapova.
PHOTO: AFP
Henin, who seeks to become the first woman to win three consecutive French Open titles since Monica Seles in 1990-92, advanced by beating Serena Williams 6-4, 6-3.
Henin dominated with a vast array of shots, while Williams blamed herself for a sloppy, passive performance.
"I never play like that," Williams said. "Sometimes you've got to just step back and say, `OK, try this, try that, or try Plan B.' But I think my Plan B was to make errors."
Ivanovic defeated 2006 runner-up Svetlana Kuznetsova 6-0, 3-6, 6-1, and Jankovic beat No. 6 Nicole Vaidisova 6-3, 7-5.
In the men's semi-finals tomorrow, top-ranked Roger Federer will try to improve to 9-0 against No. 4-seeded Nikolay Davydenko.
Federer lost a set for the first time in 12 Grand Slam matches, but regrouped to beat No. 9-seeded Tommy Robredo 7-5, 1-6, 6-1, 6-2. Davydenko eliminated No. 19 Guillermo Canas 7-5, 6-4, 6-4.
Sharapova said she wouldn't be surprised if she wins the tournament, but she understood why her success this year at Roland Garros might be considered unexpected.
"I haven't really played that much on clay," she said.
She grew up on hard courts and took quickly to grass, winning Wimbledon three years ago at age 17. But the lanky Sharapova has struggled with her movement on clay, although her French Open record was a respectable 11-3 in 2004-2006, with two trips to the quarter-finals.
The Russian has now surpassed those showings, even while nursing a sore right shoulder. She missed nearly two months with the injury before returning in May for a French Open tuneup.
"After being so up and down for such a long period of time, you're just grateful for every single moment you can be out on the court and feeling like you have a chance to be healthy, and you're out there enjoying yourself," Sharapova said. "That's really what I'm doing."
In the women's doubles quarter-finals, Taiwan's Chan Yung-jan and Chuang Chia-jung lost their shot at the title with a 6-3, 4-6, 6-1 defeat to Alicia Molik of Australia and Mara Santangelo of Italy on Tuesday.
Comments will be moderated. Keep comments relevant to the article. Remarks containing abusive and obscene language, personal attacks of any kind or promotion will be removed and the user banned. Final decision will be at the discretion of the Taipei Times.