Utley powers Phillies past Mets
MAJOR LEAGUES While Philadelphia beat New York on their own turf, Cleveland improved their home record to 20-6 with a 1-0 win over Kansas City
Chase Utley hit a leadoff homer in the 11th inning, the last of his three RBIs, and the Philadelphia Phillies beat the New York Mets 4-2 on Tuesday.
Utley's shot off Pedro Feliciano (1-1) was the first home run the left-hander has allowed this season. The normally reliable reliever was charged with another run, too, increasing his ERA from 0.90 to 1.80 in 24 appearances.
Ryan Howard had three hits and Utley added a two-run single for the Phillies, who were coming off a 2-5 homestand. Philadelphia began the day leading the National League in runs (289), but ranked last in ERA (4.79).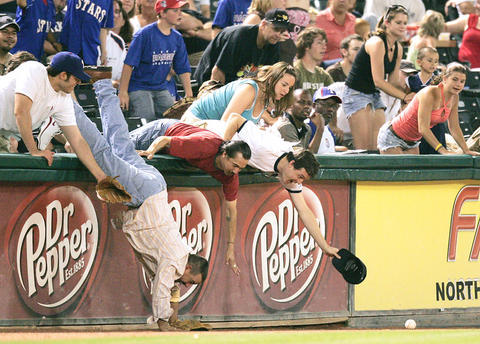 A fan falls over the wall as he attempts to reach a foul ball during the baseball game between the Detroit Tigers and Texas Rangers in Arlington, Texas, on Tuesday. The Rangers won 7-4.
PHOTO: AP
Paul Lo Duca had a two-run single for New York, the NL East leaders.
Geoff Geary (1-1) worked a scoreless inning for the win and Antonio Alfonseca got three outs for his second save.
After Utley's homer, the Phillies loaded the bases with no outs and added an insurance run on Abraham Nunez's RBI single off Joe Smith.
Braves 3, Marlins 1, first game Marlins 5, Braves 1, second game
At Atlanta, Rick Vanden Hurk marked his return from the minor leagues by taking a no-hitter into the seventh inning as Florida beat Atlanta for a split of the doubleheader.
The Braves won the opener with Buddy Carlyle winning his first game since 1999 by allowing one hit over seven innings. Despite his impressive performance, the journeyman was optioned back to minor league Triple-A Richmond right after the game.
irates 7, Nationals 6
At Washington, Xavier Nady hit a double and a sacrifice fly, both with the bases loaded, and Shawn Chacon got his first win as a starter this season as Pittsburgh edged Washington.
Nady had a three-run double in a five-run third inning, then got his fourth RBI with a sacrifice fly in the fifth. Nady is 4-for-6 with nine RBIs with the bases loaded this season.
Brewers 7, Cubs 5
At Milwaukee, Ryan Braun, Corey Hart and Tony Graffanino hit solo home runs and Claudio Vargas won for the first time in a month as Milwaukee handed Chicago its first loss in three games since manager Lou Piniella was suspended.
Piniella was suspended by the league for four games for arguing with umpire Mark Wegner on Saturday.
Astros 4, Rockies 1
At Denver, Lance Berkman drove in two runs and Wandy Rodriguez pitched five strong innings to lead Houston past Colorado.
The Astros had one other hit when Berkman hit a two-run double in the sixth. He was ejected in the eighth inning for arguing a called third strike.
Cardinals 4, Reds 3
At St. Louis, pinch-hitter So Taguchi singled over a drawn-in outfield in the ninth inning for his second straight game-winning hit for St. Louis.
The Cardinals won for the fifth time in six games without catcher Gary Bennett, who left in the second inning with the described as a contusion to the back of the skull after he was hit by a pitch.
D-backs 4, Giants 3, 10 innings
At Phoenix, Chris Young homered with one out in the bottom of the 10th inning to lift Arizona past San Francisco for its 10th win in 11 games.
Young, who was 0-for-4 with a strikeout before his final at-bat, connected for his seventh homer of the year and first since May 11 against Kevin Correia (1-3).
The D-backs rallied against a San Francisco lineup missing Barry Bonds after Tony Pena allowed Ray Durham's tying double in the bottom of the eighth.
Padres 1, Dodgers 0
At San Diego, Marcus Giles singled in the go-ahead run in the eighth inning for San Diego and Trevor Hoffman moved within one save of becoming the first major leaguer with 500.
The Padres won for the eighth time in 10 games. It was just their third win in seven games this season against their biggest rival. Pinch-hitter Russell Branyan was hit in the foot by a pitch from Rudy Seanez (2-1) with one out in the eighth, stole second and scored on Giles' hit to center.
C.C. Sabathia pitched his fifth career shutout and Cleveland kept rolling at home with a 1-0 victory over Kansas City on Tuesday.
Sabathia (9-1) joined John Lackey of the Angels as the majors' only nine-game winners. He improved to 4-0 in five starts since May 16, while the Indians increased baseball's best home record to 20-6.
Sabathia moved to 6-0 in eight home starts. He allowed five singles and struck out eight.
The Royals have lost 10 of 12.
Franklin Gutierrez led off the third with his first homer of the season off Jorge De La Rosa (4-6). The Royals' lefty allowed five hits and one run over 7 1-3 innings, striking out a career-high seven and walking two.
Sabathia pitched his first shutout since a three-hitter against Baltimore last July 7.
Blue Jays 12, Devil Rays 11
At Toronto, Matt Stairs scored the winning run on a bases-loaded walk, capping Toronto's six-run ninth inning against Tampa Bay.
With Tampa Bay leading 11-6, Chad Orvella walked Aaron Hill to lead off the ninth, then gave up consecutive RBI doubles to Adam Lind and Jason Phillips. Shawn Camp came in and walked Howie Clark. After a groundout, Vernon Wells hit a two-run double that made it 11-10.
Athletics 2, Red Sox 0
At Oakland, California, Lenny DiNardo held his former teammates to two hits over six innings and outpitched Daisuke Matsuzaka as Oakland handed Boston its fifth loss in six games.
Eric Chavez homered in his second straight game and Nick Swisher added a run-scoring double in the fifth for the A's, who won their fourth straight. Boston still has the majors' best record at 37-20, but has lost three in a row for the first time this season.
Yankees 7, White Sox 3
At Chicago, Alex Rodriguez homered and drove in three runs to lead New York to the victory over Chicago and Mark Buehrle.
The Yankees broke a 1-1 tie with four runs in the sixth, making a winner of rookie Tyler Clippard (3-1). He pitched five innings, allowing one run and five hits.
The White Sox loaded the bases with one out in the eighth against Kyle Farnsworth but settled for one run.
They also loaded the bases against Brian Bruney with one out in the ninth. But Mariano Rivera came in and got two outs for his sixth save.
Rangers 7, Tigers 4
At Arlington, Texas, Victor Diaz hit a grand slam in the first inning for Texas off Nate Robertson, the Detroit starter who didn't retire a batter.
Mariners 5, Orioles 4
At Seattle, the Mariners scored four times in the seventh to beat the Orioles a night after rallying for four runs in the eighth inning against Baltimore's bullpen.
Ichiro Suzuki's two-out double just inside the left-field line scores Ben Broussard with the go-ahead run. Seattle sent nine batters to the plate in the inning, using four hits and two walks to rally for its season-high fourth straight win.
Angels 5, Twins 1
At Anaheim, California, Kelvim Escobar pitched a three-hitter for his second complete game of the season and Casey Kotchman homered for Los Angeles in its fifth straight victory.
Comments will be moderated. Keep comments relevant to the article. Remarks containing abusive and obscene language, personal attacks of any kind or promotion will be removed and the user banned. Final decision will be at the discretion of the Taipei Times.